Georgia vs. Missouri Pick 3/11/21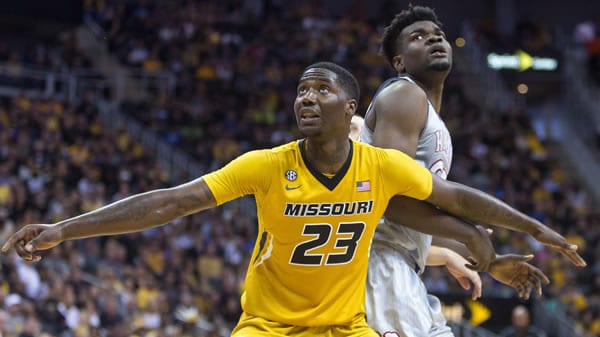 Georgia Bulldogs (14-11 SU, 13-11 ATS) vs. Missouri Tigers (15-8 SU, 12-11 ATS)
When: Thursday, March 11, 7 p.m.
Where: Bridgestone Arena, Nashville, Tenn.
TV: SEC Network
Point Spread: UGA +5.5/MIZZ -5.5 (BAS - Why lay -110 odds when you could be laying $5 less here?)
Total: 152.5
Last Time Out:
Georgia lost 89-79 to Alabama; Missouri lost 86-80 to LSU.
About the Matchup:
You again? For the third SEC tournament in a row, Missouri will open up against Georgia, which usually says you're either doing really well (because you earned a high seed and got a bye before facing Georgia) or really awful (because you ended up in one of the play-in games against the Bulldogs).
It's been the latter for Missouri, as the Tigers haven't qualified for the quarterfinals of this tournament since 2014. That streak might be on the verge of continuing because the Tigers arrive in Nashville in very disappointing form, losers of five of their past seven. Thanks to a 13-3 start, Missouri probably doesn't need to worry about falling out of the NCAA tournament, but testing that theory with a loss to Georgia would be a very bad idea.
Much like Missouri coach Cuonzo Martin, Georgia boss Tom Crean hasn't found the SEC tournament to his liking yet either. To be fair, Crean has only had the chance to coach in two SEC tournament games because COVID wiped out last year's tournament after the Bulldogs won their opener, and his team has a history of showing up in the league tournament as long as it doesn't run into Kentucky. Over the past five years, Georgia has a record of 7-1 in this event against teams not named Kentucky, and this marks the first time under Crean that the Dawgs don't have to play on Wednesday. With the Wildcats safely on the other side of the bracket, can Georgia make another long run in this event?
Scouting the Bulldogs:
If Georgia could play anything resembling defense, they'd probably be sitting on the bubble right now. Unfortunately for the fans in Athens, Georgia's usually a lot of fun to watch when it has the ball but a horror show when it doesn't. The Dawgs rank fourth in the SEC in points per game, averaging 77.8 points per game, but they also allow 78.2 points per game. Among Georgia's defensive disasters, we've seen 99 to Arkansas, 95 to Auburn, 92 to Florida, 91 to South Carolina, 89 to Tennessee, and 115 to Alabama. The two games with the Tide were so defensive-optional that Georgia gave up an average of 102 points a game to Alabama, an unthinkable number for two games without overtime.
But against Missouri, the defense actually did its job well enough by holding the Tigers to 6-for-26 from behind the arc, allowing Georgia to win the game at the free-throw line. The Bulldogs aren't great shooters or rebounders, but when they commit to getting the ball inside and getting to the stripe, they're a tough team to beat. Georgia can do with some better shooting from Toumani Camara and Sahvir Wheeler, but the bigger thing here would be for the Dawgs to keep Missouri out of the 90s again.
More Picks: Red Raiders vs. Longhorns Against the Spread Pick >>>
Scouting the Tigers:
The shooting simply wasn't there for Missouri against LSU, and if it doesn't get straightened out soon, Missouri's not going to last long here or in the NCAA tournament. The Tigers really haven't looked right since the final 10 minutes of their win over Alabama, when they had a 20-point lead and nearly blew it before doing just enough to hold on against the Tide.
What's really hurting Missouri is the fact that Jeremiah Tilmon really isn't finishing his senior season in all that strong a manner. The Tigers' senior isn't really getting the job done at the moment, as he's been collecting fouls more than points in Missouri's past two games. In a win over Florida, the Tigers barely survived because they pulled off a layup just before the buzzer, but had they missed, they would have had to play the extra session without Tilmon, who had fouled out a few seconds prior. Against LSU, Tilmon ended up with more fouls and turnovers (seven) than he had points (six). Missouri's offense as a whole isn't good enough to overcome losing such a key piece, and its recent record shows it.
X-Factor:
History. When teams struggle as much as Missouri has in the SEC tournament, it can often affect the way they handle the game. The Tigers haven't made it past this round since 2014, and if they get off to another slow start, this could really play mental games with a team that's already coming in cold after losing five of their final seven to end the season.
Conversely, Georgia has had a fair amount of success in this tournament and could be well-positioned to build off what it has been in the past. The longer the Bulldogs stay in the game, the more they'll believe that they should beat Missouri. The first five minutes will be critical as to whether Missouri has an easy time with this game or whether the Bulldogs have a reasonable shot to pull the upset.
Georgia will Cover If:
The Bulldogs can actually play a little defense and frustrate Missouri. Georgia plays so fast that it can really get in the heads of its opponents when it gets the job done at the other end of the floor, and it's already proven that it can defend Missouri. If Georgia does its job at that end of the floor, this game is very winnable for the Dawgs.
Missouri will Cover If:
The Tigers can rediscover their shooting touch. Missouri is a frustrating team to bet because the Tigers have such a wide range of outcomes, as they've managed to beat Illinois and Alabama while losing to Auburn and twice to Mississippi. When the Tigers take good shots, they're as good as anyone in the country. When they don't get good looks, they can be easily beaten.
Dan's Pick to Cover the Spread
Missouri is not playing well and has picked the wrong time to play some of its worst basketball of the season. The Tigers are a lot better than they've shown in the past few weeks, but I don't really like what I'm seeing from them lately, and this isn't usually when they get things figured out. I think the best bet on the board is the over, but for the game, I'll back Georgia and the points. Bet your conference tournament picks FREE this week by taking advantage of a 100% real cash bonus on your first deposit of $100 to $300 at MyBookie Sportsbook! (Must use bonus code PREDICT100).