[et_pb_dcsbcm_divi_breadcrumbs_module hide_homebreadcrumb="off" homebreadcrumbtext="Home" separator="sep-raquo" hide_currentbreadcrumb="off" homebreadcrumborientation="left" _builder_version="3.8″ fontsbreadcrumbs_font="Lato||||||||" fontsbreadcrumbs_text_color="#000000″ fontsbreadcrumbs_font_size="15px" fontsbreadcrumbs_line_height="16px" fontsseperator_font="||||||||" fontsbreadcrumblinks_font="||||||||" fontsbreadcrumblinks_text_color="#2567cf" custom_margin="25px|||" custom_margin_phone="30px|||" custom_margin_last_edited="off|desktop" custom_css_main_element="font-family: Helvetica Regular;" disabled="on" global_module="3641″ saved_tabs="all"][/et_pb_dcsbcm_divi_breadcrumbs_module]
Gonzaga Bulldogs vs. Saint Mary's Gaels Pick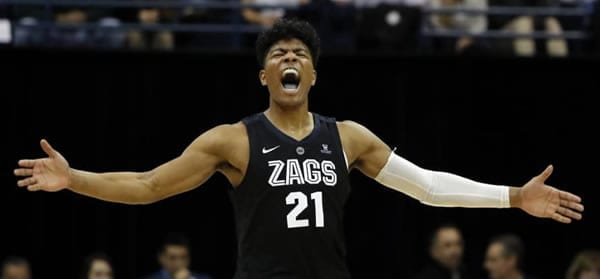 Gonzaga Bulldogs (28-2 SU, 19-11 ATS) vs. Saint Mary's Gaels (20-10 SU, 17-13 ATS)
When: Saturday, March 2, 2019 – 10 PM ET
Where: McKeon Pavilion, Moraga, Calif.
TV: ESPN
Point Spread: GONZ -9.5/SMC +9.5 (Bovada)
Total: O/U 145
Last Time Out: Gonzaga defeated Pacific 86-66; Saint Mary's beat Portland 65-48.
Scouting the Bulldogs:
Gonzaga's defense proved that it is human, allowing 66 points to notably offensively challenged Pacific in a Thursday victory. But on the other side of the coin, the offense continued to appear to be on another level, as it shredded the usually stingy Tigers for 86 points. Gonzaga continues to boast the No. 1 offense in the nation per KenPom, and even though part of that is because of the Bulldogs beating up on the rest of the West Coast Conference, the fact remains that nobody, not Duke, not North Carolina, not Tennessee, has held the Bulldogs under 66 points this season. In order to beat the Bulldogs, you simply have to be able to score with them.
Scouting the Gaels:
Saint Mary's, traditionally the primary challenger to Gonzaga in the WCC, appeared to have taken a backseat to the likes of Brigham Young, San Francisco, and San Diego. After the Bulldogs hammered the Gaels by a 94-46 count in Spokane. But since then, Saint Mary's has gone to work on its defense. The Gaels have taken the court five times since that humiliation in Washington, and they've held all five opponents to 65 points or fewer, keeping two in the 40s and holding Pacific to a mere 32 points. Saint Mary's remains an offense-first squad with Jordan Ford averaging 21 points a game, but Randy Bennett is one of the best there is at getting his team to adapt on the fly, and Saint Mary's is now showing that it can play defense with the best of them against most WCC squads. Whether that happens against Gonzaga, however, remains to be seen.
X-Factor:
Defense. These two teams know how to score the ball on a consistent basis, and Saint Mary's disaster in Spokane notwithstanding, that's pretty much been exactly how they've gotten to where they are today. But both of these teams feature underrated defenses that can step up, mess with an opponent's rhythm and take over a game. To win this game, one of these teams has to make the other one uncomfortable and create zero-point possessions for their foes. That's especially true for Saint Mary's, which has a chance if it can slow down Gonzaga but doesn't have much of hope if the Bulldogs turn the game into a scoring contest.
Gonzaga will Cover if:
The Bulldogs can keep Ford from getting good looks at the basket. The Saint Mary's defense has looked great for the past two weeks, but that doesn't change the fact that this team still relies on Ford to be its leader and its greatest offensive threat. If Ford is scoring, the Gaels are tough to beat, but if a team can hold him in check, as Gonzaga did by holding him to just eight points in the first meeting, Saint Mary's hasn't shown an ability to adjust.
Saint Mary's will Cover if:
The Gaels can shoot from beyond the arc at a reasonable percentage. One of the reasons that the first meeting between these teams was so lopsided was that Gonzaga connected on 44 percent of its 3-point attempts, while Saint Mary's was 1-for-13. If the Gaels can get that up to around 30 percent and hold Gonzaga to a similar number, the game changes considerably, and the Gaels will give themselves a chance. A similar scoring binge, however, and this game will also be over before it begins.
Dan's Pick to Cover the Spread:
I don't believe that the first game was really indicative of how good Saint Mary's really is. Truthfully, just about everything went right for Gonzaga in the first meeting, while everything went wrong for the Gaels, leading to the embarrassing final score.
But I'm still going to take the Bulldogs simply because I think they're on another level from Saint Mary's. The Gaels are a solid squad, but the WCC has been a three-tiered conference this year: Gonzaga, most of the rest, and Pacific and Portland. Saint Mary's has nothing to gain from this game besides giving their seniors a win in their final home game, and while that would be nice, it doesn't change Saint Mary's seeding in the WCC tournament, where the Gaels will be seeded second and need two wins to claim an automatic bid to the tournament.
So expect Bennett and his team to use this game to experiment. Saint Mary's will have its entire season come down to whether it can beat Gonzaga next week in the league tournament, and in order to do that, the Gaels have to find what might work against the Bulldogs because nothing at all worked the first time. Because of that, I'm going to go with the Bulldogs here. The line of 9.5 isn't an unreasonable price for Gonzaga, and I think the Gaels' experiments will cost them a few points here and there and keep them on the wrong side of a cover. I'm taking Gonzaga with my pick to finish the season with an unbeaten run through the WCC.
Take the Zags -9.5