[et_pb_dcsbcm_divi_breadcrumbs_module hide_homebreadcrumb="off" homebreadcrumbtext="Home" separator="sep-raquo" hide_currentbreadcrumb="off" homebreadcrumborientation="left" _builder_version="3.8″ fontsbreadcrumbs_font="Lato||||||||" fontsbreadcrumbs_text_color="#000000″ fontsbreadcrumbs_font_size="15px" fontsbreadcrumbs_line_height="16px" fontsseperator_font="||||||||" fontsbreadcrumblinks_font="||||||||" fontsbreadcrumblinks_text_color="#2567cf" custom_margin="25px|||" custom_margin_phone="30px|||" custom_margin_last_edited="off|desktop" custom_css_main_element="font-family: Helvetica Regular;" disabled="on" global_module="3641″ saved_tabs="all"][/et_pb_dcsbcm_divi_breadcrumbs_module]
Green Bay Phoenix vs. Michigan State Spartans Pick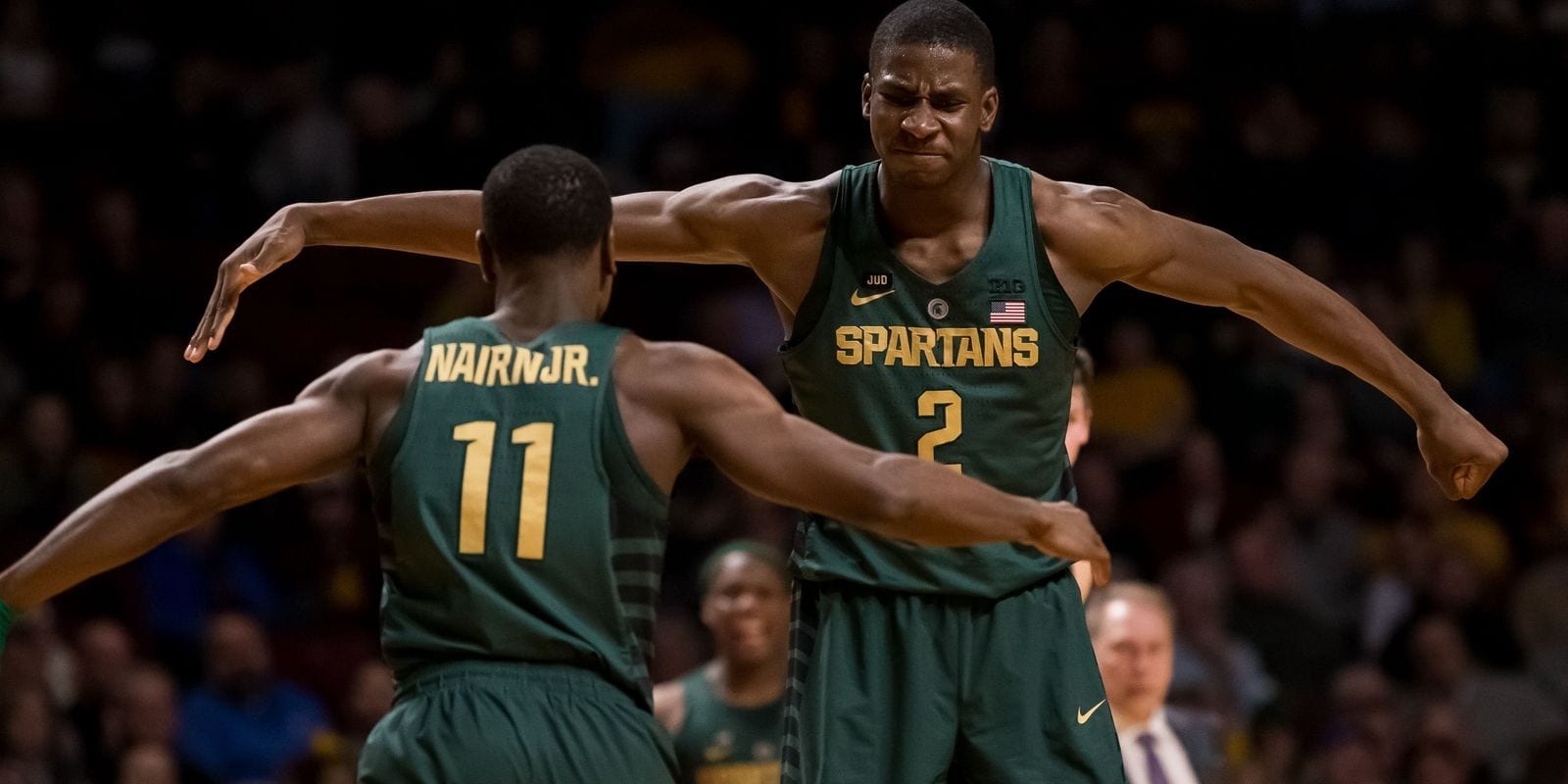 Green Bay Phoenix (6-5 SU, 6-3 ATS) vs. Michigan State Spartans (8-2 SU, 7-3 ATS)
When: Friday, December 16, 2018 – 5 PM ET
Where: Breslin Center, East Lansing, Mich.
TV: Big Ten Network
By: Dan Jamison, College Basketball Handicapper, Predictem.com
Point Spread: UWGB +26.5/MIST -26.5 (Youwager)
Total: O/U 161
Last Time Out: Green Bay lost to Creighton 86-65; Michigan State defeated Florida 63-59.
It's important to remember that the higher the spread, the more variance and volatility in the line. Some betting sites currently have 27 while others sit at 26. That is a big and getting on the right offering is the difference between long term winning and losing. Think of it like owning a retail store. If you didn't pay attention to the best supplier's wholesale prices and paid, say 4% too much at half of the time, would you be a good CEO of your company? Would your company survive? When betting, you are the CEO of your betting business. Use a supplier/sportsbook with the best offering!
Analyzing the Phoenix:
When an offensive-minded team fails to put the ball in the basket, bad things tend to happen for that squad. So it's been for the Green Bay Phoenix, who have played close games against Iowa and Oregon but shown the ability to get blown out by Bowling Green because their shooting percentage was an ugly 36.5 percent. Things weren't any better against Creighton, and the truth is that other than their trip to Iowa, Green Bay really hasn't shot it well outside the Resch Center all season. If that trend continues, Michigan State can and will make Sandy Cohen and company pay.
Analyzing the Spartans:
This is the time of year when Michigan State starts to get dangerous. Tom Izzo always puts his team through a gauntlet in November and December to toughen it up for Big Ten play, and if the Spartans come through it relatively unscathed, they become a load to bring down for the rest of the year. Escaping with only losses to Kansas and Louisville qualifies as relatively unscathed, and Michigan State looks like it's going to be dueling with Michigan for Big Ten supremacy all season long. The Spartans do just about everything well, from taking smart shots to grabbing rebounds to sharing the basketball and making the extra pass. In short, they're a very strong, talented team that figures to play deep into March this year.
X-Factor:
Green Bay's fatigue. Energy was supposed to work in Green Bay's favor on Friday against Creighton, but now it will likely work against it. How much energy do the Phoenix have left after playing Creighton to almost a draw for 30 minutes? Michigan State is fresh and anxious to get back into the Breslin Center after completing its long slog of five games of six on the road, and Green Bay just played less than 48 hours before playing the Spartans. The Phoenix might not have enough in the tank to go for long, especially with how they run.
Green Bay Will Cover if:
The Phoenix can get their shots to drop. Green Bay has shot poorly in its past two games against Division I competition and taken two blowout losses in the process. In order to have a chance against Michigan State, Green Bay will need to shoot at least 45 percent from the floor and then hope that they can force enough turnovers to slow down the Spartans.
Michigan State Will Cover if:
The Spartans can avoid turnovers. At 13 turnovers a game, Michigan State could be susceptible to Green Bay's pressure defense, especially if the Phoenix are able to get off to a decent start. Michigan State needs to take Green Bay out of the game in the opening minutes by frustrating their defense with smart ball movement. If Green Bay isn't forcing turnovers, it isn't staying in this game.
 Early Look at Monday Night Football: Sportsbooks Offer Saints -6.5
Dan's Pick to Cover the Spread:
Green Bay burned me in Omaha, and this line feels like a classic overreaction to the Creighton game. However, one thing has me worried about Green Bay: the quick turnaround time between games.
The Phoenix have had less than 48 hours to change time zones, travel from Nebraska to Michigan and try to prepare to plain in one of the toughest environments in college basketball. Meanwhile, Michigan State has had a full eight days to recover after Florida and should be ready to get in front of its fans again. That has me leaning toward the Spartans, despite the huge number of points.
Were the teams both at full strength in this game, I'd likely be taking Green Bay. The Phoenix are nowhere near as bad as they've shown in their past two games, and they'd likely be making Michigan State sweat until the 10-minute mark of the second half if they were fully rested. But they aren't. They're coming in exhausted, and with the style they love to play, their only choices are to not play their style or risk tiring themselves out too early.
Neither of those is an appealing option, and it's why I've got to go with Michigan State here. Do I think the Spartans are 26.5 points better than Green Bay in normal circumstances? No, I don't. But each bet is about who is better on that day, and the reality is that Green Bay doesn't have the horses to keep up with Michigan State unless the Spartans have an off-night with their shooting or turnovers.
I don't see that happening here. Throw in that Green Bay is just 1-4 away from home, and the writing is on the wall. I don't like laying this many points, but I have no choice here but to take the Spartans and gamble that the Phoenix are just too exhausted to stick with Michigan State past the first half.