Iowa Hawkeyes vs. Ohio State Buckeyes Prediction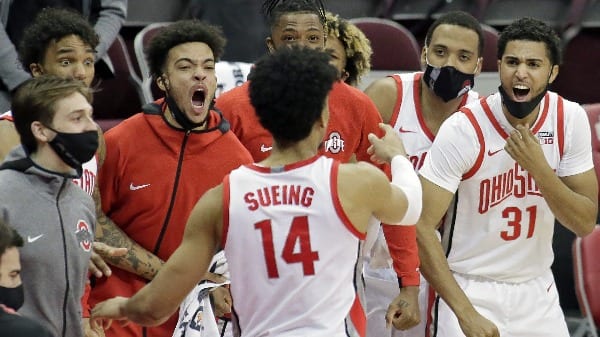 Iowa Hawkeyes (17-7 SU, 13-11 ATS) vs. Ohio State Buckeyes (18-6 SU, 14-9-1 ATS)
When: Sunday, February 28, 4 p.m.
Where: Value City Arena, Columbus, Ohio
TV: CBS
Point Spread: IOWA +3/OHST -3 (Risk less every bet >>> STOP laying -110 odds! Your are WASTING your hard earned money! Start laying only -105! The savings add up HUGE!)
Total: 159.5
Last Time Out:
Iowa lost 79-57 to Michigan; Ohio State lost 71-67 to Michigan State.
About the Matchup:
The shine on this matchup took a bit of a hit on Thursday, as both teams suffered defeats against opponents from the state of Michigan. Ohio State's loss probably hurt more, as the Buckeyes were expected to win against Michigan State but came up short after completely blowing a second-half lead. On the other hand, Iowa was never expected to challenge Michigan and didn't come close against the Wolverines' ferocious defense.
As the season enters its final full week, both teams still have plenty to play for. The Big Ten could have four teams in the top eight seeds, and if that's the case, that means the No. 2 seeds are going to have to be placed in the same region as Gonzaga and Baylor. Ohio State's got a chance to get back on the No. 1 line above Illinois, and the Buckeyes only have an argument if they can win their final few games and make a run in the Big Ten tournament. On the other hand, Iowa isn't going to be getting a No. 1 seed, but a run in the conference tournament could get the Hawkeyes onto the No. 2 line and give them a straightforward path to the regional final. Taking a loss here could knock a team back to the 3 line, requiring them to get two big wins in the NCAA tournament to reach the Final Four.
Scouting the Hawkeyes:
Iowa can survive without getting a great performance from Luka Garza. It can survive not having a great night from behind the 3-point arc. It cannot survive having both things happen in the same game, and that's exactly what occurred when the Hawkeyes ran into Michigan. The Wolverines held Garza to 16 points and took the Iowa guards out of the game by holding them to 6-for-19 from 3 for the game.
Michigan is the rare team that can actually do that, as few teams play defense to the Wolverines' level. Ohio State is more about playing faster and outscoring the opponent, and that made for the kind of wide-open game that Iowa loves when these teams met in Iowa City. However, there's a concern here. Even though that's the kind of game the Hawkeyes love, it didn't work out for Iowa in the first meeting, as Garza got the same 16 points against Ohio State that he did against Michigan.
Scouting the Buckeyes:
Ohio State had absolutely no business losing to Michigan State in East Lansing earlier this week. But the Buckeyes' shooting was off, and when your shooting deserts you, you've got to excel at rebounding the basketball. Ohio State didn't, losing the battle on the boards to the Spartans and watching their lead slip away in a four-point defeat.
To get back in the win column, Ohio State needs a better shooting performance from E.J. Liddell and needs Duane Washington to hit a lot better than 1-for-7 from behind the arc. Ohio State won the first meeting because the game turned into a track meet, allowing the Buckeyes to neutralize Garza's advantages in the frontcourt. But that can only happen if Ohio State is shooting well, as Iowa rebounds the ball too well for the Buckeyes to overcome a bad night from the floor. If Ohio State's shooting is off again, it's likely to be a tough night for this squad.
X-Factor:
Jack Nunge. The backup behind Garza was lost for the season to a torn meniscus, which only increases the pressure on the rest of the Hawkeyes, Garza especially. Iowa has had a lot of success this season in part because nobody really expected Iowa to succeed to the extent that it has. But the Hawkeyes face a unique situation in this one because Nunge was one of the key players off the bench who could come in for Garza without a worry that play would see a noticeable decrease in effectiveness.
Now Iowa doesn't have that, and given that they've had less than 60 hours to process Nunge being out for the year, it's anyone's guess as to whether Iowa is as prepared for a rough, tight game that could see one or more players in the frontcourt struggle to avoid foul trouble. If the Hawkeyes still have their minds on Nunge as opposed to playing hard for him, this is going to be a tough slog for Iowa.
Iowa will Cover If:
The Hawkeyes can get good shooting from the perimeter and allow Garza to take control of the game. Maybe Iowa figured it didn't need to go inside with how well it was shooting, but the Hawkeyes need to get both halves of the equation figured out, and that doesn't happen when you take 32 3-point attempts. Having the guards play well is helpful, but Garza has to make the difference in this one.
Ohio State will Cover If: The Buckeyes can get the game moving quickly. Ohio State isn't blessed with a true big man like Iowa is, which means rebounding isn't easy unless the game is moving quickly and long rebounds are a common thing. Ohio State gained 43 rebounds in the win over Iowa, and that was the work of Liddell and others working hard on the glass. But Ohio State has to turn those free possessions into points to win this one.
Dan's Pick to Cover the Spread
Favorites are dropping like flies this week, but I get the feeling Iowa might be a little distracted. The Hawkeyes are without a key player and have had no time to adjust to playing without him. There's a lot that can go wrong in a situation like this, and it usually comes from either a COVID layoff or an overloaded squad. Neither of those applies to Ohio State, which hasn't had to pause and should be fine with having two full days off before this game begins.
I don't trust Iowa right now. I'll take the Buckeyes to get the cover and keep their No. 1 seed hopes alive. Bet your Sunday picks FREE by taking advantage of a 100% real cash bonus on your first deposit of $100 to $300 at MyBookie Sportsbook! (Must use bonus code PREDICT100).