Kansas Jayhawks vs. TCU Horned Frogs Pick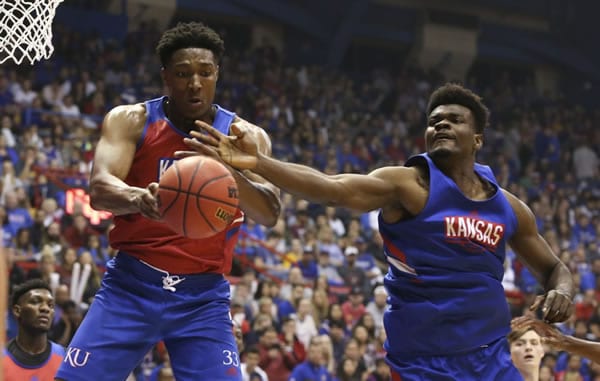 Kansas Jayhawks (8-2 SU, 4-5 ATS) vs. TCU Horned Frogs (9-2 SU, 5-6 ATS)
When: Tuesday, January 5, 10 p.m.
Where: Schollmeier Arena, Fort Worth, Texas
TV: ESPN
Point Spread: KU -5/TCU +5 (Risk less per bet >>> Why lay -110 odds when you can lay -105? NO BRAINER to make the switch to Walmart style pricing and Cadillac style!)
Total: 138.5
Last Time Out:
Kansas lost 84-59 to Texas; TCU edged Kansas State 67-60.
About the Matchup:
One team comes in brimming with confidence, while the other looks to prevent things from go-ing off the rails. Strangely, blueblood Kansas is the latter, while TCU brings a five-game winning streak into this matchup and has a chance to establish itself as a contender in a Big 12 race that's looking more brutal every day.
But as TCU has gradually built itself into a genuine NCAA tournament squad, one thing the Horned Frogs haven't been able to do is take down Kansas. The Frogs' win over Kansas in their first season in the Big 12 raised eyebrows nationally, but since that game, it's been one long string of dominance for the Jayhawks. Kansas has won 15 straight conference matchups against the Frogs, with the lone TCU win coming in the 2017 Big 12 tournament. The Frogs have come close against the Jayhawks in the past three seasons, losing by six or less in three of their past four meetings in Fort Worth. Can they finally breakthrough against a Kansas squad that comes in off an embarrassing defeat?
Scouting the Jayhawks:
There are two things that Kansas cannot do if it's going to be itself: hit its shots from the perim-eter and rebound. The Jayhawks didn't get either one done against Texas, which was why they ended up with their worst home loss in recent memory. What really has to worry Bill Self is the way that Kansas led itself to that disaster. The Jayhawks were unaggressive inside on the offen-sive end, allowing Texas to grab 36 rebounds on the defensive glass. David McCormack did close to nothing, and Self's rotation got so small that he entrusted the rest of the starting lineup to stay out for 30 minutes or more despite shooting 3-for-18 from behind the arc.
Kansas will be better in this game, if only because it really can't be any worse. The Jayhawks shot just 30.8 percent for that game while allowing Texas to shoot 46 percent from behind the arc. Kansas prides itself on hitting good shots and playing tenacious defense, and when both of those things get removed from the equation, the results get ugly in a hurry.
Scouting the Horned Frogs:
The fact that TCU outrebounded Kansas State wasn't much of a surprise, given that the Wildcats are one of the worst rebounding squads in the Big 12. But otherwise, TCU has struggled on the glass in 2020-21, which has made hitting shots rather critical during this run. Fortunately for the Frogs, R.J. Nembhard and Mike Miles are usually a quality combination of outside shooters, which gives TCU the ability to hang with Kansas on paper. Unfortunately, both are coming off a rather rough performance against Kansas State, where they shot a combined 1-for-8 from deep.
TCU was still able to survive because it held K-State to 24-for-65 for the game, but the Frogs can't count on that repeating against the Jayhawks. TCU has to hit its shots in order to have a chance because rebounding is likely not going to be a strength against the best rebounding squad in the conference. Anything under 45 percent and TCU can probably forget about getting a win.
X-Factor:
Confidence vs. motivation. There's no doubt after their performance against Texas that the Jayhawks are motivated to show that they're a much better squad than that game sug-gested. On the other hand, TCU believes that it could be a really solid team and can prove that it belongs in the top half of a loaded league. The Frogs have really played well since losing to Providence last month, and they've picked up some solid wins in the conference.
TCU's also got the motivation of its own in this one, as the Frogs have to be sick of getting beat-en repeatedly by Kansas. The best way to prove that they're a legitimate program in this league is to get a win over Kansas at home, and there's no doubt that Jamie Dixon is going to be tell-ing.
Kansas will Cover If:
The Jayhawks can actually hit their shots from beyond the arc. Kansas is a much better 3-point shooting team than what it showed last game, and if they're even close to their normal aver-age, they'll be in much better shape than they were against the Longhorns. Don't read too much into that loss to Texas; Kansas has a habit of playing one bad game early and then getting itself back on track the rest of the way.
TCU will Cover If:
The Frogs can avoid losing the rebounding battle by too much. TCU isn't going to win the battle on the boards, but the Frogs can stay in the game by limiting the damage that Kansas can do on the glass. If TCU can take good shots and limit the number of rebounds, it has a good chance. If not, it's going to be tough.
Dan's Pick to Cover the Spread
TCU has five straight wins to its name, but the reality is that none of those wins came against a team of Kansas' caliber. The best win was over Oklahoma State, while Kansas was playing one of the country's most challenging schedules. There's also the fact that the Jayhawks are certain to come into this game in a foul mood after such an embarrassing showing against Texas.
That's not a combination when you're looking to break a long losing streak. Give me Kansas. Bet this game LIVE in-progress at the betting site with the best in-game wagering platform on the planet! —-> Bovada Sportsbook! They offer TONS more games than other books!
STOP LOSING TODAY! START WINNING WITH DOC'S TEAM OF PROFESSIONALS! GET A FREE NO STRINGS ATTACHED $60 FOR THIS WEEKEND'S GAMES!