[et_pb_dcsbcm_divi_breadcrumbs_module hide_homebreadcrumb="off" homebreadcrumbtext="Home" separator="sep-raquo" hide_currentbreadcrumb="off" homebreadcrumborientation="left" _builder_version="3.8″ fontsbreadcrumbs_font="Lato||||||||" fontsbreadcrumbs_text_color="#000000″ fontsbreadcrumbs_font_size="15px" fontsbreadcrumbs_line_height="16px" fontsseperator_font="||||||||" fontsbreadcrumblinks_font="||||||||" fontsbreadcrumblinks_text_color="#2567cf" custom_margin="25px|||" custom_margin_phone="30px|||" custom_margin_last_edited="off|desktop" custom_css_main_element="font-family: Helvetica Regular;" disabled="on" global_module="3641″ saved_tabs="all"][/et_pb_dcsbcm_divi_breadcrumbs_module]
Kansas Jayhawks vs. TCU Horned Frogs Pick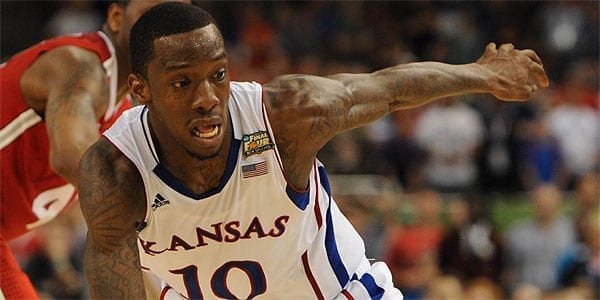 #13 Kansas Jayhawks (18-6, 10-14 ATS) vs. TCU Horned Frogs (17-6, 13-10 ATS)
When: Monday, February 11th, 2019 – 9:00 pm ET
Where: Ed and Rae Schollmaier Arena – Fort Worth, TX
TV: ESPN
By: Kyle Cash, NCAA Basketball Handicapper, Predictem.com
Point Spread: KU +2/TCU -2
Total: 148
The NFL has retired for the season, and with nothing left to gamble on but college basketball and curling, the masses should be flocking to us as we speak. It was a busy Saturday for the college basketball world: the Zion-aissance is reaching Peak Content (good news for people like me), Gonzaga and Nevada are scorching the Earth of their respective conferences, and the defending national champions lost their first game in Big East play solely because I texted my friend with 4 minutes left and said, "No way Villanova loses and they're +195 – bet the live moneyline." Sorry, pal.
Tonight, we have the privilege of heading down to Texas for some Big 12 play that is almost surely going to leave us unsatisfied. In the midst of one their weirdest seasons from a personnel standpoint in school history, the Kansas Jayhawks will be looking to improve upon their disastrous road record in Fort Worth versus the TCU Horned Frogs. In their last game out, Kansas managed to avoid the Bill Self Special as he allowed his team to beat his alma mater on the back of Dedric Lawson's big night. Meanwhile, TCU won its first road game versus a ranked opponent since the year Saving Private Ryan came out, and the Horned Frogs are back and looking for blood. With a roster put together by McGruber himself, the Jayhawks are 2-point underdogs as the visiting team with the total set to a solid 148 points. Rock chalk smack talk.
Ochai! (God Bless You)
In a world dominated by the McDonald's All-Americans, it's always nice to see the untouted, unrecruited guy come through in big spots. I want less Michael Porter Jr.'s (and the number of relevant Michael Porter Jr.'s right now is currently 0) – I want more T.J. McConnells. Or Jimmy Butlers. Or Joel Embiids. I want the guys who had some adversity, and then took it and used it as motivation. Kansas was chock full of spoon-fed, underperforming five-stars – and then Ocahi Agbaji happened. Starting the season as a red-shirt freshman, Agbaji is now being thrust into a starring role as the athletic, bouncy, sharpshooting wing that Bill Self and the rest of the Kansas team need him to be. I can see the Disney movie being written already.
Related: Cavs versus Tar Heels Pick
With the rash of absences due to injuries and other non-health-related factors, the Jayhawks are going to need to milk every ounce of potential out of Agbaji to have a chance in this one. The Big 12 is a solid but unspectacular league, and Kansas is in serious danger of losing their conference title streak. Dedric Lawson hasn't exactly been the on and off court leader that Kansas was hoping he would be, but now is as good of a time as any to step up and be "the man." There's nothing that TCU can really throw at Kansas to disrupt what Kansas does well. In a lot of ways, TCU is just the poor man's version of the Jayhawks: they shoot the three ball well while trying to play the middle ground between elite scoring and elite defense. But the real problem is that they don't have anyone that can deal with Lawson's combination of size, speed and strength, and his 31-point, 14-rebound performance was no accident. As long as Lawson does his thing and Agbaji, Damean Dotson and Quentin Grimes can provide the spacing around him, the Jayhawks should be able to will themselves to victory. No Vick, no Azuibuke, no problem.
Horny Frogs
I'm really sorry for that. I couldn't help myself. It's been an up-and-down season for Mark Titus' beloved Horned Frogs, and it appears as though his fandom didn't give TCU the boost that some may have thought it would. Even still, Jamie Dixon's squad is on the up-and-up, and with their first signature win over #17 Iowa State on Saturday, they'll be big-game hunting for number two to add to their resume at home on Monday night. Unfortunately, they have to face a Jayhawks team that has beaten them 13 out of 15 times in the last 7 seasons. I think it's safe to call this a one-sided rivalry.
Even still, the Horned Frogs are feeling frisky after upsetting Iowa State this weekend. Even with a bit of roster upheaval themselves after Jaylen Fischer's unceremonious exit, TCU has managed to piece together a roster that can at least compete with the tough Big 12. Freshman Kendric Davis was a standout off the bench on Saturday, Desmond Bane has paced the Horned Frogs all season. But even in victory, TCU's defense allowed 83 points to a fairly one-note Iowa State team, and it'll be equally tough to contain Kansas' attack. But on the road, cohesiveness and chemistry are equally as important as talent, and TCU's defense may be just active enough to keep the Jayhawks off-balance. The Horned Frogs have a couple of dangerous weapons, and I wouldn't be shocked to see them carry their positive momentum for another huge victory. And if Dedric Lawson happens to go mysteriously missing between now and tomorrow night, that will be a key to victory as well.
Best Bet
There're only three certainties in life: death, taxes and Bill Self's Kansas team winning the Big 12 title. In each of their last 14 seasons, the Jayhawks have at least tied for the conference title, and they still have a chance to steal one this season. But time is running out, and with only 7 more conference games to go, every one is a must-win for the Jayhawks. TCU is a perfectly fine team: they're well-coached, they play hard and they have some talented players. But trying to thwart Bill Self's quest for a Big 12 title is like trying to stop the sun from rising. Like clockwork. If you asked me to really look into the crystal ball, I would tell you that there is a possibility that this is the year that the streak gets broken; this is maybe Self's oddest, weakest collection of talent. But to bet my own hard-earned money against it? Not happening. Not in this lifetime. The Big 12 conference title works the same way as our United States judicial system: it's Bill Self's until it's proven otherwise.
Final Score Prediction: Kansas Jayhawks 77 – TCU Horned Frogs 74