Maryland Terrapins vs. Michigan State Spartans Pick 2/15/20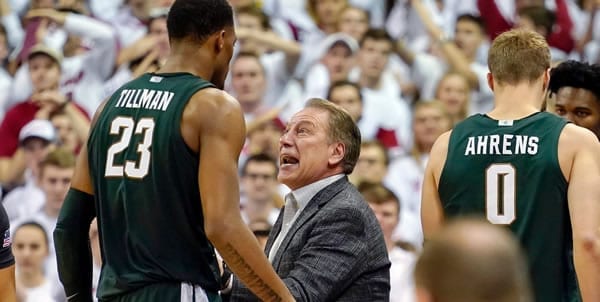 Maryland Terrapins (20-4 SU, 12-11-1 ATS) vs. Michigan State Spartans (17-8 SU, 11-14 ATS)
When: Saturday, February 15, 6 p.m.
Where: Breslin Center, East Lansing, Mich.
TV: ESPN
Point Spread: MD +6.5/MIST -6.5 (SportsBetting.ag - Deposit $200 and get a FREE $100 bet!)
Total: O/U 138.5
Last Time Out:
Maryland escaped Nebraska 72-70; Michigan State outlasted Illinois 70-69.
Scouting the Terrapins:
That was almost disaster for Maryland, as the Terrapins' defense went missing in action against the Cornhuskers and nearly dropped its first home game of the season against one of the worst teams in the league. Still, Maryland survived and came away with its sixth consecutive win in the Big Ten to improve to 10-3 in the league. Now they face their toughest remaining test in the league in Michigan State, as for some stupid reason, they don't play Penn State a second time (memo to the Big Ten: you're not going to make that rivalry work if you don't have those teams playing each other twice a year, making for approximately exhibit 8 billion that Maryland has no business being in the Big Ten) but do play Michigan State twice.
That means a visit to the Breslin Center, a building that has tortured the Terrapins almost as much as Penn State's Bryce Jordan Center. Maryland has just one win in East Lansing since joining the Big Ten, and six of the past seven meetings between the two have gone to the Spartans. To get a result here, Maryland needs a big game from the one man who gave a strong performance against Nebraska, Jalen Smith. Smith was outstanding with 16 points and 13 rebounds, along with the game-saving blocked shot, and an inside presence has often been the thing Maryland has lacked against Michigan State. If Smith can make himself that presence, the Terps will have a big edge.
Scouting the Spartans:
Are the Spartans really back? After getting a win at Illinois, that's the narrative around Michigan State, but I don't know if that's the case. Michigan State winning in Champaign is impressive, no question, but the Spartans had lost three in a row before that game and nearly managed to cough up a 17-point halftime lead until Xavier Tillman saved the day with a dunk at the buzzer. Given that Illinois only shot 36.7 percent from the floor and still nearly overcame a mountain of a deficit says that there are still cracks in this Michigan State squad. Cassius Winston didn't play particularly well against the Illini, and the Spartans can't be having those kinds of games from him if they're going to do much of anything beyond the Big Ten this year. When Winston and Tillman both land on the bench with four fouls, Michigan State becomes a much easier team to beat, and that was a big part of the Illini comeback. Winston really has to shake off that last game and play the way he's capable if Michigan State is going to show it's back.
X-Factor:
The point guards. As critical as Winston is for Michigan State, Anthony Cowan is the same for Maryland. Both are seniors, and both have been the most critical part of their squads on most nights this season. Whichever one is able to lead his team better will have a considerable edge in leading his team to a win here.
100% REAL CASH up to $300

USE BONUS CODE:
PREDICT100
Maryland will Cover if:
The Terrapins can avoid the slow starts that have plagued them most of the year. Maryland has made a habit of falling behind early and trying to turn things around in the second half, something that it did successfully against the likes of Rutgers, Illinois, and Northwestern. But the strategy didn't work so well against Penn State, and it certainly didn't work at Iowa. Maryland has shown an ability to come from behind. But, against a team as talented as Michigan State, it's best to stay out of that situation.
Michigan State will Cover if:
The Spartans can neutralize Smith on the interior. Michigan State has owned Maryland in the past by dominating on the glass and with interior defense, and the Spartans have to control Smith without losing sight of Cowan. It's a daunting, difficult task, but it's a vital one if Michigan State is going to use its edge on the boards and elsewhere.
Dan's Pick to Cover the Spread:
I'm just not seeing it with Michigan State. Sure, they're at home, and the Breslin Center is a big plus in their direction, but this team has lost three of four and faces a squad that's coming off seven straight wins and three of them on the road. Maryland might have wobbled past Nebraska, but that game was likely a letdown after four big wins over Indiana, Iowa Rutgers, and Illinois.
The Terrapins should have their minds right now and should be focused on the task at hand, which means beating the Spartans and moving up in the race for the Big Ten's top seed. Michigan State, meanwhile, got a win that looks good in the standings but doesn't do much for it overall. The fact is, Maryland is playing the better basketball, and Michigan State isn't likely to have learned much from losing three out of four. I can see Michigan State winning here, but I want Maryland and the points for the total. Give me the Terps. Stop betting on games at -110! You're wasting money! Start betting SMARTER by laying -105 at 5Dimes! You'll be so happy you made the switch! They have more offers as well!