Michigan State Spartans vs. Duke Blue Devils Pick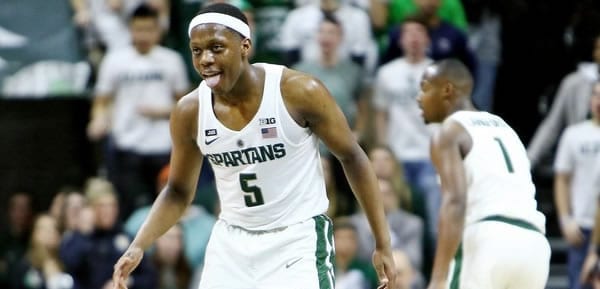 Michigan State Spartans (31-6 SU, 26-11 ATS) vs. Duke Blue Devils (32-5 SU, 18-19 ATS)
When: Sunday, March 31, 2019 – 5:05 PM ET
Where: Capital One Arena, Washington
TV: CBS
Point Spread: MIST +2/DUKE -2 (SportsBetting.ag)
Total: O/U 150.5
Last Time Out: Michigan State routed LSU 80-63; Duke survived Virginia Tech 75-73.
Scouting the Spartans:
Turns out Michigan State actually can take care of the basketball. LSU was supposed to be a mountain too far for the Spartans given their multitude of issues with taking care of the basketball and the Tigers' penchant for steals, but the Spartans cut themselves back to a mere seven turnovers in this contest and easily handled the LSU defense.
They've got a similar, but more advanced, challenge facing them with Duke. Like LSU, Duke's defense is built on forcing opponents into mistakes and coming up with steals. However, unlike LSU, Duke boasts two of the best freshmen and two likely top-5 NBA draft choices in R.J. Barrett and Zion Williamson. Both have the speed and length to interrupt passing lanes, which has left several opponents helplessly watching the Blue Devils pad their lead. Michigan State didn't play Duke this year, but it hasn't had much success when it has. Since Tom Izzo became the coach in East Lansing, the Spartans are 1-11 against the Blue Devils.
Scouting the Blue Devils:
Somehow, yet again, they're still here. No team that's still in the field has struggled to get to this point more than the Blue Devils, who have yet to cover a game in this tournament, fell behind North Dakota State early, were an inch away from losing to Central Florida and were six inches from being forced into overtime by Virginia Tech. How much longer can Duke keep surviving?
At this point, it seems clear that the answer is, "However long Barrett and Williamson will allow them to survive." The Blue Devils might be down to just two of their freshman Big 3, as Cam Reddish is questionable after missing the game against Virginia Tech. But the Blue Devils survived that game because Tre Jones, not generally known for his scoring, had a massive game with Reddish on the bench, pumping in 22 points.
Can they do the same to Michigan State? Unlikely. The Spartans know what they need to do on defense to take away opportunities, and they pride themselves on doing exactly that. Michigan State will likely examine what Virginia did and what worked on defense before figuring out how exactly to plan its defensive strategy.

1% Cash Back
---
Pay less per bet &
get largest betting menu
X-Factor:
History. Much has been made of Tom Izzo's 1-11 record against Mike Krzyzewski, but there's another record in play here: 7-2. That's Tom Izzo's record in the Elite Eight. When Michigan State gets to this level, Izzo is as good as anyone in the business. Plus, the record against Krzyzewski is a bit misleading, considering that Izzo has never had the higher seeded team when he has faced Duke in the NCAA tournament. In fact, Duke has never been ranked lower than 10th when Krzyzewski and Izzo have faced off and only once has Duke's poll ranking been below Michigan State.
But in the Elite Eight, Izzo has been an elite coach. His only losses have come as a No. 7 seed to No. 1 Texas and as a No. 4 seed to eventual national champion Connecticut. When he's brought a team that was supposed to make it to the regional finals, he's never gone home a loser. Granted, at 12-3 in this round, Krzyzewski is no slouch either.
Michigan State will Cover if:
The Spartans can force the Blue Devils to change their game plan. With less than 48 hours to cover the fact that Duke is without one of its best players, the Blue Devils haven't been able to devise a strategy that can mask Redding's absence. If he can't go, the Spartans need to pound the ball hard at the interior, which can force the Blue Devils to have to change things on the fly.
Duke will Cover if:
The Blue Devils can get the bench to step up. With or without Reddish, Duke has to get more production out of its bench players. The Blue Devils finally got something out of Jones, but that was the first time that had happened in some time. Right now, teams don't feel concern ignoring everyone outside the freshmen, and the Blue Devils feel a little incomplete, in my opinion.
Dan's Pick to Cover the Spread:
I'm honestly scared to pick against Duke because the Blue Devils should be completely buried by now, but I can't help but compare Duke to the 2006 Connecticut team that got a No. 1 seed, outplayed by terminology and escaping from two lower seeds in the first two rounds.
The luck has to run out at some point for Duke, and I think it happens here against an excellent team for Michigan State that's developed into a true team. Give me the Spartans as teamwork overcomes great individual performances.
(NO commitments. NO Credit Card. NO Salesman.)