Michigan Wolverines vs. Michigan State Spartans Pick 1/5/20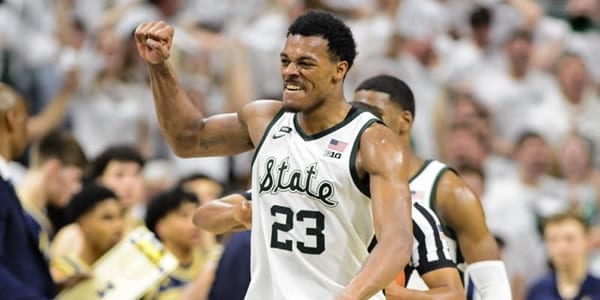 Michigan Wolverines (10-3 SU, 8-5 ATS) vs. Michigan State Spartans (11-3 SU, 6-8 ATS)
When: Saturday, January 5, 1:30 p.m.
Where: Breslin Center, East Lansing, Mich.
TV: CBS
Point Spread: MICH +8/MIST -8 (SportsBetting.ag)
Total: O/U 143.5
Last Time Out:
Michigan beat Massachusetts-Lowell 86-60; Michigan State beat Illinois 76-56.
Scouting the Wolverines:
Juwan Howard's ludicrous claim that UMass-Lowell is an important game shows that he's mastered the art of coach speak. Now, can he master the art of beating Michigan State? He had no problems doing it as a player, as he went 6-0 against the Spartans during his time in Ann Arbor. But this Michigan State team is a lot better than what Howard faced, and the Wolverines have to adjust to not having Isaiah Livers at 100 percent after an injury against the Riverhawks.
Livers is a game-time decision, and if he can't go, Michigan would really need Eli Brooks and Zavier Simpson to step up on the 3-point arc. That could force the Wolverines out of their game plan, as Michigan is at its best when Simpson looks for a shot for other people and not himself. Livers is also Michigan's team leader in minutes played, so if he can't go, the rotation will change quite a bit for the Wolverines.
With or without Livers, Jon Teske is going to have to step up inside. If he's controlling the game on the glass, Michigan has a good chance to play its kind of basketball and control the tempo.
More Picks: WildCard Picks: SEA/PHI Predition Against the Spread >>>
Scouting the Spartans:
Any time you can match up with Illinois on the rebounding glass, you've done something pretty outstanding. When you pair it with holding the Illini to 10.7 percent shooting from behind the arc, you're going to turn a close game into a rout. That's exactly what Michigan State managed to do in its most recent game, and it's looking like the Spartans have themselves playing the kind of defense that Tom Izzo wants to see from his squad.
He's also getting exactly what he needs from Cassius Winston, who seems to have 21 on his mind, as that's been his point total in each of Michigan State's past three games. Any time you have your most experienced leaders playing like that, the rest of the team starts to follow their example, and the Spartans seem to be taking all of their cues from him at the moment.
X-Factor:
Coaching. Michigan has lost three straight to Michigan State, and the Spartans controlled all three games last season. Howard has never coached against Michigan State, however, and has a chance to turn the rivalry in his team's favor and endear himself even further to the Michigan fan base. The way that he approaches this game will go a long way toward determining both the Big Ten race and the Wolverines' outlook for the rest of the season. Howard has to show that he can match wits with Tom Izzo, a daunting task in his first season as a head coach.
Michigan will Cover if:
The Wolverines can force the Spartans into tough shots. Michigan has been at its best when it's focusing on winning with defense. The Wolverines play a lot faster under Howard than they did under John Beilein, but they don't play any less intense on defense than they did before. This is still a team that's very capable of making life difficult for its opponents, and if they can keep this game low-scoring, that's exactly the type of game that the Wolverines know how to play.
Michigan State will Cover if:
Michigan State can extend possessions by dominating the glass. The Spartans have proven themselves to be an outstanding rebounding team as well as a great offensive squad, and if Michigan is down Livers, Michigan State is even more likely to get inside and dominate the glass. That likely means one shot per trip for the Wolverines, and the Spartans play defense too well for that to be a great way to win games. If Michigan State can rebound as well as it did against Illinois, Michigan is in trouble.
Dan's Pick to Cover the Spread:
If Livers plays, the equation changes drastically in Michigan's favor. I know that legendary North Carolina coach Dean Smith was a longtime proponent of being able to play one great game without a key player, but I don't think this is the game where Michigan manages to do that. The personnel favors Michigan State far too much for Michigan to get away without having Livers in its lineup. Livers doesn't have to start the game, but he's got to be on the court for something close to his regular rotation of minutes. Elsewise, Michigan is going to have to scramble to find a Plan B.
Unfortunately for the Wolverines, Michigan State is just too good for a Plan B to really be of much use right now. The Spartans seem to be hitting their stride, and the Wolverines haven't seen much evidence that they can play with Michigan State yet. Michigan will get to that level, but I don't see it happening in this game. Give me the Spartans.
STOP LOSING TODAY! START WINNING WITH DOC'S TEAM OF PROFESSIONALS! GET A FREE NO STRINGS ATTACHED $60 FOR THIS WEEKEND'S GAMES!