NCAA Basketball Championship: Odds & Picks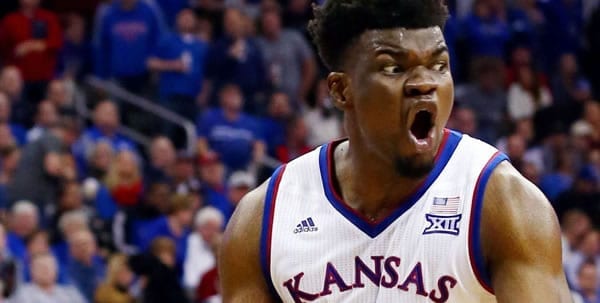 It might seem like March is a world away with the leaves only beginning to change colors, but now's the time to start thinking about who's going to be left standing at the end of the 2019-20 college basketball season. As with most futures bets, this is about maximizing values and figuring out where it's best to take a flier, and teams to avoid where the risk outweighs the value. We've examined the AP preseason top 10, along with five other notable teams that are either getting a lot of attention or appear to be criminally undervalued.
Michigan State Spartans
Odds: 6-1
Last year: 32-7, lost to Texas Tech in the Final Four
Why you should bet on the Spartans: Cassius Winston is a rarity in today's game: a senior leader on a national championship contender. Plus, he's the preseason favorite to earn the Wooden Award as college basketball's top player after averaging 18.8 points per game as a junior. Beyond him, Michigan State is blessed with excel-lent guards who can shoot it well and play the type of defense that frustrated Duke a season ago.
Why you shouldn't bet on the Spartans: It's hard as heck to carry the expectations that come with being the preseason No. 1. Michigan State is already facing adversity in the form of injury to Joshua Langford, and Mar-quette transfer Joey Hauser's appeal for eligibility remained denied as of press time. The pressure of getting everyone's best shot can weigh on the Spartans, especially with a typically tough Tom Izzo schedule awaiting them.
Outlook: The last time a team started the year No. 1 and cut down the nets was in 2009 when North Carolina finished off the title run by besting the Spartans. Only 11 preseason No. 1's have ever worn the crown, and if anything happens to Winston, Michigan State is in serious trouble. The value is just not there for the Spar-tans, even though they're a talented group.
---
Kentucky Wildcats
Last year: 30-7, lost to Auburn in the regional final.
Odds: 8-1
Why you should bet on the Wildcats: Think you know Kentucky basketball? Think again. Yes, the Wildcats will be young, and the Wildcats will be talented. But they aren't going to be as young as usual, because Ashton Hagans actually came back for his sophomore season, which gives John Calipari an experienced point guard. That could get Kentucky a top seed, and that could set up a comfortable path to Atlanta.
Why you shouldn't bet on the Wildcats: Since when does Kentucky take the most direct route to anything? The Wildcats are still going to be filled with freshmen, and they've got the additional challenge of having to find a frontcourt. Last year's Wildcats were dominant on the backboards, but Kentucky is not a big, powerful team this season. It's a quick, guard-oriented squad, and that means Calipari will have to adjust the way he leads the Cats.
Outlook: Betting on a team like Kentucky to win it all in November is usually not a great strategy. When the public has heard of a team repeatedly, they like to bet on that team because they want to minimize risk. That's not the point of making a futures bet. We're looking for value, and that isn't here with Kentucky. The Wildcats certainly have a quality path to the title, but it's going to depend on how well Calipari can get a new mindset in place for his team. That takes time, and will likely cost Kentucky its cushy road of St. Louis to Indi-anapolis to Atlanta.
---
Kansas Jayhawks
Last year: 26-10, lost to Auburn in the second round
Odds: 8-1
Why you should bet on the Jayhawks: Udoka Azubuike is healthy, Devon Dotson can get him the ball and Lagerald Vick is pro basketball's problem now. Kansas should have one of the country's best inside-outside combinations this season if Azubuike is back to full strength, and that would instantly make the Jayhawks a favorite to contend for another Big 12 title after their streak ended last season.
Why you shouldn't bet on the Jayhawks: Has any team put up with more distractions than the Jayhawks? First, Kansas had the NCAA violations come out. Then there was the Late Night in the Phog fiasco with Snoop Dogg. Then, of all things, the Jayhawks announced the resumption of their rivalry with Missouri in 2020, which has angered the Kansas fan base, which wanted never to play the Tigers again. This is a team in flux, and that's before you throw in that Kansas still has no solution at power forward with Dedric Lawson having passed on his senior season.
Outlook: Distractions weighed down the Jayhawks last season, and it looks like that might be the case again this year. Kansas will win a lot of games because Bill Self is an excellent coach, Kansas has a lot of talent, and there's no more significant home-court advantage than Allen Fieldhouse. But distracted teams don't win ti-tles, and Kansas will likely be no exception. Look elsewhere.
---
North Carolina Tar Heels
Last year: 29-7, lost to Auburn in a regional semifinal
Odds: 10-1
Why you should bet on the Tar Heels: Cole Anthony brings a lot to the table and should be able to step right in and keep North Carolina near the top of the ACC. Carolina brings in a pair of grad transfers to match with a top 10 recruiting class, and they've got one of the best on the sidelines in Roy Williams.
Why you shouldn't bet on the Tar Heels: This is not the kind of situation where Roy Williams thrives. Williams is at his best when he gets a few senior leaders, along with one or two talented freshmen. This group leans more toward the freshmen than it does the veterans, and that could be a real problem, given that Carolina has road games at literally every ACC squad that's expected to be a contender this year.
Outlook: This is not a bet you should make, not at these odds. North Carolina could very well win the title, but the Heels' schedule is so loaded that their odds are almost sure to drop before March. Before 2020 even be-gins, North Carolina will have played at Gonzaga and Virginia, hosted Ohio State and played UCLA, Alabama, and one of Gonzaga, Seton Hall, or Oregon on a neutral court — and that's before adding trips to Duke, N.C. State, Florida State, and Louisville. Wait for gamblers to sour on the Heels before you jump.
---
Duke Blue Devils
Last year: 32-6, lost to Michigan State in the regional final
Odds: 12-1
Why you should bet on the Blue Devils: As usual, Duke will be loaded with talent after Mike Krzyzewski went out and signed another top recruiting class, headlined by Vernon Carey. Carey should be strong in the paint, and while he won't make anyone forget Zion Williamson anytime soon, he should be a dominant player who quickly establishes himself as one of the best big men in the ACC.
Why you shouldn't bet on the Blue Devils: Relying on freshmen does not work in the NCAA tournament. Only Kentucky in 2012 has proven the exception to the rule, as even Duke's 2015 national champions were led by a senior point guard in Quinn Cook. The Blue Devils also aren't great shooters, as they haven't been able to find anyone to pick up the scoring on the perimeter.
Outlook: The one-and-done era at Duke has been a mixed blessing at best for the Blue Devils, and this doesn't look like it's going to change that. Duke is going to earn a high seed as usual, but the Blue Devils are likely to come across an older opponent that they cannot overpower at some point. Krzyzewski doesn't really build teams anymore because he doesn't have his players for long enough to do so, and that means that where past Duke squads would have found something in the reservoir to get past tight situations, these Blue Devils can't call on that experience. That will hurt Duke, and likely cost it a shot at a title.
---
Florida Gators
Last year: 20-16, lost to Michigan in the second round
Odds: 14-1
Why you should bet on the Gators: Kerry Blackshear was college basketball's most coveted grad transfer af-ter Buzz Williams left Virginia Tech for Texas A&M, and Blackshear wound up in Gainesville. Blackshear should be as strong in the paint in the SEC as he was in the ACC, and in joining Florida, he joins a squad with a point guard that likes to get the ball to the 5 in Andrew Nembhard. Throw in a sharpshooter in Noah Locke and a heralded freshman in Scottie Lewis, and there are a lot of positives here.
Why you shouldn't bet on the Gators: Mike White has yet to show that he can get the most out of his team. Only once has he gone past the second round with Florida, and the Gators only did that in a region where the No. 1 and No. 2 seeds (Villanova and Duke) were both bounced in the second round. Even with that gift, the Gators managed to fritter it away, losing to league rival South Carolina with a chance to go to the Final Four.
Outlook: Florida has the pieces in place for a deep run with Blackshear exchanging maroon for blue. The Ga-tors should be a wiser, tougher, and more experienced squad this season, and if White can push the right buttons, this is a solid value play.
---
Louisville Cardinals
Last year: 20-14, lost to Minnesota in the first round
Odds: 16-1
Why you should bet on the Cardinals: Chris Mack has sped up the timetable in Louisville, and the Cardinals now possess the pieces to make a real run at the title. Jordan Nwora is a genuine player of the year candi-date, and he's one of three returning starters for this Louisville squad. Mack and his players know each other well now after a year of meshing, and the Cardinals are motivated after the way their year ended.
Why you shouldn't bet on the Cardinals: Louisville still has no point guard, and going into the ACC without a capable ball-handler is a death sentence. The hope is that either grad transfer Fresh Kimble or freshman Da-vid Johnson can handle the job, and Kimble will get the first crack at it, as Johnson is likely out until the Cardi-nals get deep into ACC play.
Outlook: This is a strong team that seems to be right around where it should be for overall value. Louisville provides a nice return on investment and has every major piece to be competitive for the crown. The Cardi-nals will be battle-tested by the end of the year, and if they can avoid injuries, there is a lot to like about this squad. The only concern is a point guard, but I think they find one by the time they start ACC play (outside of one early game at Miami).
---
Memphis Tigers
Last year: 22-14, lost to Creighton in NIT second round
Odds: 18-1
Why you should bet on the Tigers: James Wiseman might be the No. 1 pick in the 2020 NBA draft, but for now, he's wearing the blue and white of the Memphis Tigers, and if nothing else, that shows that Penny Hardaway can recruit to Memphis. John Calipari showed you can recruit big and win big at Memphis, and with the 7-1 Wiseman and Precious Achiuwa in Memphis, Hardaway is following that part of the plan.
Why you shouldn't bet on the Tigers: Having the No. 1 pick in the NBA draft on your roster is no guarantee that the rest of your team can do anything with him. In fact, of the past four top overall picks (all freshmen), two of them, LSU's Ben Simmons and Washington's Markelle Fultz, missed the NCAA tournament entirely, and Arizona and DeAndre Ayton crashed out of the first round with a 21-point loss to Buffalo. Only Zion Wil-liamson managed to win a tournament game, and even he couldn't get Duke to the Final Four. Plus, while Hardaway can recruit top talent, can he coach it? He's been a college coach for all of one season, and there's no guarantee he can get the most out of Wiseman.
Outlook: If Wiseman lives up to the hype, Memphis will be a good team. But there's no way I'm gambling on Hardaway and his one season of coaching experience. The only one who's come into college coaching with no experience and been an overnight success is Fred Hoiberg, and that was done with transfers, not freshmen. Even Hoiberg had his issues, running into the likes of UAB in a first-round shocker with his best Iowa State team. Hardaway should not be going off at 18-1 to win a national title in his second year on the job. He should become a good college coach eventually, but in 2019-20, this is a hard no.
---
Villanova Wildcats
Last year: 26-10, lost to Purdue in the second round.
Odds: 20-1
Why you should bet on the Wildcats: It's got to be better than last year, right? Villanova was a team without an identity last year, as Eric Paschall and Phil Booth found out the hard way that they couldn't do it on their own. This year, Villanova's young players should be a year wiser and ready to play with the elite in college basketball. If Saddiq Bey and Collin Gillispie can continue the progress, they showed a year ago. The Wildcats have a chance.
Why you shouldn't bet on the Wildcats: This team feels a lot like the basketball version of Nebraska: big name, lots of hype and not much substance. Villanova isn't trying to resurrect itself like the Cornhuskers, but neither are the Wildcats up to the standards that Jay Wright has built-in suburban Philadelphia. The Wildcats just don't have enough proven scoring options on this roster.
Outlook: Jay Wright is not college basketball's Bruce Bochy. The Wildcats are not going to make it three na-tional championships in five years, and this return isn't good for how unlikely it is to happen. Villanova will be the favorites to win the Big East, but that league was down last year and might struggle again. You can find much better value elsewhere.
---
Maryland Terrapins
Last year: 23-11, lost to LSU in the second round.
Odds: 40-1
Why you should bet on the Terrapins: Experience wins, and Maryland brings back four of its five starters from last season. First, Anthony Cowan decided to return for his senior season, and second, the Terps' talented freshmen, including Jalen Smith, chose to become sophomores, setting coach Mark Turgeon up for what could be his best team yet in College Park.
Why you shouldn't bet on the Terrapins: The one notable player who won't be back is Bruno Fernando, whose presence at center allowed Smith to play his natural forward position. If freshmen Makhi and Makhel Mitchell aren't ready for life in the Big Ten, Maryland's going to find itself getting outrebounded night after night in a league that is no stranger to playing inside.
Outlook: Maryland is sitting seventh in the AP poll, but it's going off at 40-1 for a title. The Terrapins don't have a challenging non-conference schedule, but they'll get toughened up by the Big Ten, including two matchups with preseason No. 1 Michigan State. Maryland has every piece of the puzzle needed in today's college basketball world, and the Terps represent excellent value at these odds. If you want a dark horse, this is the one.
---
Gonzaga Bulldogs
Last year: 33-4, lost to Texas Tech in the regional final
Odds: 20-1
Why you should bet on the Bulldogs: Mark Few finds a way to be good every single season, and this year should be no exception. Gonzaga is again loaded in the frontcourt, and with the exception of longtime thorn Saint Mary's, the rest of the West Coast Conference simply won't provide much resistance to Gonzaga. With the Pac-12 still lost in the wilderness, Gonzaga should have no trouble getting a good seed in the West.
Why you shouldn't bet on the Bulldogs: Can Gonzaga get their bigs the ball? The Bulldogs have Killian Tillie and Filip Petrusev ready to punish teams down low, but they have to have someone get them opportunities. That someone will either be Ryan Woolridge or Admon Gilder, both of whom are grad transfers and must quickly adjust to playing with Gonzaga.
Outlook: Gonzaga will be great because it always is, but this doesn't seem like the team that's going to push Mark Few to finally cutting down the final net. There are just too many questions at point guard to take a squad like this at these odds. Gonzaga should again win 30 games or more, but don't expect a national title here.
---
Virginia Cavaliers
Last year: 35-3, won the national championship
Odds: 25-1
Why you should bet on the Cavaliers: Tony Bennett now has tangible proof that his system is a championship-worthy system, as Virginia sits on top of the college basketball world for the first time in its history. With tal-ented players like Braxton Key and Mamadi Diakite still around to get things done for UVA, there's no reason to think this team will give up its title easily.
Why you shouldn't bet on the Cavaliers: Losing the likes of De'Andre Hunter, Kyle Guy, and Ty Jerome is a lot to recover from, even for a national champion. As great as he is, Bennett is not the kind of coach who can quickly reload with freshmen and get top-quality results. His system takes time to learn correctly, and it re-quires players to be patient, something freshmen are not known for doing well. As such, the few returnees the Cavaliers have will have to carry the load in an always-tough ACC.
Outlook: Virginia isn't going to fall to the scrap heap, but it's also not likely to make another run to the cham-pionship this season. This feels more like three years ago when the Cavaliers landed a No. 5 seed and were bounced in the second round. Virginia's good enough to play into the second week of March, but anything more than that will take Bennett's absolute best coaching job. You're better off looking elsewhere and bet-ting this team in 2020.
---
Texas Tech Red Raiders
Last year: 31-7, lost to Virginia in the national championship game
Odds: 30-1
Why you should bet on the Red Raiders: All Chris Beard does is win. The Red Raiders have come out of no-where over the past three years and gone from Big 12 also-ran to playing for a national championship last season. Texas Tech wins ugly, but it wins, and there are far worse things to be than the Virginia of West Texas. With Davide Moretti and Kyler Edwards still around, Tech's has got plenty of talent.
Why you shouldn't bet on the Red Raiders: Texas Tech got hit even harder than Virginia did by graduation. Beard relies a lot on grad transfers, and that meant four fifth-year seniors exhausted their eligibility at the end of last season. He's got two more coming to replace them this year, but there's no guarantee that the new faces will be able to step in and pick up where the previous group left off.
Outlook: Four years ago, Beard was a first-year head coach at Little Rock. He works at lightning speed, so don't be surprised to see Texas Tech with another high seed in March. But I don't think this team is ready to go a step further than last year's squad and cut down the nets. This feels more like a Sweet 16 type of unit, and the odds don't reflect the challenges ahead in Lubbock.
---
Oregon Ducks
Last year: 25-13, lost to Virginia in the regional semifinal
Odds: 30-1
Why you should bet on the Ducks: Oregon came on strong at the end of last season, and Payton Pritchard is a big reason why. His decision-making is second to none, and an experienced point guard can make a world of difference when you're trying to win a championship. That's especially true in Eugene, where Dana Altman likes to build his teams around good guard play.
Why you should bet against the Ducks: Oregon is Gonzaga's mirror image: excellent backcourt, question marks in the frontcourt. The Ducks didn't really need a large interior presence last year, as they got better when they learned to play without Bol Bol, but they might find it challenging to navigate the Pac-12 without a substantial interior presence.
Outlook: Oregon got hot at the right time to make it to the Sweet 16 last season, but was that good fortune or the sign of bigger things to come? Only time will tell, but early returns look promising for the Ducks. I'd pre-fer if this line were somewhere around where Maryland is, but 30-1 isn't bad for what this team's ceiling is. I wouldn't make this bet myself, because I think other teams offer more value, but you could definitely do worse than the Ducks.
---
Houston Cougars
Last year: 33-4, lost to Kentucky in the regional semifinal
Odds: 100-1
Why you should bet on the Cougars: Absolutely nobody is talking about Houston, which isn't even ranked to start the season. But that was before Quentin Grimes won his appeal to come home from Kansas and play this season as a sophomore for Houston. Grimes has the potential to be one of the best shooters in the country, and along with guard DeJon Jarreau and forward Fabian White, the Cougars have the potential to be the ultimate sleeper.
Why you shouldn't bet on the Cougars: White is the only starter back from last year's 33-win team, and while Houston is putting Tilman Fertitta's money to good use in building its basketball program, there's no guaran-tee that Houston can sustain those kinds of losses and remain elite. Kelvin Sampson is an outstanding coach who gets the most out of his players, but it will take time to figure out which pieces go where.
Outlook: Houston has the right coach and the right league to get a good seed and put together a run to the Final Four. When you're talking futures bets, you want to maximize your value, and with Houston getting no preseason love at all, the value couldn't be higher for a team that has lost just 12 games in the past two sea-sons. This is a longshot, but you could do a heck of a lot worse than tossing five dollars on a team you know will be pretty good and hoping for a run to turn it into $500.
---
100% Free Play up to $1,000