NCAA Basketball Futures – 2021 Top Tourney Picks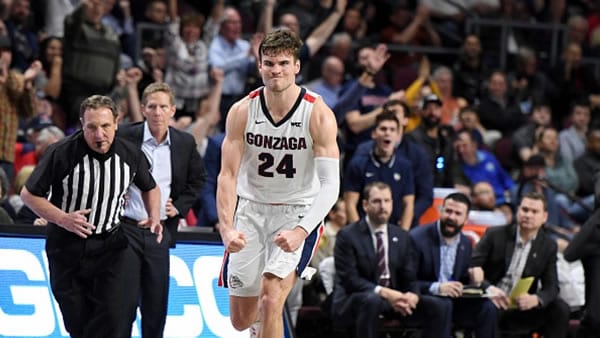 As of this writing, we're just over a month (we hope) from the start of the 2021 NCAA tournament. As such, we know a fair amount about the teams and can improve on any tickets we might have had at the start of the season, or even toss them away and start all over in the case of certain teams. This is the time to find those bargains, as I did last year when I snagged Wisconsin at +12500 in a year where the Badgers would have been a No. 4 seed had the tournament actually happened.
Of course, the landscape has drastically changed since November. If you had Kentucky at +900 or Duke at +1100 back in November, that might have looked fantastic back then, but right now, you've probably con-templated lighting that ticket on fire. Conversely, if you took Baylor at +900 or Houston at +4000, you're feel-ing pretty good about your initial bet. But regardless of where you fit on the scale of emotions, now's a per-fect opportunity to do some hedging or even replace an initial bet that looks to be in big trouble. Here are a few bets I'm looking at to cut down the nets in April…and honestly, win or lose, I'll be happy as long as some-one actually cuts down the nets in Indianapolis in April.
Gonzaga Bulldogs +275
If you want to bet on Gonzaga, your window is closing pretty quickly. The Bulldogs' price is only going to keep dropping as we get closer to the tournament, in large part because they actually might not lose a game be-fore they get to Indianapolis. The Bulldogs have every piece of the puzzle except one: 3-point shooting. But Gonzaga plays so fast that it might not need to be all that strong from the arc. Gonzaga has the No. 2 offense in the nation and has a top 20 defense, and this team has the perfect mix of youth and experience to be a true contender in the COVID era.
The only thing deflating this price is the worry that Gonzaga might not be ready to flip the switch when it comes to March, and they have to face a quality opponent, the likes of which they haven't faced since the nonconference. Those questions will always be there with the Bulldogs for as long as the rest of the WCC doesn't step up its game, even though Gonzaga has answered them before when it made a run to the national title game. Chalk might be boring, but when you can get almost three times your bet back for chalk, boring is beautiful. If you're going to place college basketball futures bets, you'll find the absolute best odds offerings at BetAnySports. They offer reduced odds betting not only on futures, but they allow you to bet sides and totals at -105 (instead of -110) and reduced odds on moneyline sports like baseball and hockey too!) Click here to start betting cheaper today!
Baylor Bears +400
Man, I wish we'd seen these teams play back in November. But we might get to see Gonzaga vs. Baylor in the Final Four or even the national title game if these two can keep it up. The Bears' offense and defense both rank in the top three nationally, and they've barely been scratched despite playing in a power conference. If not for Kansas burying a meaningless three at the buzzer to cut an 11-point margin to eight, Texas Tech would have been the only opponent all season to stay within 10 points of Baylor.
There are two concerns I have here. First, Scott Drew has never been to the Final Four. That might not matter in the era of COVID, but unless you happen to coach Connecticut, experience helps. Of the past 21 NCAA championships, 17 were won by a coach who had previously coached in the Final Four, and two of the four exceptions were Connecticut coaches, Jim Calhoun and Kevin Ollie. Second, and the more important, Baylor is a very guard-heavy team. The Bears are loaded with guards and are very light on the interior. They haven't been pushed around by anyone inside to date, but if they run into an opponent with a quality big man (such as Iowa), the Bears might have serious problems slowing them down. Still, these guards are so talented that they might be good enough to survive not having a dominant inside presence. The Baylor Bears is our editor's favorite pick to win (and he's good!) You can bet Baylor to win it all for FREE by taking advantage of a 100% real cash bonus on your first deposit of $100 to $300 at MyBookie Sportsbook when you use bonus/promo code PREDICT100.
Michigan Wolverines +800
John Beilein isn't the coach in Ann Arbor anymore, but the Wolverines are still a defense-first unit under Ju-wan Howard, who picked up where Beilein left off and added some quality offense to the equation. This is a team that's no stranger to postseason success, as Beilein got the Wolverines to two national championship games in his final seven seasons at Michigan and won 30 games in each of his last two seasons there.
The fact that Howard has the Wolverines at 13-1 in what's considered to be the toughest league in the nation speaks to just how strong Beilein left the program for him, but it also speaks to the fact that Howard's a solid coach in his own right who has kept the standards right where Beilein left them. Isaiah Livers gives Michigan the shooting to keep up with a Gonzaga, and Hunter Dickinson and Franz Wagner give the Wolverines the in-side presence to possibly take over against Baylor. If you like the Wolverines, grab them now; this line won't stay at +800 for long.
Iowa Hawkeyes +1300
Love the NBA, where it's all offense and no defense? This is the team for you. Unlike Gonzaga and Baylor, who put up a boatload of points because they can, Iowa puts up a boatload of points because it has no other choice. The Hawkeyes simply don't play defense well enough to stop anybody, which is why seven of their 15 wins have seen Iowa hit the 90-point mark.
Nobody in the country has an answer for Luka Garza, who's a force inside and can head to the arc and drill a 3-pointer if a team does try to clog the lane. Throw in the shooting of Joe Wieskamp and Jordan Bohannon, and it's easy to see why Iowa is ranked No. 1 in offensive efficiency. But teams don't win titles when they can't defend because eventually, you run into a Houston or a Virginia who takes the air out of the ball and forces you to win a slower-paced defensive battle. Iowa hasn't shown that it can do that this season, and if a team forces the Hawkeyes to play at their pace, they're done.
Tennessee Volunteers +2000
Hate everything about the NBA? Tennessee is the anti-Iowa. The Volunteers play outstanding defense, but the Volunteers cannot put the ball in the basket. Tennessee's offense is a royal mess right now, as they've scored under 70 points in four of their past five games and under 60 in two of their past three.
Granted, one of those was a win, as they managed to hold Mississippi State to just 53 points, but Tennessee isn't getting much out of its scorers right now. John Fulkerson and Victor Bailey have to be better for Tennes-see to justify this number.
Virginia Cavaliers +2000
Virginia is Tennessee with the better offense, which is why it's surprising that the Cavaliers' odds are this long. Sam Hauser and Jay Huff seem to have figured out how to play in Tony Bennett's system, and the Cavaliers simply do not make mistakes with the basketball. Virginia can be irritating to watch, but it's even more irritat-ing to play against.
Yes, Gonzaga did go through the Cavaliers like a hot knife through butter on Dec. 26, but Virginia has been improving quite a bit since that game and still has the ability to make good teams look really silly. Clemson found that out the hard way, as the Tigers ended up on the wrong end of a 35-point beating at home against Virginia. I wouldn't trust the Cavaliers against Gonzaga at all, but if someone else takes out the Bulldogs, Vir-ginia could be a dark horse to repeat as champions.
Alabama Crimson Tide +1500
Could the Tide actually win the championship in both football and basketball? It's going to be tough, but it's hard to say anyone other than Gonzaga and Baylor is playing better basketball than Alabama right now. As of this writing, Alabama rides a 10-game winning streak, has both the offense and defense to play with anyone, and is perhaps the only genuine contender in the country that can actually play at Gonzaga's pace and feel completely comfortable doing so.
Where can this go wrong? Alabama doesn't have the pedigree in basketball that Nick Saban's teams do on the gridiron. The Tide has never been to the Final Four, and the program's one appearance in the Elite Eight came back in 2004 when the current Alabama seniors were just starting kindergarten. It's very possible that Bama gets overwhelmed by the moment and flames out early, but getting a likely No. 2 seed at +1500 is a worthwhile risk.
Oklahoma Sooners +8000
Let me get this straight: I can bet $10 to win $800 on Kentucky, which has double-digit losses on the season and hasn't beaten a ranked team all season. Or I can get that same price for Oklahoma, which sits third in the Big 12 and already owns wins over Kansas and Texas, with the latter coming in Austin. There's something seri-ously wrong with that picture, and it's not because of the Sooners.
To be clear, I don't believe Oklahoma will win the national championship. But at this price, the Sooners are far too valuable to ignore. Oklahoma has quality free throw shooters, plays excellent defense, rebounds the ball well, and has a brilliant coach in Lon Kruger, who has been to the Final Four twice. For these odds, you could do a heck of a lot worse than a team with all of these qualities who already owns a win over a top-five oppo-nent on the road.
Teams to Avoid
Thanks to COVID craziness, you're going to see a few names on your board for supposedly huge value, but don't be fooled by a name squad. For instance, right now, you can get Duke to win the national title at +5500, which has to be the lowest that one of Mike Krzyzewski's teams has ever been to win a title since 1996. But there's a reason for that: Duke's best win of the season is Georgia Tech, who doesn't have much of a hope of reaching the NCAA tournament. The Bracket Matrix currently lists bracket predictions from 77 websites, and 74 of them do not have Duke making the tournament at all. Of the three who do, the best one for the Blue Devils has them as a No. 10 seed, which would still be the lowest seed Duke has ever received in the tourna-ment.
Given a lack of chances for quality wins, I don't see Duke figuring this out in time to make the field. Honestly, I'd be a lot more willing to throw money on the Blue Devils to win the NIT, which would mark the Blue Devils' first appearance in that tournament in 40 years. But there's virtually no shot of this team winning the NCAAs.
That's still a better situation than Kentucky, which has virtually no shot of even making the NCAAs. Because Kentucky's still a name, the Wildcats still have plenty of believers, but they also have plenty of losses. Ken-tucky is 5-10 on the year, and with ten games plus the SEC tournament to play, the Wildcats have to go 8-2 to even be eligible for the NIT. Considering that Kentucky still has to visit Missouri, host Texas and play Tennes-see twice, do yourself a favor and cross the Wildcats off the list.
Here's another group of Wildcats I won't be backing to win it all: Villanova at +1200. There are three reasons why I won't be gambling on Jay Wright's group to win it all. First, Villanova has been ravaged by COVID, and the Wildcats simply aren't going to have the experience that a lot of the teams they'll face will. Second, take everything I said about Baylor's size and multiply it. The Wildcats are not a tall team at all, and they're likely going to have some problems against a team like Illinois or Kansas.
Third, and admittedly ridiculous, Jay Wright is apparently the Bruce Bochy of college basketball. Remember when the San Francisco Giants won the World Series in 2010, 2012, and 2014 but missed the playoffs entirely in 2011, 2013, and 2015? Well, Wright's got the same even-year magic working with the Wildcats. In 2016 and 2018, Villanova cut down the nets, and had the tournament happened in 2020, the Wildcats might have made it three in five years.
But in odd years, Villanova has flamed out pretty quickly. In 2015, Villanova didn't make it out of Pennsylvania, losing in Pittsburgh in round 2 to N.C. State. Two years later, and coming off a national championship, Villano-va was the top overall seed and favored to make it back-to-back crowns. Instead, Wisconsin ended the Wild-cats' season in the second round again. In 2019, it was the same story. Villanova was a No. 6 seed this time, and the Wildcats barely put up a fight in getting dissected by Purdue.
Only once in its past 17 tries has Villanova even made the Sweet 16 in an odd year. Wright's a great coach and a proven winner, but until he proves he can win in an odd year, I'm not trusting Villanova with anything in March in that situation. Did you know that you can bet on March Madness games live-in-progress while they're going on? Find the best live betting platform on the planet at Bovada Sportsbook! Your credit card WILL work for deposits there and they give you a 50% bonus too!
Get $60 of FREE member picks & predictions
(NO commitments. NO Credit Card. NO Salesman.)