North Carolina State Wolfpack vs. Virginia Cavaliers Pick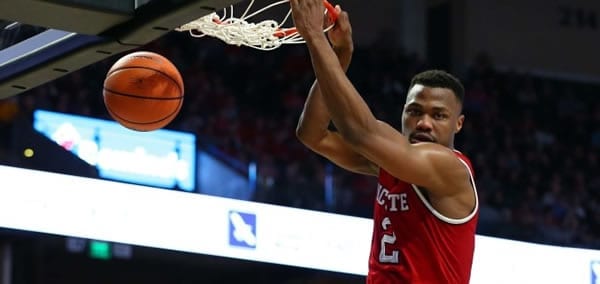 North Carolina State Wolfpack (22-10 SU, 20-12 ATS) vs. Virginia Cavaliers (28-2 SU, 22-8 ATS)
When: Thursday, March 14, 2019 – 12:30 PM ET
Where: Spectrum Center, Charlotte, N.C.
TV: ESPN
By: Dan Jamison, College Basketball Handicapper, Predictem.com

Line: Virginia -12 (5Dimes)
Total: 131.5
Last Time Out: N.C. State defeated Clemson 59-58; Virginia beat Louisville 73-68.
Scouting the Wolfpack:
N.C. State did everything it could to blow its chances at the NCAA tournament in the first 20 minutes of its opener, but the Wolfpack bounced back with a great defensive effort (and some inept Clemson shooting) to land the victory and get a shot at Virginia. This is now a chance for State to take all the suspense out of its fate, and in order to do that, the Wolfpack will have to replicate the defensive effort they gave while finding some offense of their own. Shooting 34.4 percent isn't going to get it done in this matchup.
More Carolina Basketball: Louisville vs UNC Pick
Scouting the Cavaliers:
One year since the most famous upset in NCAA tournament history, the Cavaliers return to the scene of the crime. Virginia's last appearance in Charlotte ended with the country learning the name of UMBC, and odds are that neither Tony Bennett nor the Cavaliers have forgotten that feeling. Their path to redemption begins here with a Wolfpack team that pushed them to the limit in their one regular season meeting, stretching them to overtime before falling a point short. But that was during Virginia's spell of poor offensive performances, and the Cavaliers have shrugged off those struggles in recent games, winning four of their past five by double digits.
X-Factor:
Complacency. This is always a concern in conference tournaments when you have a team that knows it's getting a top seed against a team that thinks it's already done its job for securing a bid. For Virginia, there's the question of just how hard they'll approach this game because they're the one team among the ACC's Big 3 that isn't going to fall off the No. 1 seed line. The Cavaliers have beaten everyone not named Duke, so there's no chance they won't be a top seed. Plus, with Gonzaga locked into a top seed, there's no chance that Virginia could get shipped to Anaheim as the No. 1 in the West Regional. The worst case for the Cavaliers has them in Louisville or Kansas City as a No. 1, leaving Tony Bennett every reason to rest.
As for N.C. State, the Wolfpack have heard all week that beating Clemson was enough to get them in the tournament. Kevin Keatts will have to convince his team that it's not in the field yet in order to get the kind of effort it will take to beat Virginia, and he didn't do a great job of that by instead campaigning for a bid after beating the Tigers. Keatts is a bright, young coach, but I think he made a mistake there by not downplaying his team's bubble status and choosing to focus on Virginia. Players often follow their coaches, and if Keatts is in campaign mode, the Wolfpack could be in big trouble.
N.C. State will Cover if:
The Wolfpack can find the energy needed to make life difficult for Virginia. State's game is based around playing fast and creating a lot of possessions, which is exactly what Virginia doesn't want to do. The Wolfpack did it pretty well earlier this season, pushing the Cavaliers into overtime before succumbing. But there's a problem here: State's coming off a basketball war less than 24 hours before it has to take on a rested Virginia team. The Wolfpack have to dig deep to find the energy they need to get through this game, because changing their game plan will play right into Virginia's hands.
Virginia will Cover if:
The Cavaliers can hit a few shots early and make the Wolfpack think that beating them is going to be too difficult. Conference tournaments have a lot to do with mentality, and when a favorite goes up against an underdog, a hot start can often make all the difference, as Virginia Tech showed in its rout of Miami. The Cavaliers aren't going to run the Wolfpack to death because that's not their style, but they can certainly shoot State out of the game.
Dan's Pick to Cover the Spread:
Two problems are at play here for N.C. State. First, there's the way that the Wolfpack won the game against Clemson. A team that's playing for the second time in a conference tournament usually has an edge, but after having to overcome an 18-point deficit against the Tigers, there's a good chance that State used up all of its energy in the comeback.
Second, there's the aforementioned complacency issue. When a team thinks it's achieved its goal, it's hard to get refocused and return to action. State has heard from just about every angle that it would be in if it could best Clemson. Now that they have, can the Wolfpack bring themselves back to earth and get ready to play Virginia?
I don't think so. I'm taking the Cavaliers to clamp down on the Wolfpack with the cover.
50% Cash up to $250

Who else wants $60 of FREE member picks & predictions?