North Carolina Tar Heels Betting Preview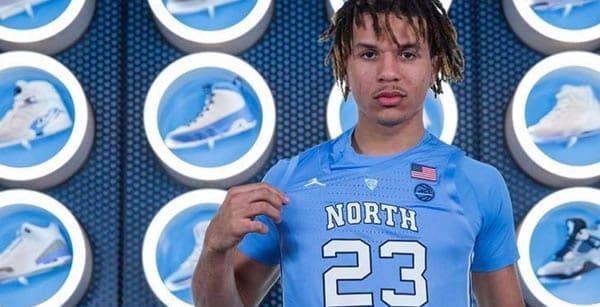 North Carolina Tar Heels Betting Preview
Last year: 29-7
Odds to win national title: 8-1
O/U Betting Line: 24.5
It's time for a rebuild in Chapel Hill, but that doesn't mean that the cupboard is bare for Roy Williams. With Cole Anthony on the way to North Carolina, the ball is going to get where it needs to go. But as with most college basketball powerhouses, the Tar Heels lost a lot from last year's team and are going to have a lot of work to do if they're going to get themselves to where they want to be. North Carolina is still going to be a very talented squad because it always is, but this is going to be one of the toughest coaching jobs that Roy Williams has faced in a while.
Reasons for Optimism
In Anthony, the Heels have a guard who knows how to make good decisions with the basketball and has been training for this role for his entire life. He's the son of former UNLV guard Greg Anthony, who was the main piece that fueled the Runnin' Rebels 1990 national championship, and like his father, Cole Anthony is an excellent decision-maker who can get the ball where it needs to be. He's also a better shooter than his father was and can play either the point or the shooting guard role, giving Williams options.
Beyond that, Williams has a solid freshman center at his disposal in Armando Bacot, who should give Anthony a strong target down low. That's traditionally been a strength for the Heels, who made their living last year off of their low post game, which included dominating teams on the boards. Bacot is good enough to do that for this year's squad, and with a few solid, experienced depth players in the fold in Justin Pierce and Christian Keeling, there's plenty for Williams to work with.
Reasons for Worry
Youth movements don't always work in Chapel Hill. In fact, they've never worked for Williams, who has had to follow up his three national championship squads with young players the next year and saw none of those teams get past the second round of the NCAA tournament. This UNC squad is coming off a Sweet 16 appearance, but it's still coming off losing a lot of pieces from last year's team. Throw in that Carolina's schedule is an absolute beast, and it's difficult to see the Heels continuing their four-year streak of getting either a No. 1 or No. 2 seed in the NCAAs.
Toughest Games
Oh dear. Give the Heels credit; they aren't ducking ANYBODY with this schedule. North Carolina opens with Notre Dame, thanks to the conference trying to make the ACC Network the new Big Ten Network, and the schedule doesn't get much easier from there. They'll open with Alabama in the Battle 4 Atlantis, and they'll see Michigan or Iowa State in their second game in the Bahamas, with Gonzaga, Oregon, or Seton Hall likely waiting in their third game.
That's only the beginning for Carolina. They've also got Ohio State coming to Chapel Hill. They're actually going to go to Gonzaga (most big-name teams opt to play the Zags either in Seattle or at Spokane Veterans Memorial Arena; Carolina is going to play at the Kennel), and they follow that with UCLA in Las Vegas. And we haven't even begun to scratch the surface of the ACC slate, which gave the Heels a road game against every legitimate threat to finish first in the ACC with the exception of Virginia.
The point here: Carolina is going off at an over-under of 24.5 wins this season. That means that the Heels can only lose five games (conference tournaments and the NCAA tournament don't count for this bet) if they're going to hit this bet, and against this slate, it's highly possible that Carolina is going to have six or more losses by February 1. This bet seems almost too good to be true; Carolina is going to have to grow up in a hurry to get 25 wins against this slate.
The Season Is a Success If:
Anthony shows that he can move the ball around well, and the Heels play beyond their years. This has the feel of a Tom Izzo-type team: a squad that's going to struggle early but be a very dangerous outfit once Williams figures out which pieces go where.
The Season Is a Disappointment If:
Carolina can't get everyone on the same page and can't get the freshmen to play like upperclassmen. One of the biggest weaknesses of Williams' mentor Dean Smith was that he tended to favor upperclassmen over freshmen no matter what. Williams didn't inherit that weakness from Smith, but like Smith, he hasn't always been comfortable with coaching such a young team. If Carolina's youth shows up too often, it's likely that the Heels will struggle and find themselves nowhere near Greensboro when the first two rounds of the NCAA tournament take place in March.
Dan's pick
A national title seems to be a bridge too far for this group. This feels more like a Sweet 16 kind of squad, a team that's going to be right there in the thick of the ACC, make a solid run in the ACC tournament, earn a No. 4 or 5 seed and go out in the Sweet 16 against a more experienced top seed. That'd be a fine accomplishment for Williams with so many young players having to play critical roles, but as far as Vegas is concerned, it'd be a disappointment.
The reality is, this Carolina squad has to go to Duke and Louisville, along with Notre Dame, Florida State, and N.C. State. Realistically, the Heels should go 2-3 in that stretch of games. That means they've got to go 23-2 against the rest of the slate in order to hit the over, and considering that there's a good chance they have to play Gonzaga twice in a month, I don't think it's going to happen.
I expect this team to go somewhere around 23-7 in a tough ACC, which should put it right in line for that No. 4 seed that I think the Heels will draw. That'll be enough to give Williams a lot to feel good about, but it won't be enough for the over to hit.
Guys don't forget to visit and bookmark our NCAA basketball picks page
100% Free Play up to $1,000