Ohio State Buckeyes vs. Iowa Hawkeyes Pick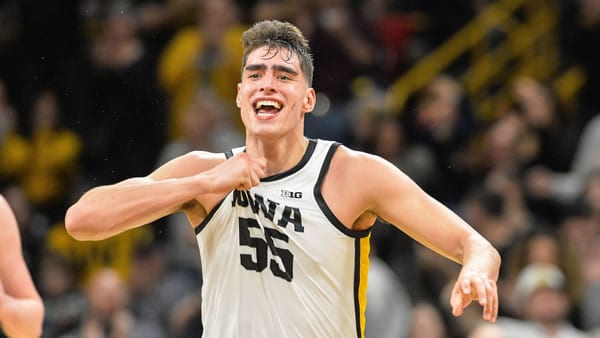 Ohio State Buckeyes (14-4 SU, 10-7 ATS) vs. Iowa Hawkeyes (13-4 SU, 10-7 ATS)
When: Thursday, February 4, 7 p.m.
Where: Carver-Hawkeye Arena, Iowa City, Iowa
TV: ESPN
Point Spread: OHST +5.5/IOWA -5.5 (Risk less per bet >>> Bet on games at -105 instead of -110 odds! Making the switch will save you a huge amount of money! Takes 2 minutes!)
Total: 156.5
Last Time Out:
Ohio State handled Michigan State 79-62; Iowa defeated Michigan State 84-78.
About the Matchup:
The two teams who might have put the final nail in Michigan State's coffin now face off them-selves in a battle to stay in the race for the Big Ten regular-season title. With Michigan on a COVID pause, Iowa, Illinois, and Ohio State are the next teams in line, and the loser of this matchup would have a daunting task of trying to catch both the Wolverines and the Illini. Both teams can feel pretty confident that they'll be high seeds in the NCAA tournament, so this matchup is really about jockeying for positioning in the Big Ten and each team giving itself a chance to win a title.
For Ohio State, consistent play has been the issue. The Buckeyes have failed to cover on seven occasions this season. Six of those were when Ohio State was coming off an ATS win in the pre-vious game (the exception was against Cleveland State, a virtually impossible cover because the Horizon League-leading Vikings were 23-point underdogs against the Buckeyes). Meanwhile, Iowa seems to be feeling the pressure of being the hunted: the Hawkeyes have now failed to cover in three straight games and have lost two of them outright. Can Iowa bounce back against a red-hot foe, or have the Hawkeyes become a little too predictable?
Scouting the Buckeyes:
The numbers really seem to favor Ohio State in this matchup. The Buckeyes haven't lost this year when they've scored 74 or more, a number that should be easy to reach against Iowa's questionable defense. They're coming off a great performance, in which they completely shut down Michigan State and were never threatened in the contest. Plus, E.J Liddell is really coming into his own, scoring at least 20 points in four of the past five contests and shooting at least 50 percent in all four.
So why aren't the Buckeyes favored here? Two reasons: One, Ohio State tends not to play all that well in Iowa City. The Hawkeyes have won four of their past five against the Buckeyes at Carver-Hawkeye Arena, and all four Iowa victories came by at least nine points. Two, Ohio State tends not to put games together. Every time the Buckeyes play well in one game, they tend to take a step back and struggle in their next contest. Beating Penn State by four certainly isn't a terrible performance, but compared to double-digit wins over Michigan State and Wisconsin, it left a lot to be desired — and left Buckeye bettors on the wrong end of the line.
Scouting the Hawkeyes:
Iowa is pretty simple to figure out at this point: The Hawkeyes have a beast inside in Luka Gar-za, and trying to prevent him from getting his points is pretty much impossible. But teams are starting to understand that they don't have to stop Garza to stop the Hawkeyes — they can just go after the Iowa guards.
This Iowa squad is starting to remind me of the Wake Forest teams of the 1990s when Tim Dun-can was in the process of showing the world just how good he would be in his long career. For the first three years of Duncan's career, the Deacons were a juggernaut because they had Dun-can inside and NBA-quality guards in Randolph Childress and Rusty LaRue. But when Childress and LaRue graduated, Duncan was left all alone as a senior, and opponents started focusing on stopping Wake's weaker guards while allowing Duncan to get his 25 points. The strategy worked to perfection, as Wake was out in the second round to a guard-heavy Stanford squad.
Iowa's heading the same way, as Garza continues to get little to no help from the Hawkeye backcourt. Joe Wieskamp has shown occasional flashes of being able to carry the load, but he's too inconsistent, and Jordan Bohannon and CJ Fredrick don't shoot it often enough. As great as Garza has been all year, without a solid No. 2 option, the Hawkeyes are in trouble.
X-Factor:
Tempo. Both these teams score a lot of points and look pretty good doing it. The dif-ference is in the way they play. Iowa pushes as fast as it can at all times, while Ohio State is far more methodical and focuses more on getting a good shot than getting a quick score. Given that neither team really gives the ball away or forces its opponents to cough up the ball, each team is probably free to play at whatever speed it wishes. The winner will likely be the team that is able to stick to its speed.
Ohio State will Cover If: The Buckeyes get off to a good start. Ohio State's big weakness has been its inability to assert itself when it's coming off a quality win. (Whether a 2-7 Michigan State still counts as a quality win is debatable, but let's go with it for these purposes). The Buck-eyes need to show Iowa — and more importantly, themselves, that they're ready to go from the opening tip.
Iowa will Cover If:
The Hawkeyes can get Garza some help. It doesn't matter if it comes from Wieskamp, Bohannon, Fredrick, or the much-maligned Iowa defense, but something has to give Garza some assistance in this matchup, so he's not on his own. If he's left trying to outscore an-other opponent, it's hard to see Iowa covering this number.
Dan's Pick to Cover the Spread
I don't trust Ohio State in back-to-back games at all, but the fact is that Iowa's the best team Ohio State has played when coming off a win all season, and the Buckeyes know that at this point if they take another loss in the Big Ten, their chances of catching Michigan drop to zilch.
Ohio State is the more consistent team and is playing much better at this point in the season. I'll take the points because I'm scared of another letdown possibility, but there's a real chance that the Buckeyes can win this outright, so take them on the Moneyline if you feel bold. Bet tonight's basketball picks for FREE by taking advantage of a 100% real cash bonus on your first deposit of $100 to $300 at MyBookie Sportsbook. (Must use promo/bonus code PREDICT100 to get bonus credited!)