South Carolina Gamecocks vs. Auburn Tigers Prediction 1/22/20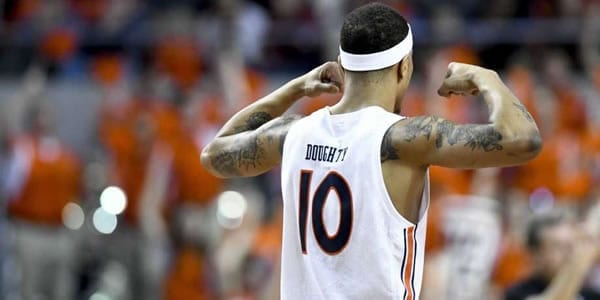 South Carolina Gamecocks (10-7 SU, 9-8 ATS) vs. Auburn Tigers (15-2 SU, 8-9 ATS)
When: Wednesday, January 22, 7 p.m.
Where: Auburn Arena, Auburn, Ala.
TV: ESPNU
Point Spread: SCAR +10.5/AUB -10.5 (MyBookie - Deposit $100 and get $100 FREE!)
Total: O/U 144
Last Time Out:
South Carolina defeated Texas A&M 81-67; Auburn lost 69-47 to Florida.
Scouting the Gamecocks:
If we're being completely honest, South Carolina appeared to be dead in the water after ending its 2019 with a seven-point home loss to Stetson, which ranks near the bottom of the barrel in the nation and isn't going to be on anyone's list of March sleepers this year. But then the calendar turned to 2020, and Frank Martin's crew suddenly decided that it knew how to play basketball. The Gamecocks have turned to redshirt freshman Jermaine Couisnard in SEC play, and he has responded well, scoring 26 in a win over Kentucky and averaging just under 20 points a game in league play so far. What's more, South Carolina showed that it could win with the deep ball, as it did against Texas A&M, no small feat for a team that shoots 31 percent from the perimeter. This is a team that's starting to come together at the right time and might not be out of contention for an NCAA bid after all.
Scouting the Tigers:
While the Gamecocks are surging, the Tigers are fading. Auburn's 15-0 start seems a mere memory now after the Tigers got blitzed by Alabama in Tuscaloosa and followed up with an even worse loss at Florida. Now the Tigers are simply hoping they can get back on the winning side of the ledger, and they'll need to do so with much better shooting than they've shown in the past two games. Florida is an excellent defensive unit, but there is no excuse for shooting 25.5 percent against anyone, even the Gators.
Really, what needs to happen is Samir Doughty of Auburn needs to start playing like a senior again. In Auburn's past four games, the Tigers got blown out twice, pulled out an escape against Vanderbilt and trampled Georgia. The one game where Doughty played well was the game against the Bulldogs, showing just how important he is to Auburn's success.
X-Factor:
Auburn's mentality. Just how fragile is the Tigers' mental state after they've taken their first two losses of the season? Auburn was rolling through everyone on the way to the No. 4 ranking, but as the difficulty of their schedule has increased, the Tigers have failed to rise to the challenge, causing coach Bruce Pearl to call his team out for not raising its play. The question is, has Pearl's tirade lit a fire under his team or caused them to go into a shell? If Auburn is ready to play, the Tigers should have no problems with South Carolina. But if the Tigers continue their funk, this could easily be a third consecutive loss.
South Carolina will Cover if:
The Gamecocks can control the glass. South Carolina has picked up its most recent wins by stepping up on the rebounds and gaining a sizable edge over its foes. Rebounding is one of the two areas where Auburn has really been struggling lately, so there's a real opportunity here for South Carolina to continue what has been working for it and get a critical result on the road.
Auburn will Cover if:
The Tigers can actually hit good shots when they become available. Auburn shot poorly at Alabama and was even worse at Florida, barely topping 25 percent from the field against the Gators. When a team isn't hitting its shots, a win is still possible, but only if everything else is done according to plan. But Auburn isn't getting the job done on the glass, which has only exacerbated the Tigers' scoring problems. If Auburn continues to miss shots, this game is there for South Carolina to take.
Dan's Pick to Cover the Spread:
Is Auburn the new Ohio State? The Buckeyes seemed to be one of the threats to win the national championship and now look like they're going to struggle to get a high seed in the NCAA tournament, because they got exposed when the schedule got more difficult and didn't adjust to the new challenge. Auburn seems to be heading down that same path. I can't really find much of a reason to trust the Tigers with how they're playing right now, even against this South Carolina squad. Where are you betting your college basketball picks? Does your sportsbook offer you reduced odds on every bet? NO HE DOESN'T! Does he offer 20 point teasers? Not likely! Pleasers that pay huge odds and progressive parlays where some of your predictions can lose and you still get paid? Probably not! So why are you betting at a second rate book when you could be enjoying all of these benefits as well as fast payouts at 5Dimes? Stop fooling around and start betting smart TODAY by taking 2 minutes to register at 5Dimes Sportsbook! You'l be so glad you did!
100% REAL CASH up to $300

USE BONUS CODE:
PREDICT100