Sportsbooks Make Michigan State Spartans -1 vs. Wisconsin Badgers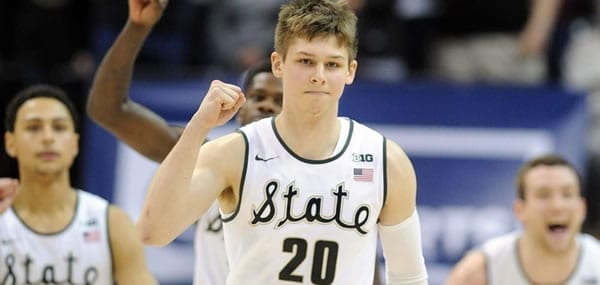 Michigan State Spartans (19-5 SU, 17-7 ATS) vs. Wisconsin Badgers (17-7 SU, 14-10 ATS)
When: Tuesday, February 12, 2019 – 7 PM ET
Where: Kohl Center, Madison, Wis.
TV: ESPN2
By: Dan Jamison, College Basketball Handicapper, Predictem.com
Point Spread: MSU -1/WISC +1 (Bovada Sportsbook)
Last Time Out: Michigan State beat Minnesota 79-55; Wisconsin lost 61-52 to Michigan.
Scouting the Spartans:
On one hand, the Spartans' win on Saturday was only a home win over Minnesota, which has been very good at home but often listless on the road (1-6) this season. On the other, any win of any kind is a welcome sight in East Lansing right now after three straight losses to Purdue, Indiana and Illinois. Losing to the Boilermakers on the road is forgivable, but defeats against the Hoosiers and Illini were a major alarm bell. Going the wrong direction in February isn't supposed to happen to a Tom Izzo-coached team, and the reason it's happened is the Spartans haven't taken care of the basketball lately. Against Illinois, Michigan State coughed it up 24 times, leading directly to defeat. The Spartans were much better with the ball against Minnesota, but it's clear that this Michigan State team isn't the one that terrorized the Big Ten through its first nine contests.
Scouting the Badgers:
Wisconsin has gotten back to what it does best: defense, defense and more defense. It's been a winning formula for the Badgers for the most part, as they were riding a seven-game winning streak before they went into Ann Arbor and did what everyone who's visited Michigan this year has done: leave with a loss. But even in defeat against the Wolverines, the Badgers didn't get away from their game plan. Nobody has scored more than 64 points against Wisconsin since Purdue on Jan. 11, which is why Wisconsin has won seven of its past nine and its only losses in that stretch have come at Maryland and at Michigan. The top sportsbooks have Spartan basketball as only 1 point favorites.
X-Factor:
The title chase. With Michigan State now having lost three games in its past four and Wisconsin taking its fourth Big Ten loss of the season, both teams are now staring up at 11-2 Michigan in the Big Ten standings. Even with six league games left after this one (seven for Michigan State), it's pretty clear that the loser on Tuesday is out of the running for the conference's regular season crown, especially if that loser is Wisconsin, because the Badgers have no more opportunities to play Michigan and make up ground. Catching the Wolverines is going to be a difficult task, but if either team is going to do it, they absolutely cannot lose a game like this.
Michigan State will Cover if:
The Spartans can find a third scorer. Michigan State can usually count on good nights from Nick Ward and Cassius Winston, but since the loss of Joshua Langford, the Spartans have struggled to find that reliable third option to keep defenses honest. Against Wisconsin, which boasts a top-10 defense and plays a slowdown style of basketball, that third option becomes even more important because every possession is going to mean more. Wisconsin is good enough on defense to take away at least one of Ward or Winston and force somebody else to beat them, and if the Spartans can't find that somebody, it's going to be a long night for them.
Wisconsin will Cover if:
The Badgers can hit their shots in the lane. Wisconsin had no trouble getting the ball in the paint against Michigan, but when the Badgers got a look at the basket, it often bounced off the rim. Wisconsin shot 16-for-41 in the paint against the Wolverines, and that isn't going to get it done against anyone, let alone the best defensive team in the Big Ten. Against Michigan State, the Badgers have to be efficient with the ball and score when they have good looks at the basket.
Dan's Pick to Cover the Spread:
Picking against Tom Izzo in February is usually a good way to find yourself short on cash at the end of the month. But I'm going to do it in this instance because the teams are going in different directions. Yes, Wisconsin lost at Michigan, but everyone who has gone to Michigan has lost at Michigan, and the Badgers would have had the Wolverines beaten if they'd done their job around the rim. Conversely, Michigan State's coming off a win, but the Spartans are clearly searching for an identity and lost three straight before getting that victory.
I like going with the hot team in these matchups, and I especially like going with a hot team that's playing at home against a team that's been struggling lately. I see a lot to like about Wisconsin in this matchup, and that's why I'll be taking the Badgers.