[et_pb_dcsbcm_divi_breadcrumbs_module hide_homebreadcrumb="off" homebreadcrumbtext="Home" separator="sep-raquo" hide_currentbreadcrumb="off" homebreadcrumborientation="left" _builder_version="3.8″ fontsbreadcrumbs_font="Lato||||||||" fontsbreadcrumbs_text_color="#000000″ fontsbreadcrumbs_font_size="15px" fontsbreadcrumbs_line_height="16px" fontsseperator_font="||||||||" fontsbreadcrumblinks_font="||||||||" fontsbreadcrumblinks_text_color="#2567cf" custom_margin="25px|||" custom_margin_phone="30px|||" custom_margin_last_edited="off|desktop" custom_css_main_element="font-family: Helvetica Regular;" disabled="on" global_module="3641″ saved_tabs="all"][/et_pb_dcsbcm_divi_breadcrumbs_module]
Tennessee vs. LSU Basketball Pick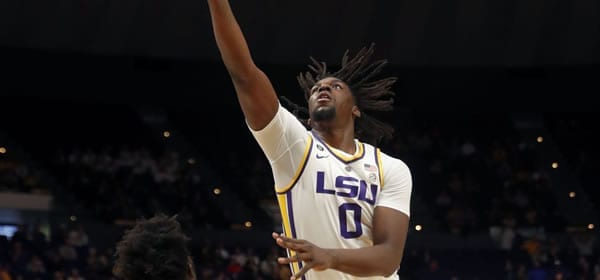 Tennessee Volunteers (24-2 SU, 13-11 ATS) vs. LSU Tigers (21-5 SU, 14-11-1 ATS)
When: Saturday, February 23, 2019 – Noon ET
Where: Pete Maravich Assembly Center, Baton Rouge, La.
TV: ESPN
By: Dan Jamison, College Basketball Handicapper, Predictem.com
Point Spread: TENN -1/LSU +1 (Bovada Sportsbook)
Total: 157
Last Time Out: Tennessee beat Vanderbilt 58-46, LSU lost 82-77 to Florida in overtime.
Scouting the Volunteers:
Either the Volunteers were never that great to begin with, or something has gone seriously wrong in Knoxville as of late. Losing to Kentucky was acceptable, but not by the margin that Tennessee did. Beating Vanderbilt was expected, but the relatively slim margin over the SEC's worst team was a cause for concern. Now Tennessee sits at a crossroads with its second challenging SEC game of the season coming up at LSU. The Volunteers didn't handle a tough road environment well at all against Kentucky, and they'll need to get their offense going much better than they have in the past two games to get a result in this contest.
Parlay Betting: A parlay at bad odds is no different than paying a sucker price at any store at the mall. Be sure to know if your sportsbook has 1) a good line on the team you pick and 2) good parlay payouts! Don't pay retail and lose long term when you picked well enough to profit. 
Scouting the Tigers:
LSU was peaking at the right time, heading toward a high seed in the SEC tournament and possibly the SEC regular season championship. And then the Tigers gave back that momentum by taking their first home loss of the season to a middling Florida team that hadn't done anything special all season. Truth be told, since beating Kentucky, LSU has had problems of its own. The Tigers' 3-point defense was atrocious in a win over Georgia, and the arc came back to bite LSU for real against Florida when the Gators drained two late 3-pointers to steal a victory. Put simply, despite their glittering records, these are flawed teams with real issues to solve before March arrives.
X-Factor:
Defense. These two squads are not Kentucky, a strong mix of both offensive and defensive excellence. Both of them can score points in bunches and do that very well, but both of them struggle to stop the other side. Over its past nine contests, LSU has held exactly one team under 70 points, and that's bottom-feeder Texas A&M. Otherwise, the Tigers have routinely been shredded by the likes of Arkansas, Missouri and Georgia and only survived because of great offense. Tennessee has been better on the defensive end of the court, but the Volunteers also found themselves struggling when they came up against a great offense at Kentucky. They're up against another one here, and the one who handles the responsibilities better will be in great shape.
Rockets vs Warriors Free Pick!
Tennessee will Cover if:
The Volunteers can get the job done on the glass. Tennessee didn't handle Kentucky's size very well and got crushed on the boards, leading to several easy baskets for the Wildcats and a blowout defeat. Against LSU's offense, that's going to be a death sentence. Tennessee has to at least be competitive on the glass in order to prevent the Tigers from becoming unstoppable at the offensive end.
LSU will Cover if:
The Tigers can improve their defense on the 3-point arc. LSU has allowed weaker teams to hang around far too long, and the big reason is because of how many deep shots they've conceded to those opponents. Tennessee hasn't shot it well from deep as of late, but the Vols are still a 36 percent 3-point shooting team and could easily get hot from the outside. LSU cannot allow a team of Tennessee's caliber to hit from deep the way Georgia did if it's going to win.
Who else wants $60 of FREE member picks & predictions?
Dan's Pick to Cover the Spread:
I still don't have a good read on the Volunteers at all because they have yet to beat anyone good in the SEC. South Carolina has improved a lot in conference play, but when your best win is the Gamecocks, that's a sign that you've played a pillow-soft schedule in your league.
By contrast, LSU, which is currently only -1 at Bovada, is battle-tested and already owns a win over the same Kentucky team that Tennessee couldn't stay with. While the transitive property is a terrible way to judge anything in sports, it is pretty notable that LSU won on the same court where Tennessee couldn't stay within 15 points. That tells me that the Tigers' problems aren't as big as the Volunteers, and I want the team that's been through some battles and come out of them strong on the other side anyway.
Tennessee hasn't done that, and until the Volunteers do, it's tough to trust them in a road game against a quality basketball team. Give me the Bayou Bengals at home for the cover.