[et_pb_dcsbcm_divi_breadcrumbs_module hide_homebreadcrumb="off" homebreadcrumbtext="Home" separator="sep-raquo" hide_currentbreadcrumb="off" homebreadcrumborientation="left" _builder_version="3.8″ fontsbreadcrumbs_font="Lato||||||||" fontsbreadcrumbs_text_color="#000000″ fontsbreadcrumbs_font_size="15px" fontsbreadcrumbs_line_height="16px" fontsseperator_font="||||||||" fontsbreadcrumblinks_font="||||||||" fontsbreadcrumblinks_text_color="#2567cf" custom_margin="25px|||" custom_margin_phone="30px|||" custom_margin_last_edited="off|desktop" custom_css_main_element="font-family: Helvetica Regular;" disabled="on" global_module="3641″ saved_tabs="all"][/et_pb_dcsbcm_divi_breadcrumbs_module]
Tennessee vs. Vanderbilt Basketball Pick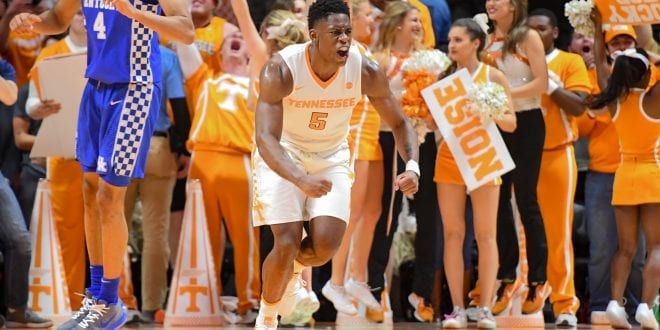 Tennessee Volunteers (16-1 SU, 9-6-1 ATS) vs. Vanderbilt Commodores (9-8 SU, 6-11 ATS)
When: Wednesday, January 23, 2019 – 9 PM ET
Where: Memorial Gym, Nashville, Tenn.
TV: ESPN2
By: Dan Jamison, College Basketball Handicapper, Predictem.com
Point Spread: TENN -9/VANDY +9
Total: O/U 149
Last Time Out: Tennessee escaped Alabama 71-68; Vanderbilt lost to Mississippi State 71-55.
Scouting the Volunteers:
Tennessee has been playing on another level through this season — or at least, that was the case until Saturday, when the Volunteers blew a 15-point lead and barely managed to escape against Alabama. Still, Tennessee survived and earned its 12th consecutive win since a loss to Kansas on a neutral floor. The Volunteers get contributions from all over the court, with five players in double figures, and that unselfishness carries over to their passing, as Tennessee averages 20 assists to 12 turnovers per game. The Volunteers also rebound the ball well and hit their free throws, giving Rick Barnes' crew no shortage of options with which to win basketball games.
Free NBA Pick: Spurs Visit Philly
Scouting the Commodores:
This season has been a raging disaster for Vanderbilt ever since freshman point guard Darius Garland went down with a knee injury after two minutes of action against Kent State in the Commodores' fifth game of the season. Since then, Vanderbilt is 5-8 and finds itself in the SEC basement. The Commodores took another grenade that they didn't need Tuesday when Garland announced that he won't return for his sophomore season, and while the move was expected, it wasn't the kind of news that's helpful for a young Vanderbilt team that hasn't broken 71 points in SEC play. The Commodores haven't shot the ball well this season at just 44.6 percent, and the one player who's shot better than 50 percent is Garland, who won't be in uniform and might not even be in Nashville at all, as he'd withdrawn Tuesday.
X-Factor:
The rivalry. The one real chance that Vanderbilt has against Tennessee is the fact that rivalry games tend to produce some strange outcomes. Sometimes, a team that has done nothing all season, like Vanderbilt, plays the game of its year and pushes its rival to the brink of disaster. Sometimes, it goes the other way and the favorite delivers a beat-down that embarrasses its rival and forces a long, hard look in the mirror for the school on the wrong end. The Commodores need some kind of spark to get things going, and Tennessee coming into Nashville could be just what they need to jolt their players into action. However, the thought of facing the mighty Volunteers after an 0-5 SEC start could also be the final nail in the coffin for Vanderbilt's season.
Tennessee will Cover if:
Tennessee is now favored by only 9. Most sportsbooks opened around 10.5 but that is still a lot of points. The Volunteers will cover if they play to their potential. This game is really about Tennessee playing the way it can more than it is about how the Volunteers react to Vanderbilt. Tennessee is clearly the superior team and had dominated everyone it's played for the past month before its narrow escape against Alabama. That game is likely to serve as a wakeup call for the Vols, and that's likely bad news for Vandy.
Vanderbilt will Cover if:
The Commodores get their fans behind them and unite to try to topple their big rival. Vanderbilt isn't an easy place to play at because of the bizarre shape of Memorial Gym compared to most other arenas, and the Commodores' crowd can add to the difficulty when it's a game that matters, and a game against Tennessee certainly qualifies. There's nothing Vanderbilt would love to do more than knock the Volunteers off of their perch as the No. 1 team in the nation, and that could be what inspires the Commodores to shoot the lights out and pull off a huge upset.
Dan's Pick to Cover the Spread:
The only reason that this spread is low is because of the rivalry. The Volunteers should be favored by several more points over a team that managed to lose to South Carolina at home and got drilled at Georgia. While the transitive property seldom works in sports, the fact remains that Vanderbilt lost by 19 against Georgia, a team that Tennessee beat by 46.
Rivalry or no rivalry, the chance to take the No. 1 team in the nation against a team that's lost five games in a row to weaker competition and only give 10.5 points is an enticing one, and it's one that I'm going to jump on. Even though Tennessee lost the last time it was No. 1 and traveling to Nashville, that was 10 years ago and a much different Vanderbilt squad. Give me Tennessee in this one.