Denver Nuggets vs. Utah Jazz Pick 1/23/19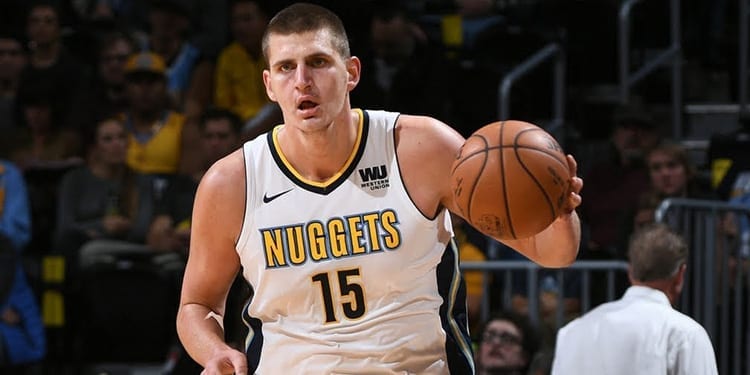 Denver Nuggets (31-14, 25-20 ATS) vs. Utah Jazz (26-22, 23-23-2 ATS)
When: Wednesday, January 23rd, 2019 – 10:30 pm ET
Where: Vivint Smart Home Arena – Salt Lake City, UT
TV: ESPN
Point Spread: DEN +3.5/UTA -3.5
Total: 217
Last Night in the NBA
What a miserable little game we just played. Portland stayed within 12 points for the entirety of the game while only going ahead one time, and they still weren't able to make one final push and really make it a game worth watching. And, in fact, I didn't. Season 2 of Ozark is on deck as we speak. I highly recommend it.
While Marty Byrde and I were running into some financial troubles, the rest of the NBA was busy working. The Suns trotted out a starting five that made the 2014-15 Sixers blush, Doc Rivers played his 25th different starting lineup combo of the season, and Marvin Bagley almost made every Kings fan forget about Luka Doncic in his first professional start. Just kidding. Luka Forever.
If we want to figure out a way to launder some of this cartel money we have, we're going to need to start winning some bets so we can inflate our profits. No better time than the present as we take a peek at the Denver Nuggets visiting the suddenly feisty Utah Jazz. The visiting Nuggets are currently listed as 3.5-point underdogs with the total set to a below-average 217 points. I was gonna beat up on the Jazz…but then I got high.
We Need To Talk About Jokic
Ever since Kevin Durant famously described Kristaps Porzingis as an NBA "unicorn", the term has been thrown around with reckless abandon. The implication of the terminology is that a player is once-in-a-lifetime. Joel Embiid, while I love him dearly, is not really a unicorn – we already saw him 20 years ago in the form of Hakeem Olajuwon. Karl-Anthony Towns? No way. He's Chris Webber minus the weed and knee injuries. Giannis? Okay, NOW we're on to something. And while I find Nikola Jokic and his long, doughy body running through screens like a drunken baby before throwing Steve Nash-esque alley-oops fascinating, every testimony I've heard has said that he's somewhere between Bill Walton and young, Euro-league Arvydas Sabonis. Don't get me wrong – I'm 100% here for it. But unicorn? Let's pump the brakes.
Read Today's College Basketball Pick: Tennessee vs. Vandy
Even if he's not the first of his kind, he's the most unique type of center we can have, and he'll need to show some of that flash to upset the Jazz on their home floor. Denver's picked up a couple of nice wins already this year, and toppling Utah again would definitely qualify.
In order to do so, Denver is going to need to continue its "sum of the parts" routine. Outside of Jokic's otherworldly play, Denver doesn't really have another player worthy of All-Star consideration, and yet they sit firmly in second place in the vaunted West and have the league's second-best offensive rating. Utah's stingy defense is always a worry, but as long as Gobert isn't blocking everything in sight, Denver's balanced attack can turn the Stifle Tower into the Leaning Tower of Pisa as he struggles to contain their inside-out offense. Denver is hungry and nearly healthy, and after getting embarrassed by Golden State in their last national TV affair, there should be a little extra incentive for the boys in baby blue tonight.
Welcome to the Party, Pal
Why, hello there, Utah! So nice to see you back in the playoff picture. It's not like some of us picked you as the Western Conference two-seed and told all of his friends to lay money on the Jazz's over for wins. I'm glad to see that Donovan Mitchell thinks that the season starts in January, but if he could've played more like 2006 Kobe Bryant and less like 2016 Kobe Bryant, it probably would've helped with Utah's struggles. Better late than never, I suppose.
Despite a slip-up at home versus Portland on Monday night, the Jazz has still won 8 of their last 10 games, and they've finally graduated from "perfectly mediocre" to "slightly above-average." They'll need to advance to "better than most" to contend with the Denver Nuggets, however. The Nuggets are an elite 20-4 at home on the season, but good teams win on the road as well, and Denver has the 6th-best road record and are above 0.500 on the season. Utah has, in the past, had an excellent home crowd, and maybe now that the new year is upon us, the Mormons will come out to support their squad.
Fortunately for Utah, Denver's primary offensive option is the tour de force talents of Nikola Jokic, and Rudy Gobert is arguably as good on defense as Jokic is on offense. It's a true match-up of an unstoppable force versus an immovable object. In the first game between these two this year, Gobert blinked first, and Jokic was able to overcome his lackluster 7-points with a back-breaking double-double of 10 rebounds and 16 assists. Six. Teen. He's their center! If Jokic can impact the game from the high-post and force Gobert to guard him 24-feet from the hoop, the onus is on Utah's rotating cast of characters to plug up any and all backdoor options that Jokic may be searching out. If they can't, then there's nothing left to do but pray that Donovan Mitchell can pull an elite offensive game out of his ass. "It's Donovan Mitchell time!" – Donovan Mitchell, tonight, probably.
Best Bet
As Denver is just now getting back towards full strength, it's understandable to see them listed as a slight underdog in a tough road environment. Donovan Mitchell, despite all of his warts, has been playing more efficient basketball of late, and Rudy Gobert is on one of the best statistical tears of his life. Divisions don't really mean anything in the NBA, but with the Jazz clinging onto the 8-seed with the soon-to-be-back LeBron Lakers looming, there's no doubt that Utah wants to keep on climbing the corporate ladder. But Denver is the 2-seed for a reason, and it's because they take care of business when business needs to get taken care of. The public's last image of the Nuggets is watching them surrender 10 3-pointers in one quarter to the Golden State Warriors, and this is their reclamation project. The Jazz has a bit of buzz behind them, and I think the line is a poor reflection of the real talent disparity between these two teams. Fool me once, shame on you. But they call me The Who because I won't get fooled again. Don't let me down, Denver.
Final Score Prediction: Denver Nuggets 111 – Utah Jazz 108