UNLV Runnin' Rebels vs. Nevada Wolf Pack Pick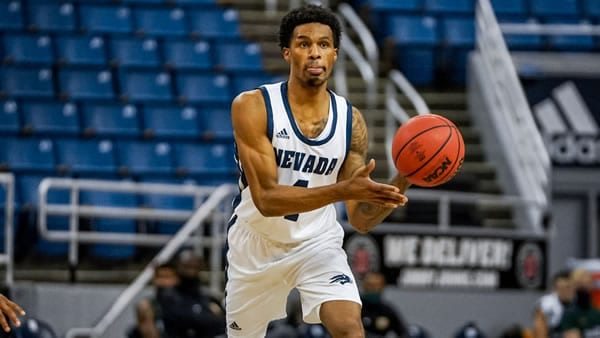 UNLV Runnin' Rebels (6-7 SU, 6-4-1 ATS) vs. Nevada Wolf Pack (10-7 SU, 11-5 ATS)
When: Sunday, January 31, 9:30 p.m.
Where: Lawlor Events Center, Reno, Nev.
TV: FS1
Point Spread: UNLV +2/NEV -2 (Get Basketball Odds at -105 - Stop overpaying at -110! You're WASTING money!)
Total: 142.5
Last Time Out:
UNLV lost 83-74 to Utah State; Nevada fell 93-88 to Wyoming.
About the Matchup:
It's been a frustrating few years for UNLV against its in-state rival. This series was traditionally a series that UNLV owned, especially in the glory days of Larry Johnson and Stacey Augmon, but those days are long gone in Vegas, and Nevada has since become the dominant program in the Silver State. Over the past five seasons, Nevada has completely flipped this rivalry, winning nine of its past 11 against UNLV and each of the past six.
If Nevada is able to make it seven, there's a good chance that UNLV ceases to be a factor entirely in the Mountain West race, as the Rebels would be on four losses in the league play with far too many teams ahead of them. History is on the Wolf Pack's side here, as Nevada has won four of the past six matchups by double digits, including each of the Rebels' past two trips to Reno. With two games to play in a city that hasn't treated them well at all, can the Rebels start the trip by getting one and getting back to an even playing field against Nevada?
Scouting the Rebels:
When UNLV doesn't play defense well, the loss to Utah State is what happens. The Rebels did what was necessary against the Aggies in their first matchup, but when the teams met for a second time, UNLV's defense didn't have any of the answers it had shown in its past few games.
That suggests that my view of UNLV's defense being a desert mirage is likely the correct one, and if that's the case against Nevada, it's likely to be another wasted trip north for the Rebels. UNLV just hasn't shown any ability to keep teams off the scoreboard (unless they're New Mexico), and Nevada has gone through the Rebel defense like a knife through butter over the past few seasons, as four of the past five meetings have seen the Wolf Pack score 80 or more.
What UNLV does have is David Jenkins, who might have broken out of his scoring doldrums by scoring 33 against Utah State. Jenkins struck for 49 points in two games against the Aggies, and if he's back to scoring the way he did at the start of the season, the Rebels have an edge.
Get our experts daily college basketball picks >>>
Scouting the Wolf Pack:
Nevada is thrilled to finally be home again, as the Wolf Pack have played six of their past eight on the road and lost four of those six. The Wolf Pack are a far cry from where Eric Musselman had this program a few years ago, but Steve Alford has kept Nevada in the top half of the Mountain West, and this game should see the return of the Wolf Pack to full strength.
Nevada has had to play its past three games without Zane Meeks, who was lost to a knee injury but is expected to be back in the lineup for this game. The Wolf Pack will also still have Desmond Cambridge, who was questionable for this game after the death of his grandmother earlier in the week but has returned to the team following the funeral.
With Meeks and Cambridge on the floor, the pressure should come off of Grand Sherfield, who's been Nevada's leading scorer all year long. Cambridge, in particular, has been a key scorer for the Wolf Pack with over 15 points per game, and with him in the lineup, the Rebels will have to focus on him as well as Sherfield, who averages 18.5 points per game. Against Wyoming, his scoring importance was on full display, as the Wolf Pack blew a winnable game be-cause Sherfield shot just 12.5 percent for the game. When he has a bad day, it's difficult to impossible for Nevada to win.
X-Factor:
The rivalry. UNLV has to be sick of how this game has gone and how its grip on the state has completely weakened ever since Nevada joined the Mountain West in 2012. Joining the same league as UNLV put Nevada on the same footing as its in-state rivals for the first time, and the Wolf Pack haven't really allowed the Rebels any room to breathe in recent years, as they've dominated the head-to-head series as well as postseason success.
UNLV would love to see things get back to even, as its program has fallen behind what Mussel-man and others built in Reno for Alford to continue. A win here would be a significant first step and should have UNLV's players plenty motivated to pull out a win.
UNLV will Cover If:
The Rebels can keep the Nevada guards from taking over the game. Nevada shoots it very well when it can get good looks at the basket, and UNLV has to develop the kind of defense that can throw the Wolf Pack guards off of their game and force misses. If both Nevada guards get off to a good start, it's hard to see UNLV keeping up.
Nevada will Cover If:
The Wolf Pack can slow down Bryce Hamilton and force someone else to beat them. Jenkins might have been the man who stole the show against Utah State, but he had to do it to keep the game close because the Aggies made Hamilton a complete non-factor by holding him to two points. If Hamilton is back to his usual self, Nevada could be in trouble. If the Wolf Pack step up on defense, this game is likely theirs.
Dan's Pick to Cover the Spread
Nevada should be at full strength in this game, and that should be enough for it to take down a team that's really shown no signs of playing consistent defense. The Rebels can't stop solid opponents, and I think Nevada is a solid squad by Mountain West standards.
Nevada's likely not good enough to qualify for the NCAA tournament, but the Wolf Pack should be good enough to get a win here. Give me Nevada. Bet your Sunday picks and boost your Super Bowl bankroll by taking advantage of a 100% real cash bonus on your first deposit of $100 to $300 at MyBookie Sportsbook! (Must use promo code PREDICT100 to receive bonus).