Vanderbilt Commodores vs. Tennessee Volunteers Pick 2/19/19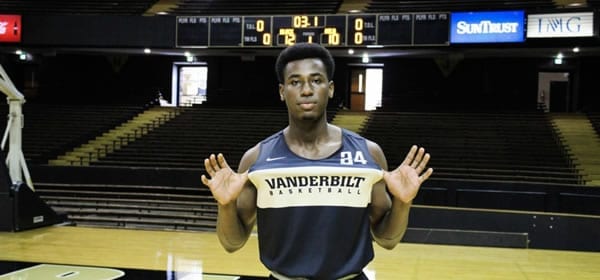 Vanderbilt Commodores (9-16 SU, 9-16 ATS) vs. Tennessee Volunteers (23-2 SU, 13-10-1 ATS)
When: Tuesday, February 19, 2019 – 7 p.m. ET
Where: Thompson-Boling Arena, Knoxville, Tenn.
TV: ESPN
Point Spread: VANDY +18.5/TENN -18.5 (Bovada)
Total: O/U 147.5
Last Time Out: Vanderbilt lost 64-53 to Auburn; Tennessee lost 86-69 to Kentucky.
Scouting the Commodores:
Vanderbilt is officially starting to run out of chances to get its first SEC win of the season, and given its remaining schedule, there's a decent chance that the Commodores might actually complete a 0-18 campaign in the league. That would be a remarkable fall for a program that used to be among the SEC's best. But that's life these days for Vanderbilt, which isn't even the best basketball team in its own city, as Lipscomb (21-4, 40th at KenPom) and Belmont (21-5, 64th) have both surpassed the woeful Commodores, who are riding a 13-game losing streak and sit 127th nationally. Aaron Nesmith has emerged as a strong talent for Vanderbilt, scoring 50 points in the Commodores' past two games, but he's getting absolutely no help from the rest of his team. In losses to Auburn and Florida, every Vanderbilt player not named Nesmith combined to score a total of 60 points in two games.
Scouting the Volunteers:
The lack of quality opponents finally caught up with Tennessee, who had to play one of the league's top teams and got whacked by a battle-tested Kentucky. Now that the Volunteers have tasted adversity, how will they respond? Tennessee lost a 19-game winning streak in losing to the Wildcats, and in doing so, the Volunteers got away from the things that have made them successful all year. Tennessee's formula for success has been two-pronged: making smart passes to the open man and trusting said "open man to hit the shot when it comes. Five Tennessee players average in double figures, led by Grant Williams' 19.3 points a game.
X-Factor:
The response. Just how ticked off is Tennessee going to be after going up to Lexington and getting drilled by Kentucky? On top of that, how much do they want to send a message to their in-state rival, given that disaster nearly struck when they visited Nashville? In a rivalry game, when one team is a genuine power, and the other one is going nowhere, the lesser team's home game is often a competitive affair and even an upset, especially when it's the first meeting of the year. The return game, conversely, tends to be an absolute blowout as the reality of a long season begins to weigh on the lesser talented squad. Given how angry the Volunteers are likely to be after losing the No. 1 ranking because of a loss at Kentucky, I really wouldn't want to be Vanderbilt right now.
Vanderbilt will Cover if:
The Commodores can hit their free throws. Vanderbilt has had no trouble finding its way to the free throw line, but the Commodores have proven to be wasteful with their opportunities from the stripe. They shoot just 63 percent from the foul line and given that the Commodores aren't that adept at scoring from the field, wasting opportunities for free points simply puts them in a deeper hole. Vandy will not get many opportunities to take advantage of a vulnerability against Tennessee, so they have to make their chances at the line count.
Tennessee will Cover if:
The Volunteers get back to doing the kinds of things that they do best. Tennessee is at its best when it makes the extra pass and forces the issue, and the Volunteers have done that, for the most part, this season. Against Kentucky, however, Tennessee never really solved the Wildcat defense and got away from its style of basketball. But that's Kentucky, which boasts a top 10 defense and had been lying in wait for Tennessee. Vanderbilt doesn't have either of those things going for it.
Dan's Pick to Cover the Spread:
Realistically, this game should not be close. Tennessee is coming into this game in a bad mood after how thoroughly outclassed it was in Lexington, and it's looking for a victim. Getting the chance to take out their frustrations on a bad rival that's 0-12 in the SEC is the perfect way for Tennessee to healthy and show that the league is still theirs to lose.
Vanderbilt, conversely, has seemed lost ever since blowing a game it should have won against Tennessee. The Commodores don't have more than two consistent scorers and don't really have much to play for, considering they're out of the running for the postseason unless they win the SEC tournament. Vanderbilt's one thing to achieve is to avoid going 0-for the SEC, and realistically, their best chance to do that is against Arkansas at home, not at Tennessee. This trip isn't likely to be close. I'm taking the Vols.
Take Tennessee -18.5