Virginia vs. Florida State Pick 2/15/21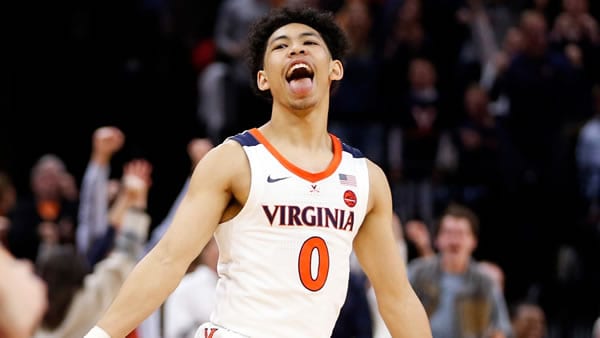 Virginia Cavaliers (15-3 SU, 10-7-1 ATS) vs. Florida State Seminoles (11-3 SU, 8-6 ATS)
When: Monday, February 15, 7 p.m.
Where: Donald Tucker Center, Tallahassee, Fla.
TV: ESPN
Point Spread: UVA +1.5/FSU -1.5 (Get the best odds - Continuing to bet games at -110 odds: Dumb! Making the switch to -105 reduced odds; BRILLIANT!)
Total: 130
Last Time Out:
Virginia handled North Carolina 60-48; Florida State edged Wake Forest 92-85 in overtime.
About the Matchup:
The ACC's top two programs (no, Duke and North Carolina are not a part of that discussion these days) face off with a chance to push toward a top-four seed and avoid a dangerous matchup in the first round of the NCAA tournament. Virginia's defense seems to be hitting its stride at this point, as the Cavaliers made a North Carolina team that was scoring almost at will look completely ordinary on offense, in large part because Virginia wouldn't give up the kind of open looks the Heels have gotten for the past month.
But Florida State is the one team in the ACC outside of Charlottesville that can handle Virginia's methodical style and almost prefers to play that way, which is the main reason why the past nine games between the two have been almost even (5-4 Virginia) and only one of those games has seen more than 130 points scored. However, this might be the wrong time for Florida State to play Virginia, as the Seminoles are playing just their second game back from COVID and did-n't look good against Wake Forest. Can they get back to form against an opponent who will al-most certainly be on point?
Scouting the Cavaliers:
Ever since the calendar flipped to 2021, Virginia has done what Tony Bennett's teams do best: lock down on defense. The Cavaliers have lost just once in 10 games in 2021, and that was be-cause they forgot to play offense against Virginia Tech and ended up with only 51 points in the contest. In most cases, when Virginia holds the opponent to under 65 points, it's going to end up winning the game.
Unlike in past years, the Cavaliers can play a little bit of offense, but they often don't because they really don't have much of a need to do so. Virginia's style of play works best when the Cavaliers work for a shot and make sure it's a good one. That's taken a while for Sam Hauser and Jay Huff to figure out this season, but Huff, in particular, seems to have figured it out, as his shooting percentage is now at 62.5 percent for the year. Huff and Hauser (as well as Trey Mur-phy) shoot above 40 percent from behind the arc, so if there's a good shot available, Virginia is probably going to find it and hit it.
Scouting the Seminoles:
When all is well, Florida State is the best defensive squad in the ACC south of the Virginia state line. But all isn't well for the Seminoles as of late, as their defense isn't playing up to par, and they haven't been playing much at all in recent weeks.
Florida State giving up 85 points to Wake Forest is far too many, but understandable given that the Seminoles hadn't played at all since Jan. 30. Florida State giving up 76 to Georgia Tech is much less understandable and a sign that something might be very wrong with the Seminoles' defense.
Of course, the problem might also be with Florida State's ball-handling. The Seminoles gave the ball away an uncharacteristic 21 times at Georgia Tech, 16 of which came from the five Florida State starters. A game that sees M.J. Walker give the ball away four times, foul out and end up with just eight points is a game that Florida State is probably not going to win very often. Walk-er needs to stay on the court and give Raiquan Gray some help if the Seminoles are going to get a win here.
X-Factor:
Tempo and defense. We know that these are among the slowest teams in the country, and points are likely to be at a premium given their history. As such, the team that adjusts to the tempo quickest and starts hitting its shots will be the team that's in control of this game. Neither team will have a problem slowing it down, but it is hard to maintain that tempo when you're consistently getting less-than-ideal looks.
Virginia will Cover If:
The Cavaliers can force the Seminoles into miscues. It's clear that Florida State is a bit rusty based on its past two games, and the Seminoles can and will struggle against a strong defense effort if they don't get their legs under them quickly. Virginia's defense needs to be at its best to put this in the win column.
Florida State will Cover If:
The Seminoles can keep their best team on the floor for the entire 40 minutes. Florida State is a bit deeper than Virginia, but the Seminoles really don't want to have to go deep into their bench for long stretches in this game. If Florida State can get the most out of Gray and Walker, it'll go a long way toward getting past Virginia's defense.
Dan's Pick to Cover the Spread
Florida State is a talented squad, but something is not quite right with this team right now. The Seminoles aren't playing their normal style of basketball, and I really don't feel comfortable trusting them to beat a Virginia team that seems to be hitting its stride. I don't think I need the point and a half here; I'll take the Cavaliers to win. Did you know that you can bet on college basketball games (and all sports) live-in-progress? Check out Bovada Sportsbook, home of the best live wagering platform on the planet! Your credit card will work there for deposits and they'll give you a 50% real cash bonus up to $250 FREE as well! Click here to start betting AFTER the games start!