Washington Huskies vs. Baylor Bears Prediction 11/8/19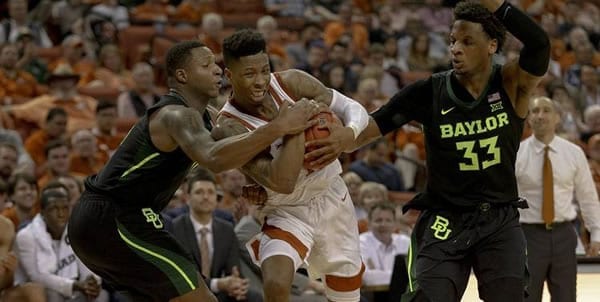 Washington Huskies (0-0 SU, 0-0 ATS) vs. Baylor Bears (1-0 SU, 1-0 ATS)
When: Friday, November 8, 2019, 9:30 PM ET
Where: Alaska Airlines Center, Anchorage, Alaska
TV: ESPN
Point Spread: WASH -5 /BAY +5 (5Dimes)
Total: O/U 137
Last Time Out
Washington lost 81-59 to North Carolina in the second round of last year's NCAA tournament. Baylor crushed Central Arkansas 105-61.
Scouting the Huskies
Experience, thy name is not Washington. The Huskies lost four seniors from last year's middling squad and saw Jaylen Nowell leave school after his sophomore year for the NBA. In those five, the Huskies lost 80 percent of their scoring from last season's squad, essentially forcing Mike Hopkins to start over completely.
The good news for the Huskies is that Hopkins has some decent pieces to work with in point guard Quade Green and a lot of big men who can step up in the paint. Green never got started at Kentucky, appearing in just nine games before deciding to transfer across the country. He won his appeal and earned eligibility throughout the season, which is excellent news for Washington freshmen Jaden McDaniels and Isaiah Stewart. Both are 6-9, both are talented, and both will now have someone they can count on to get them the ball.
They'll have to show their talent right away because they'll find themselves matched up regularly with Baylor senior Freddie Gillespie, an experienced and powerful forward who gives away nothing in terms of size to either McDaniels or Stewart and has the know-how of three years of college under his belt. If the freshmen aren't ready for that challenge, this will not end well for Washington.
Scouting the Bears
OK, it was only Central Arkansas. But that doesn't change the fact that Baylor appeared to be in midseason form on opening day. The Bears were on fire against Central Arkansas, lighting up from 3-point range with 18 deep shots on 33 attempts. If Baylor does anything resembling that against Washington, forget this game being even close. Odds are, the Bears will come back to earth a little bit, but the fact that they shot it so well in the opener is a major alarm bell for Washington, given that Mike Hopkins is a disciple of Jim Boeheim and the 2-3 zone that Syracuse has made famous.
What's the zone's biggest weakness? That would be the 3-pointer. Washington is going to have to develop some kind of plan to contain Jared Butler, and the Huskies have to do it without letting Gillespie go wild inside. It's not an enviable situation for Washington to face.
X-Factor
Time changes. This could be an interesting adjustment, as Baylor will be shooting across three time zones to play in Anchorage, while Washington will only drop back an hour. This game will take place at 5:30 p.m. local time on a Friday, which is an awkward start time for the beginning of the season.
However, this actually might work to Baylor's advantage. The Bears already showed that they could handle an odd start time against Central Arkansas, as they began that game at 11:30 a.m. and played before a crowd of local Waco students there on field trips. Playing a game at 5:30 isn't going to be much of an adjustment, while Washington doesn't have anything to compare it to, as this is its first game of the year.
Washington will Cover if
The Huskies can establish their inside game early and keep sending the ball to their fabulous freshmen. Washington has a lot of size inside, and they have plenty of talent. What they need to do is build their confidence by getting some high-percentage looks early and proving that they can play with a team like Baylor. If things get off to a good start, Washington can keep this close. If Baylor gets running early, this could get out of hand.
Baylor will Cover if
The Bears get hot on the arc. Baylor doesn't have to shoot 55 percent from deep again, but if the Bears are hitting good looks against the zone, that will open things up for Gillespie and make it impossible for Washington to keep pace. A few missed shots could keep this game a lot closer than the Bears might expect, but if they're on again, this is their game to lose.
100% Free Play up to $1,000