Basketball Pick: Washington vs. Auburn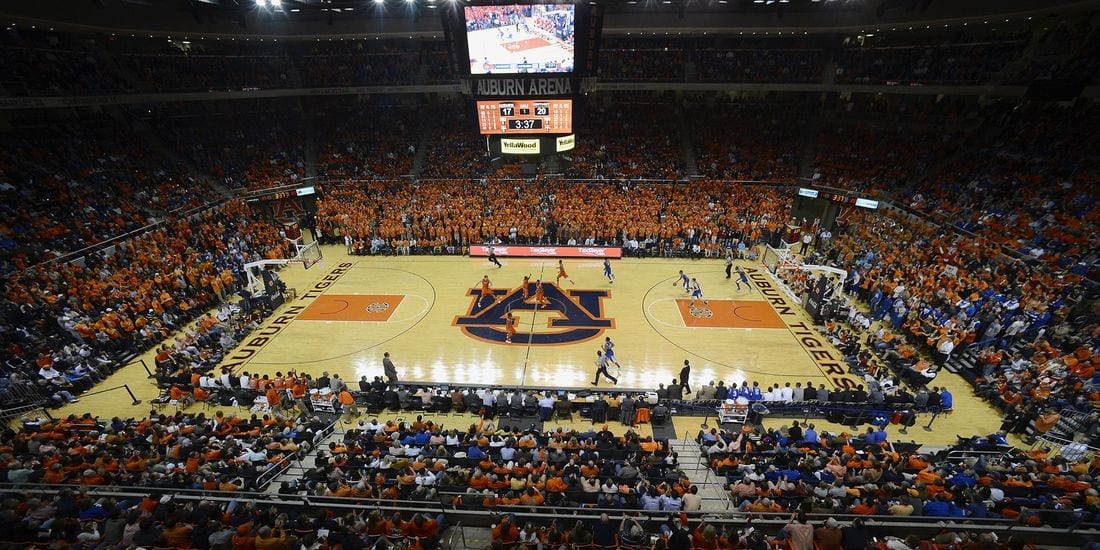 Washington (1-0 SU, 1-0 ATS) vs. Auburn (1-0 SU, 1-0 ATS)
When:
Friday, November 9, 2018 – 9:30 PM ET
Where
: Auburn Arena, Auburn, Ala.
TV
: SEC Network
By
: Dan Jamison, College Basketball Handicapper, Predictem.com
Point Spread
: AUB -8.5
Total
: O/U 150
Last Time Out: Washington defeated Western Kentucky 73-55 on Tuesday, Auburn defeated South Alabama 101-58 on Tuesday.
Analyzing the Huskies:
Washington's game plan starts with Noah Dickerson on offense and Matisse Thybulle on defense. Dickerson, a 6-foot-8 senior, is a force inside and scores most of his points near the basket. When he's playing well, the Huskies become a much tougher opponent to deal with. In their win over Western Kentucky, Dickerson found himself in foul trouble early in the first half, and the Hilltoppers built an eight-point lead at halftime before Washington turned things around and got their offense going.
When Dickerson isn't scoring, Jaylen Nowell is the main man for the Huskies. Nowell carried the load in the first half, but like Dickerson, he does his best work inside the arc. If Auburn starts to heat up from the outside, that's going to spell trouble for Washington.
That's where Thybulle comes in. At 6-5, he's tall enough and versatile enough to slow down opponents out of Washington's zone defense. The reigning Pac-12 defensive player of the year blocked six shots against Western Kentucky and averaged three steals a game last season. If he's locked in defensively, he could cause some serious problems for Auburn.
Analyzing the Tigers:
Auburn's attack ran through two players against South Alabama: guard Jared Harper and forward Chuma Okeke. Both players scored 20 points in the season opener, and both shot 60 percent from beyond the 3-point arc in the victory. Those kinds of numbers would be devastating against Washington given the kind of game the Huskies like to play. Mike Hopkins was a Syracuse lifer before making the move to Seattle, and he remains a disciple of Jim Boeheim's famed 2-3 zone. The Huskies play the zone pretty well, but the zone's Achilles' heel has always been the 3-point shot. If Harper and/or Okeke are hitting from the outside, the Tigers will have no trouble putting points on the board and putting some distance between themselves and the Huskies.
But Auburn is more than just Harper and Okeke. Bryce Brown's 12-point performance wasn't notable against South Alabama, but he was second on the squad in scoring last season and can easily step up if Bruce Pearl needs him to score. Auburn has plenty of weapons that can hit jump shots and force Washington into a scoring contest, which would highly favor the Tigers.
If Auburn isn't hitting, however, the Tigers could be in trouble. The danger of being a smaller team, as Auburn is, is that you set yourself up for problems if your shots aren't falling, and against Washington's zone, that could be doubly bad. Auburn isn't likely to get a lot of second-chance points, so if the Tigers don't live by the jump shot, they might die by the jump shot.
X-Factor:
Sam Timmins of Washington. Nobody over 6-foot-8 averages more than five minutes a game for Auburn, and that creates opportunities for the 6-foot-11 Timmins. If he can get established in the paint, he'll make life difficult for Auburn and open things up for Dickerson.
Washington Will Cover if:
The Huskies can wear down the Tigers. Washington's top seven players are all back from a season ago, and the Huskies don't hesitate to rotate their players when necessary. Auburn isn't as deep of a team as Washington is, and if the Tigers find themselves in foul trouble early, the door will be open for the Huskies to take the crowd out of the game and set themselves up for a successful evening.
TIRED OF YOUR CREDIT CARD NOT WORKING AT SPORTSBOOKS? IT WILL AT BOVADA + GET A 50% BONUS!
Auburn Will Cover if:
The Tigers move the ball around well and shoot the way they did against South Alabama. If Auburn comes out and hits its shots, Washington isn't going to be able to keep up. The zone is very susceptible to a good 3-point shooting team, and if the Tigers come out and shoot well, they'll get their crowd behind them and make life very difficult for the Huskies. As great as Thybulle is, he's only one defender out of five. If Harper can find open looks for his teammates and take good shots when he's free, it'll be a great night for Auburn.
Dan's Pick to Cover the Spread:
Auburn's win over South Alabama snapped a six-game streak where the Tigers failed to cover against their opponent, dating back to last season. That doesn't bode well against a talented team like Washington that got its wake-up call against Western Kentucky and showed it can respond when it's challenged. The Tigers have the talent to take advantage of the zone and shoot the Huskies out of the game, but I don't think that happens on Friday. Auburn's going to find the going much more difficult than it did in its season opener, and Washington is an experienced team that isn't going to panic when the Tigers hit a couple deep shots.
With a line like this, or better with a bonus, and two quality teams, I want the points. Give me the Huskies.