West Virginia Mountaineers vs. Florida Gators Pick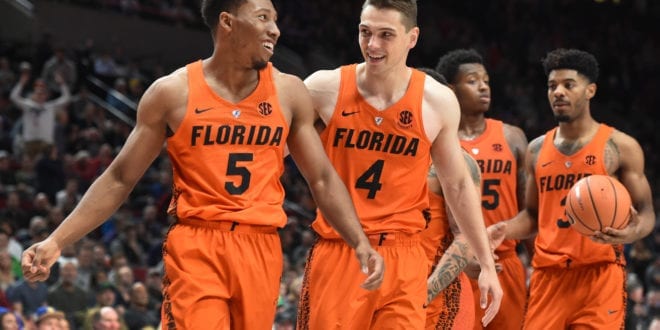 West Virginia Mountaineers (5-2 SU, 2-5 ATS) vs. Florida Gators (4-3 SU, 3-4 ATS)
When: Tuesday, December 4, 2018 – 9 PM ET
Where: Madison Square Garden, New York
TV: ESPN
By: Dan Jamison, College Basketball Handicapper, Predictem.com
Point Spread: WVU +1/FLA – 1
Total: O/U 142.5
Last Time Out: Florida routed North Florida 98-66; West Virginia routed Youngstown State 106-72.
Analyzing the Mountaineers:
West Virginia has been a tough team to figure out since opening night, when the Mountaineers lost in overtime to Buffalo. Buffalo has proven to be better than anyone expected, but the same can't necessarily be said for the Mountaineers, who have no impressive wins on their resume at this point and haven't really shown the kind of defense one would expect from a Bob Huggins-coached team.
NBA Pick: Utah Jazz Hosting San Antonio Spurs
What West Virginia does have is experience and depth. It's led by senior Esa Ahmad and juniors Lamont West and Sagaba Konate, and the triumvirate combines to average 45.3 points per game, good for over half of the Mountaineers' scoring. But Huggins has never been one to rely on only a few players given his aggressive defensive style, and that's true again with this year's team, as the Mountaineers boast a deep bench that sees 10 players average at least 11 minutes a game.
Analyzing the Gators:
It's been impossible to get a read on Florida at this point in the season. On one hand, the Gators don't have a bad loss after taking defeats against Florida State, Oklahoma and Butler. On the other hand, they also don't have a good win, as they've beaten an average Stanford squad and three pushovers at home so far. So it's tough to tell whether Florida's defense is legitimate or is merely the product of a soft schedule. What can be said about the Gators is that they're not a team of stars, but nor are they a team that beats themselves. Florida doesn't turn the ball over often with just 11 turnovers per game, and while Deaundrae Ballard is the only Gator who averages double figures in scoring (10.9 points a game), the Gators have seven other players who average at least six points a game to back him up.
Betting Site Listings: All Predictem Reviewed Betting Sites
X-Factor:
Madison Square Garden. Playing in the historic arena in New York can bring out the best or the worst in a team. A matchup here is always a big deal, and it's impossible to predict how a team will react to playing on one of college basketball's biggest stages. Whichever side is able to put the hoopla that comes with playing in the Garden aside quicker will give itself an early edge.
West Virginia Will Cover if:
The Mountaineers can keep the gas on from beginning to end. West Virginia isn't going to asphyxiate Florida the way it can most other teams because of the Gators' depth, but the Mountaineers can turn the game into a scoring contest by running their offense and getting smart shots. West Virginia shoots the ball well and hasn't shown signs of slowing down, outside of one horrid shooting night against Western Kentucky. If the Mountaineers are firing on most cylinders, Florida will have trouble keeping up.
Florida Will Cover if:
The Gators can flip the script on Press Virginia. The Mountaineers have long made their living off of their opponents' mistakes, but with three turnovers per game, Ahmad doesn't always make the greatest decisions with the basketball. Florida's best path to victory is to slow West Virginia down by getting the Mountaineer guards to beat themselves with turnovers and take the ball out of the hands of their shooters. The Gators are ranked 14th in the nation on defense by Ken Pomeroy, but they haven't yet proven that rating is legitimate by shutting down a name opponent. This is the time to do it.
Dan's Pick to Cover the Spread:
I really don't want to bet this game. Florida has been very inconsistent with its offense and has shown a tendency to come up small in games against talented opponents. On the other hand, West Virginia followed up a forgivable home loss to what is now a ranked Buffalo squad by losing to an average Western Kentucky squad in Myrtle Beach. To put it mildly, consistent isn't a word that you would use to describe either of these teams.
Ideally, you'd like to be able to pick a home team in this matchup, but that's not a possibility either because this game's going to be in the Garden, which is as unpredictable as it gets for a neutral site. So that's not going to be any help either.
What to do, then, if you have to bet this game? Go with the squad that's shown the closest thing to consistency. West Virginia might be susceptible to weaker foes, but the Mountaineers have consistently put up big numbers on offense. In six of seven games, West Virginia has topped 70 points, and in five of those contests, they've notched at least 88 points. In contrast, Florida has been far less consistent. The Gators have been held to 60 points or less three times this year, and that's the main reason that you shouldn't take the over in this contest: it's been far too common for the Gators to have a night when their shots aren't dropping.
So your best play is to take West Virginia and the free point that comes with the Mountaineers. Neither team is particularly worth trusting at this point, but with a lack of good options, I'll go with the squad with the more consistent offense.