West Virginia Mountaineers vs. Oklahoma State Cowboys Pick 1/6/20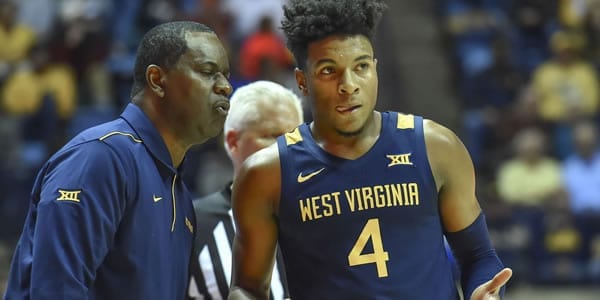 West Virginia Mountaineers (11-2 SU, 7-6 ATS) vs. Oklahoma State Cowboys (9-4 SU, 6-7 ATS)
When: Monday, January 6, 9 p.m.
Where: Gallagher-Iba Arena, Stillwater, Okla.
TV: ESPN2
Point Spread: WVU -2/OKST +2 (Intertops - Web's oldest and most trusted betting site! 50% Bonus!)
Total: O/U 137
Last Time Out:
West Virginia lost 60-53 at Kansas; Oklahoma State lost 85-50 at Texas Tech.
Scouting the Mountaineers:
It turns out that the easy schedule masked just how good West Virginia really is, as the Mountaineers have proven themselves by beating Ohio State and giving Kansas a good fight. At first glance, West Virginia doesn't seem to be all that impressive because the Mountaineers have only two players who average double figures in points, Oscar Tshiebwe and Derek Culver. However, that's because this year's team has tended to operate with a rotation that always keeps a fresh player on the court. None of the Mountaineers average more than 26.7 minutes per game, but that hasn't mattered because West Virginia hasn't needed to put up big numbers.
Instead, the Mountaineers win with a fierce defense that keeps points off the board. Only Akron and Rhode Island have managed to break 70 points against the Mountaineers, and most teams find themselves struggling to get over 60 against West Virginia. In back-to-back games against Ohio State and Kansas, both of whom rank in the top 20 nationally in offensive efficiency, the Mountaineers gave up a combined 119 points.
More Picks: Mobile Bowl: M-OH/ULL Pick ATS >>>
Scouting the Cowboys:
For the first half in Lubbock, Oklahoma State looked like a solid squad with a real chance of competing for the Big 12 title. The second half was a completely different story, as the Cowboys got squashed in the second half by Texas Tech in a 35-point loss. Oklahoma State got off to a strong start with a 7-0 record that included wins over Syracuse and Ole Miss, but since then, the Cowboys are just 2-4 and have taken some rather lopsided defeats against the likes of Wichita State, Minnesota and Texas Tech.
Part of that can be explained by the loss of Isaac Likekele, who missed four games, including the losses to Wichita State and Minnesota. But they had Likekele back for Oklahoma State, and that didn't end up paying off at all because he only scored two points against the Red Raiders' tough defense. That's a significant worry for the Cowboys here, because as good as Texas Tech is on defense, West Virginia is even better.
X-Factor:
Life on the road: Can West Virginia play well in back-to-back road games in the Big 12? Being in the Big 12 means that West Virginia faces some of the longest and most convoluted road trips in the conference, given that the Mountaineers are over 850 miles from the closest league rival and the only Big 12 school that's in the Eastern Time Zone. The Mountaineers had to go from Lawrence to Stillwater, which isn't the easiest road trip to make by any means. Last year, they had to face a pair of back-to-back road games, and they lost all four of those contests. But two years ago, West Virginia had a much stronger team and managed to win the second game on a back-to-back on both occasions. Is this team mentally strong enough to face this task?
West Virginia will Cover if:
The Mountaineers can play the kind of defense that they've shown all year. West Virginia is at its best when the game has about 135 points total, and if the Mountaineers can keep things in that range, it's going to be very difficult for the Cowboys to get themselves ahead and figure out how they can stay ahead. Oklahoma State's crowd likely isn't going to be the typical rowdy GIA crowd, given that tickets are going for just $4 online, so taking the crowd out of the game might be an easy thing for West Virginia to do.
Oklahoma State will Cover if:
The Cowboys can get their shooting percentage in the 45 to 50 percent range. Forty-five percent has been the ceiling for Oklahoma State over its past six games, as only the win over Southeastern Louisiana saw the Cowboys break that number. That's a big reason why Oklahoma State has failed to score more than 66 points in four of its past five games, and if that happens again, that lines up perfectly for West Virginia. Really, the Cowboys need to get Likekele going, as he and Yor Anei are the only ones in orange and black who play consistent minutes and shoot above 45 percent, and they'll need to find their shots in order for the Cowboys to pull out a win.
Dan's Pick to Cover the Spread:
Gallagher-Iba is a tough place to play, but I highly doubt that the Mountaineers are going to be intimidated after facing the likes of Allen Fieldhouse and coming away with just a seven-point loss to Kansas. This team appears to be legitimate after its past two games away from Morgantown, and while Ohio State seems to be leaking oil, Kansas is legitimate. I'm impressed enough with West Virginia to consider them a real contender in the Big 12, and a real contender isn't going to lose to this Oklahoma State squad. Give me the Mountaineers. Where are you wagering on college basketball this season? Does your bookie give you -105 odds NO! You're laying -110 and OVER PAYING! Dump  your book and spend 3 minutes signing up for cheaper betting TODAY at 5Dimes!