Wisconsin Badgers vs. Iowa Hawkeyes Pick ATS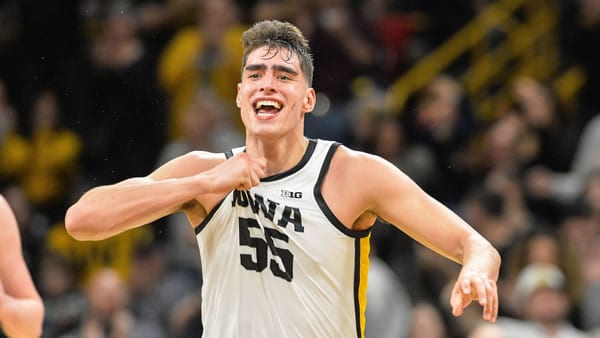 Wisconsin Badgers (17-11 SU, 12-15-1 ATS) vs. Iowa Hawkeyes (20-7 SU, 15-12 ATS)
When: Friday, March 12, 9 p.m.
Where: Lucas Oil Stadium, Indianapolis
TV: Big Ten Network
Point Spread: WIS +4.5/IOWA -4.5 (BAS - Betting on games at -105 reduced odds will save you a sh*tload of money!)
Total: 145.5
Last Time Out:
Wisconsin escaped Penn State 75-74; Iowa beat Wisconsin 77-73.
About the Matchup:
Iowa comes in brimming with confidence, while Wisconsin seems to be limping to the barn. I wouldn't have said that about the Badgers if I had turned off their second-round game with Penn State with five minutes to go in the second half, but then Wisconsin managed to play carelessly enough to get outscored 17-2 in the last five minutes to allow the Nittany Lions to almost steal a win. But the Badgers did survive, getting just their second win in their past seven games.
Now they've got Iowa, which defeated Wisconsin in the final game of the regular season and has done a solid job at shoring up its weaknesses in recent weeks. The Hawkeyes come in as winners in four of their past five, while Wisconsin has lost five of its past seven, with two of those coming against Iowa. With the Badgers not exactly showing their best form recently, can they find a way to build off surviving Penn State and snap a three-game losing streak to their rival from the southwest?
Scouting the Badgers:
The 3-point shooting was excellent for Wisconsin against Penn State, but that's not really something that the Badgers can count on long-term. Wisconsin isn't a great deep shooting team under normal circumstances, and the 12-for-23 the Badgers shot against the Nittany Lions probably isn't going to happen again against the Hawkeyes. The only one who did any real scoring for Wisconsin against Iowa was Micah Potter, who scored 23 in each of the two matchups against the Hawkeyes this season.
Otherwise, Wisconsin really didn't play its style in either matchup against the Hawkeyes. The Badgers are at their best when they slow the game down and play quality defense, which didn't happen in Madison or in Iowa City. In both games, Iowa hit more than half of its shots and ended up with 77 points, far too many for the Badgers to withstand. However, since the first week of February, only Nebraska and Northwestern have failed to get to 60 points against Wisconsin, hardly the kind of lockdown defense that the Badgers have become well known for showing opponents.
More Picks: Yellow Jackets vs Cavs Against the Spread Pick
Scouting the Hawkeyes:
There's not a lot you can say about Iowa that isn't well known at this point. Well, actually, there is one thing: the Hawkeyes are playing somewhat decent defense. Iowa has spent the year labeled as a team that can score but can't defend, but the Hawkeyes have picked it up on the defensive end, holding seven of their past nine opponents to less than 70 points.
But when it comes to Iowa, it ultimately comes down to the big man, as Luka Garza still determines more than anyone else whether Iowa has a successful day or not. Against Wisconsin, Garza was able to do whatever he wanted on offense, and so were the rest of the Hawkeyes. Iowa shot 51 percent from the field in both games against the Badgers, including shooting above 60 percent from deep in Madison. Garza averaged 25.5 points per game against Wisconsin this year, and he should be able to count on some quality help from Joe Wieskamp behind the arc. If both are scoring regularly, the Hawkeyes have a significant edge.
X-Factor:
Adjustments and fatigue. Iowa hasn't yet played a game in the Big Ten tournament, and because the tournament is on one of the two courts that will be used for the NCAA tournament inside the Colts' stadium, the Hawkeyes are going to have to make a major adjustment to shooting inside a building that's not a real basketball facility.
Thursday at the Big Ten tournament underscored the difficulty of the adjustment because out of four games, the two where the underdogs covered were the two involving a team that played Wednesday. Both Ohio State and Wisconsin took their time adjusting against Minnesota and Penn State, with the latter leading to an early deficit before the Badgers got things figured out.
However, that leads to another potential issue: Wisconsin had to come from behind in the first half against Penn State and then managed to fritter away most of an 18-point lead before blocking the Nittany Lions' shot in the final seconds. There's a very real chance that Wisconsin can't take advantage of Iowa's adjustment period because the Badgers used up too much energy in holding off Penn State.
Wisconsin will Cover If:
The Badgers can force the Hawkeyes into bad looks and keep Garza from killing them inside. Wisconsin wants as few interior shots as possible because the Badgers probably can't stop Garza from taking over the game once he gets the ball. If the Badgers can force bad looks, crazy rebounds might bounce away from Garza and allow Wisconsin to limit Iowa to one shot on a trip.
Iowa will Cover If:
The Hawkeyes get Wieskamp established early. Wisconsin was the team that drilled deep shots in its most recent game in Indianapolis, and if the Badgers can get off to a good start, they'll likely be full of confidence for the rest of the game. Iowa needs to counter by getting its weapons in the action early.
Dan's Pick to Cover the Spread
Iowa's going for its third win over Wisconsin this year, and I'm thinking the Hawkeyes get it. Although it is hard to beat a team three times in the same season, Wisconsin doesn't really have anything that can slow Garza or force the Iowa guards to take over the game.
The Badgers could have answered a lot of questions if they'd just managed to hold on for five more minutes and emerged with a comfortable eight-point win. Instead, the same old demons are back, and this time, I think they take Wisconsin down. I'll take the Hawkeyes to cover the line. Bet this weekend's confernce tournament picks FREE by taking advantage of a 100% real cash bonus on your first deposit of $100 to $300 at MyBookie Sportsbook! Must use bonus code PREDICT100 in order to have the bonus credited! Click here to register and grab your bankroll booster!