[et_pb_dcsbcm_divi_breadcrumbs_module hide_homebreadcrumb="off" homebreadcrumbtext="Home" separator="sep-raquo" hide_currentbreadcrumb="off" homebreadcrumborientation="left" _builder_version="3.8″ fontsbreadcrumbs_font="Lato||||||||" fontsbreadcrumbs_text_color="#000000″ fontsbreadcrumbs_font_size="15px" fontsbreadcrumbs_line_height="16px" fontsseperator_font="||||||||" fontsbreadcrumblinks_font="||||||||" fontsbreadcrumblinks_text_color="#2567cf" custom_margin="25px|||" custom_margin_phone="30px|||" custom_margin_last_edited="off|desktop" custom_css_main_element="font-family: Helvetica Regular;" disabled="on" global_module="3641″ saved_tabs="all"][/et_pb_dcsbcm_divi_breadcrumbs_module]
Wisconsin Badgers vs. Ohio State Buckeyes Pick 3/10/19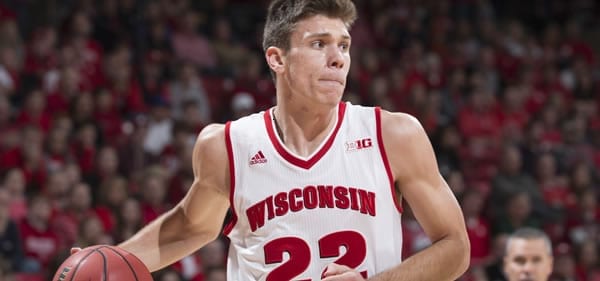 Wisconsin Badgers (21-9 SU, 15-14-1 ATS) vs. Ohio State Buckeyes (18-12 SU, 12-18 ATS)
When: Sunday, March 10, 2019 – 4:30 PM ET
Where: Value City Arena, Columbus, Ohio
TV: ESPN
Point Spread: WIS -2.5/OHST +2.5 (BetOnline)
Total: O/U 165.5
Last Time Out: Wisconsin beat Iowa 65-45; Ohio State lost 68-50 to Northwestern.
Scouting the Badgers:
There's nothing like getting yourself healthy with a game against a fading rival, and Wisconsin took full advantage of Iowa's late-season collapse by hammering the Hawkeyes and picking up their fourth win in five games. The Badgers haven't always been the flashiest squad — OK, Wisconsin is pretty much never the flashiest squad — but they consistently find a way to grind out close games. Prior to the win over Iowa, Wisconsin's past eight games were all decided by single digits, dating back to an 11-point win over Nebraska. Out of 19 Big Ten games, 16 have been decided by 12 points or less, and the Badgers are 10-6 in those contests. Put simply, Wisconsin knows how to handle tight games and isn't going to panic in the dying minutes.
Scouting the Buckeyes:
Kaleb Wesson was mightily important to the Buckeyes throughout the season, but few people thought that he was the whole team. But that appears to be the case, because Ohio State has hit the skids ever since he was suspended on March 1 for a violation of team rules. A loss to Purdue was forgivable, but Ohio State followed that up by losing by 18 to Northwestern, which isn't going to be anywhere near the NCAA tournament. The Buckeyes weren't that good with Wesson in the lineup, but without him, Ohio State has become a real mess on offense. In their past eight games, Ohio State has failed to hit 60 points on five occasions, and the only one of those the Buckeyes won was a putrid 55-52 pillow fight against Indiana. This team is trending in the wrong direction at the worst time, and it's put their NCAA hopes in serious jeopardy.
X-Factor: Motivation.
It won't be a problem for either side in this game, as both teams have a lot to play for. Ohio State is fighting to get itself in the tournament, and a win over Wisconsin would do wonders for that goal. Lose, however, and the situation gets precarious. With a defeat, Ohio State would likely play in the 8-9 game, which would either mean fellow bubble team Indiana or a profile land mine in Rutgers or Illinois. In any of those cases, a defeat after a loss to Wisconsin would likely condemn Ohio State to the NIT.
On the Wisconsin side, the motivation is much more straightforward. The Badgers don't need a big showing in the Big Ten tournament to get in; they're only concerned with improving their seed. So their goal is to have to win as few games as possible, and that means grabbing a double-bye. With a win, it'll be theirs, while a loss would cause the Badgers to fall behind Maryland and play a Thursday game instead of starting fresh on Friday.
Wisconsin will Cover if:
The Badgers can establish Ethan Happ early and find him often. As obvious as that is, because that's what Wisconsin likes to do anyway, it bears repeating because of Ohio State's situation. With Wesson gone, the Buckeyes have nobody over 6'6" who regularly plays more than 20 minutes a game and nobody to match up with the 6'10" Happ on the interior. This is an area Wisconsin can exploit and punish the Buckeyes for over and over if they can stick to their game plan and make Happ a dominant factor.
Ohio State will Cover if:
The Buckeyes can get their shots to drop. Ohio State has been staying in games because of its defense and only its defense, and it has to get its offense going quickly, or it's going to be the way to the NIT next week. The problem is, the Badgers boast one of the best defenses in the nation, ranking second in the Big Ten only to Michigan. The Buckeyes have to be patient and wait for their windows against the Badgers, or this game won't end well.
Dan's Pick to Cover the Spread:
At this point in the schedule, it's a matter of who's playing well, who's got more to play for and who's the better squad overall. Wisconsin wins on two out of three of those factors, and even though Ohio State has more to play for, the Badgers have ample reason to finish strong and earn that double bye.
Plus, there's the matchup of the teams themselves. Ohio State just isn't that strong in the paint, and Wisconsin happens to flourish inside. The Badgers have a truly great player in Happ, and Ohio State doesn't have anyone on that level in uniform. When a team's game plan matches perfectly with the opponent's weak spot, that team is probably going to be in good shape for that contest. The fact that you only have to lay 2.5 points with Wisconsin is a testament to how many close games the Badgers have played this year. The truth is, the Buckeyes are fading, and the Badgers are perfectly positioned to take full advantage.
Take Wisconsin -2.5