Xavier Musketeers vs. Villanova Wildcats Pick 12/30/19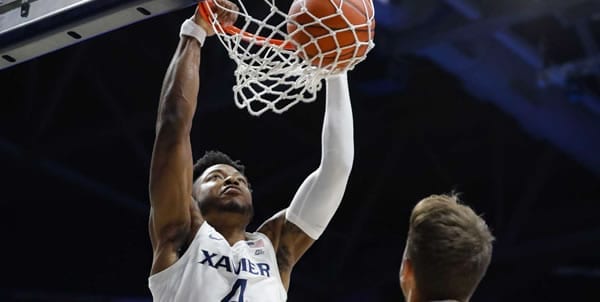 Xavier Musketeers (11-2 SU, 4-9 ATS) vs. Villanova Wildcats (9-2 SU, 4-6-1 ATS)
When: Monday, December 30, 6:30 p.m.
Where: Finneran Pavilion, Villanova, Pa.
TV: FS1
Point Spread: XAV +5.5/NOVA -5.5 (Best Basketball Lines)
Total: O/U 139.6
Last Time Out:
Xavier beat TCU 67-59; Villanova edged Kansas 56-55.
Scouting the Musketeers:
For whatever reason, Xavier is not taking care of the ball right now. Over their past two contests, the Musketeers have turned the ball over 39 times, an incredible number for a program that's been a ranked team this season. In the name of fairness, TCU ranks in the top 20 in the nation in steals, so, understandably, Xavier had more than its share of turnovers against the Horned Frogs, especially playing them in a true road game. But there's no such excuse for 18 turnovers at home against Western Carolina. The Catamounts rank outside the top 250 in steals per game, yet the Musketeers still couldn't take care of the ball against a lesser foe.
Right now, the biggest problem for Xavier is the ball handling — or lack thereof — from Paul Scruggs, who had eight turnovers against the Catamounts and has had at least three in four of his past five games. The problem is that Scruggs also happens to be the Musketeers' second-best scorer behind Naji Marshall, so taking him out of the offense isn't an option. Xavier has to find a way to take better care of the ball if it's going to pull out a win.
More NCAA Picks: Orange Bowl Pick ATS >>>
Scouting the Wildcats:
Justin Moore didn't do the job on offense against Kansas, but neither did anybody else on offense for either squad, so that's hardly an indictment of the freshman. Villanova is nowhere near as beautiful as it was two years ago and especially four years ago, but that's OK because Jay Wright has done a good job of getting the most out of the pieces that he does have. Villanova has shown signs of offensive efficiency at times, and when everything is clicking, as it did down the stretch against Kansas, the Wildcats can beat any team. But the Wildcats are just as prone to nosedives, and when those occur, Villanova is very beatable.
That's part of what happens when you rely on two players for most of your scoring. Moore still needs to show he can score consistently to give Villanova that third option it has lacked for more than a year now. Colin Gillespie and Saddiq Bey have proven themselves to be strong options so far, but Moore still needs to show that his recent games and not the tight game against the Jayhawks are more indicative of who he really is and what Wright really has.
X-Factor:
The layoff. How ready are these teams going to be after taking a full week off for the holidays? Villanova hasn't played in nine days since its win over Kansas, and Xavier is at eight days since its most recent contest. There's no guarantee that these teams are going to be anywhere near their full capability at the start of this game. That makes the under for the first half a potentially intriguing bet. If there's any rust, a slow start is quite possible, which could lead to a low-scoring contest.
Kansas will Cover if:
The Jayhawks can force turnovers. The Jayhawks rank in the top 40 in the country in turnovers forced, and Villanova has shown a tendency to cough the ball up against solid defensive opponents. Given that the Wildcats are a pretty guard-heavy team, Kansas has the potential to force quite a few turnovers and score some easy baskets. If that happens, Villanova can't keep up.
Villanova will Cover if:
The Wildcats can control the glass. Villanova doesn't seem to be a great team in terms of shooting, but the Wildcats make up for it by getting good defense and limiting opponents to just one shot per trip down. Villanova has had its problems getting going on offense, so a chance to prepare for what they're about to see in conference play could make a big difference for them over the course of the game. Xavier has had problems of its own with rebounding, and if the Musketeers struggle on the glass as well as with their turnovers, this could be a strong showing for the Wildcats.
Dan's Pick to Cover the Spread:
I don't love Villanova's offense, but the Wildcats seem to be in a lot better shape than Xavier is right now. Xavier is finally showing some sign of desperate play after a few lackluster victories, but I think they might be a little too desperate to play at the pace that works well for them. They've looked a little impatient as of late, which really isn't what you'd expect from a supposed veteran team like Xavier.
Instead, it's Villanova that looks like the more experienced outfit right now, and it's Villanova that I'd rather have my money on at the moment. The Wildcats have dominated the Big East for several seasons under Wright, and if Xavier wants the crown, the Musketeers are going to have to take it from them.
I don't see them doing so in Philly. I'll take Nova. Where are you betting your Villanova pick? Did you know that you don't have to lay -110 odds on college and pro basketball lines? You can make the very same bets for $5 less by wagering at -105 at 5Dimes! Stop wasting your hard earned money today! Click here to start saving money TODAY!
STOP LOSING TODAY! START WINNING WITH DOC'S TEAM OF PROFESSIONALS! GET A FREE NO STRINGS ATTACHED $60 FOR THIS WEEKEND'S GAMES!