Arizona State Sun Devils vs. USC Trojans Pick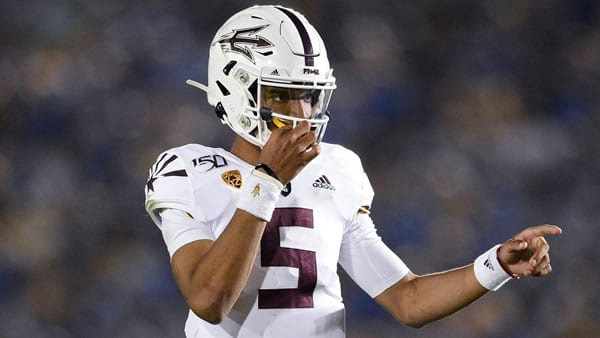 Arizona State Sun Devils (0-0 SU, 0-0 ATS) vs. USC Trojans (0-0 SU, 0-0 ATS)
College Football Week 10
Date and Time: Saturday, November 7, 2020 at 12PM EDT
Where: Los Angeles Memorial Stadium, Los Angeles, California
TV: Fox
Point Spread: ASU +11.5/USC -11.5 (BetNow – Ending SOON! Deposit $100 to $1000 and they'll give you a 100% real cash bonus! Example: Deposit $1000 and they'll add an EXTRA $1000 to your wagering account!)
Over/Under Total: 60
The Arizona State Sun Devils come to the LA Coliseum for a Pac-12 showdown with the USC Trojans. It is the season debut for both teams, as the Pac-12 finally gets underway, with a reduced schedule as they try to salvage the season. The Sun Devils look to further their cause after one of their more successful seasons in a while, winning eight games and a bowl game. Meanwhile, USC also had an 8-win season and look to make more of an impact this season. Who can come out ahead in this one?
Clues from Last Season
If last season is any indication, this should be a competitive game. Last season's matchup was a bizarre game, and before you knew it, USC was running away with it, putting up a quartet of first-quarter touchdowns. The Sun Devils slowly worked their way back into the game, and the Trojans had to hang on for a narrow win. Key to the Trojans' success was the play of Kedon Slovis, who was likely the best QB in the conference last season. After putting up 432 yards and four scores against ASU last season, he looks for more of the same this season. And a lot of the weapons he used are also back.
The State of the Trojans
Despite the kooky nature of this season, as starting in week ten will attest, this is a crossroads season for Clay Helton's Trojans, and the expectations are high. On the positive front, they return Slovis, whose projected growth behind center should be a source of fear in the conference. They also return the bulk of his receiving crew. On the other side of the ball, especially in the back-seven, there are also many returning pieces.
While one is inclined to defer to the Trojans' recruiting in terms of stocking the lines of scrimmage with talent, they have a lot of pieces to fit into place on both lines. Still, nine returning starters on the defense should pay dividends under new coordinator Todd Orlando. The bigger question may be the O-line, though Alijah Vera-Tucker opting back in was a major coup for Slovis and this offense.
More Picks: Stanford at Oregon Betting Prediction >>>
Can the Sun Devils Take Another Step Forward?
It would really be rough if the Trojans lost to the Sun Devils to start this season. But considering last season's result and how well Arizona St. is coming around under Herm Edwards, it's not the pipe dream it was a few short years ago. It is Edwards' third season, a time when the coaches' handiwork could start to manifest. And there are areas of promise across different areas that suggest this thing could work. Edwards' recruiting has been expert, and after playing so many freshmen last season, there is cause to project some improvement.
One of those players is exciting QB Jayden Daniels, who shined after being jettisoned into action as a freshman. With 17 TDs and just two picks, he commandeered this offense well, flashing a nice set of legs and even a magic touch that included some comebacks and times where he put up points in bunches. They reached heights they hadn't in a while, even knocking Oregon out of the national championship picture late in the season. He loses a major piece of artillery with WR Brandon Aiyuk now on the 49ers, but Frank Darby could be one of the best receivers in the conference. Getting Boise St. offensive coordinator Zak Hill could also pay off for this offense.
Did you know… that you can watch the start of a game, get a feel for how thing are going and then bet live in-progress? Not only that, but you can get a 50% real cash bonus up to $250 free and they'll give you rebates on ALL of your action; win, lose or draw! Oh, and your credit card WILL work there for deposits! Find all this and more at Bovada Sportsbook. One of the web's best!
Can the ASU Defense Hang?
While the Sun Devils were able to play good defense late in the game against the Trojans last season, their collapse in the first half was mostly responsible for the loss. Former coordinator Danny Gonzalez left to take the New Mexico gig, but Edwards brought in a few interesting guys to co-coordinate the defense—Marvin Lewis and Antonio Pierce. They will change to a 4-3 base, and with major beef up-front like Jermayne Lole, DJ Davidson, and TJ Pesefea, maybe we can see this side of the ball make a significant upgrade this season. You have a lot of youngsters who are now older, with key veterans anchoring down key spots, such as an experienced secondary.
Image Counts
On the surface, USC is going to get a lot of juice. They are, after all, one of the more-storied programs in the sport, at least on the west coast. They have a QB who could end up being another in a long line of big-time Southern Cal quarterbacks. And he is surrounded by abundant talent. And they're at home, fancied as a favorite in the Pac-12 South in this limited context this season. But we see an ASU team that has ample cause for projected improvement. They do a lot of the little things, with good special teams, a great punter, a really good FG kicker, and just a general solidness all-around.
Take the Points on the Road Underdog
This isn't an easy spot for an ASU team trying to make strides. A road-spot against the division favorite is a pretty tough entrance exam for the 2020 Sun Devils, but they have some room with which to work. They came pretty close last season, and that was without the electricity that Daniels provides. If their defense can avoid getting run over early, as they did last season, I see the Sun Devils' offense being able to get some things done and come out of the Coliseum with a cover on Saturday. I'll take Arizona State and the points.
Loot's Pick to Cover the Point Spread: I'm betting on the Arizona State Sun Devils plus 11.5 points. We advertise tons of sportsbook bonus offers, however, the real bonus is betting on games at reduced odds. This essentially means that you lay -105 on your bets, rather than -110. This may not sound like much but when penciled out, it adds up to THOUSANDS of dollars of savings over the long haul. ESPECIALLY if you're betting any significant amount of money. Do yourself a favor and start betting at reduced juice at BetAnySports (See our BAS Review). You'll be so glad you made the switch. They have a huge wagering menu, 20 point teasers, excellent parlay odds and hassle-free payouts. Click here to sign up now and start reaping the benefits!