Arizona State vs. Arizona Pick 12/11/20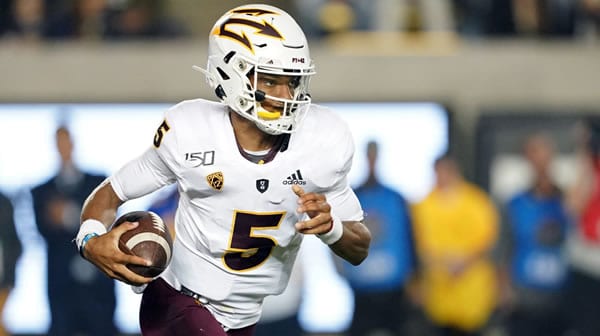 Arizona State Sun Devils (0-2 SU, 1-1 ATS) vs. Arizona Wildcats (0-4 SU, 1-3 ATS)
College Football Week 15
Date and Time: Friday, December 11, 2020 at 7PM EST
Where: Arizona Stadium, Tucson, Arizona
TV: ESPN
Point Spread: ASU -8.5/ARIZ +8.5 (BetNow - 100% Bonus up to $1000! WOW!)
Over/Under Total: 56.5
The Arizona State Sun Devils come into Tucson for an in-state Pac-12 battle with the Arizona Wildcats on Friday. Both teams would like to score their first win of the season. On Saturday, things looked promising with the Wildcats taking a 13-0 lead at home against unbeaten Colorado, before their offense took the rest of the afternoon off, as they lost 24-13. They now turn their attention to a Sun Devils squad that finally got back on the field on Saturday, losing to the Bruins, 25-18. Who can get in the win column on Friday?
A Little Perspective
The "Duel in the Desert" is an annual battle, recently dominated by the Sun Devils, whose program has been in a little better shape lately. Last season's 24-14 win was their third straight win over the Wildcats. There have been some close battles and some more lopsided beatings, but it's usually an exciting game high on the scoring side, despite 2019's result. Last season, Arizona threw three picks, which was a key factor, and with the Sun Devils running the ball well, it was enough for the win at home.
The Two Sides of the Coin With the Wildcats
At 0-4, the problems continue for this Kevin Sumlin-led bunch. But those choosing to maybe look at it another way can reason that they've been scheduled pretty tough. And in their first game, a high-powered USC team needed last-second magic to beat the Wildcats, 34-30. And it's true that the highlights since have been sparse, losing lopsidedly to Washington and UCLA on the road, before playing only one good half against the Buffaloes at home last week. But they were competitive against a pair of good conference foes and nice and dug in at home; maybe things line up for a respectable showing this week.
An Arizona offense that was struggling to make progress suffered another setback when starting QB Grant Gunnell was kept out of the last game with a shoulder, forcing Arizona to start Will Plummer, who didn't get much going through the air. Arizona did have two 100-yard backs on the day, with Michael Wiley and Gary Brightwell combining for 239 yards. But that just makes it all the more curious how they couldn't convert a point for almost the entire last three-quarters of the game.
With an offense still firmly in the developmental stages, having a defense that doesn't usually hold up its end of the deal doesn't help the Arizona cause. They have actually been a little better the last two weeks, at least in terms of point-allowance, considering that Colorado and UCLA can put up a lot of points, and the offense has been leaving them out to dry. But the state of their run-defense is a big concern in this matchup, as opposing running backs are having it way too easy, especially late. It's just hard to cover spreads when the opposing back is ripping off ten yards a carry at will late in a game. And in allowing Colorado's Jared Broussard to go for 301 yards on Saturday, we saw more of a front that isn't really up to conference standards.
Tough Times for ASU
These are tough conditions for an Arizona State team that finally saw an upswing last season under head coach Herm Edwards. After a gutty loss to USC, 28-27, the Sun Devils saw three straight games get canceled amidst virus concerns. For a team working in new pieces, having a slew of games scratched and being subjected to a stop-start nature of the season has to be a tough pill to swallow.
ASU being off-sync showed on Saturday night in the loss to the Bruins. They looked half-dead in the first half, and when they finally came to life in the second half, there were too many miscues to establish any continuity. Whenever the Sun Devils saw something good go their way, there was a flag on the play. Add in a few turnovers, and they basically took a winnable game and made it a comedy of errors. And again, it's not all their fault, as one would have liked to see how they would look if afforded the chance to actually warm up to the season. And when a team is playing its second game in week 14, it speaks volumes.
Hope for the Sun Devils
Though he was off-key against UCLA, QB Jayden Daniels is a major talent who has given this offense a big push since coming into the fold last season. And he normally takes really good care of the ball, with his pick on Saturday only being his third since beginning his tenure. Though they are trying to replace a good back, there is help on the horizon from DeaMonte Trayanum and Rachaad White, who is also a threat in the aerial package. Undermined by mistakes on Saturday, it just didn't work out. But one sign of promise is that against two good offenses in USC and UCLA, they allowed only 53 total points in two games. Against Arizona this week, maybe that number can drop.
Take the Road Team
Arizona being winless is more or less a byproduct of a substandard conference team that just isn't up to snuff, despite showing some positive signs from time to time. For ASU, they're more snake-bitten by the conditions. And maybe shaking off some rust last week puts them in a good spot for a more-manageable Wildcats team in a negotiable road-assignment. I see the Sun Devils' run-game resonating here, opening up things for Daniels, who flashes some of last season's form to get the win and cover in Tucson on Friday.
Loot's Pick to Cover the Point Spread: I'm betting on the Arizona State Sun Devils minus 8.5 points. Bet this game LIVE at the website with the BEST in game wagering platform on the planet –> Bovada Sportsbook! They offer a 50% bonus, rebates on ALL your bets and FAST hassle-free payouts!