[et_pb_dcsbcm_divi_breadcrumbs_module hide_homebreadcrumb="off" homebreadcrumbtext="Home" separator="sep-raquo" hide_currentbreadcrumb="off" homebreadcrumborientation="left" _builder_version="3.8″ fontsbreadcrumbs_font="Lato||||||||" fontsbreadcrumbs_text_color="#000000″ fontsbreadcrumbs_font_size="15px" fontsbreadcrumbs_line_height="16px" fontsseperator_font="||||||||" fontsbreadcrumblinks_font="||||||||" fontsbreadcrumblinks_text_color="#2567cf" custom_margin="25px|||" custom_margin_phone="30px|||" custom_margin_last_edited="off|desktop" custom_css_main_element="font-family: Helvetica Regular;" global_module="3641″ saved_tabs="all" /]
Arkansas visits Auburn – Saturday Night Pick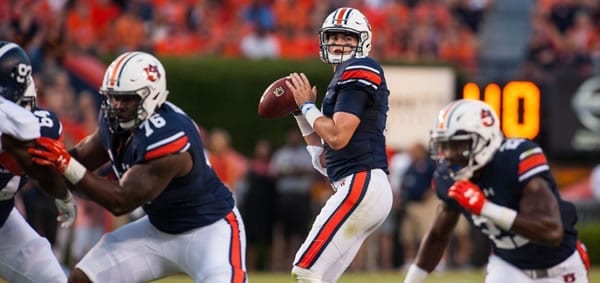 When: Saturday, 9/22/18 7:30 PM ET
Where: Jordan-Hare Stadium. Auburn, Alabama.
TV: SEC Network
Spread: Auburn -30.5
Total: 58
It's a Southeastern Conference West Division clash Saturday night in Auburn, Alabama between Arkansas and Auburn. The SEC West is stacked this year with teams such as Alabama, LSU, Mississippi State, Texas A&M and Auburn. This game opened with the Auburn Tigers as a 27.5 point favorite, but has already ballooned to 30.5. Expect that number to grow even larger leading up to Saturday night's kickoff because if you didn't know: Arkansas is pitiful. The Razorbacks have already lost convincingly to Colorado State and North Texas, so we'll see how they fair against ninth-ranked Auburn that's coming off a heartbreaking loss to LSU. Odds are, the hogs won't fair too well and the monumental spread confirms this sentiment.
MAKE THE SMART CHOICE! STOP LAYING -110 ODDS! START LAYING ONLY -105 TODAY AT 5DIMES SPORTSBOOK!
Arkansas is in for a long season
Arkansas won its first game against FCS-Eastern Illinois 55-20, but lost their next two in a row at Colorado State (34-27) and versus North Texas (44-17). The Razorbacks were favored by 14 at Colorado State and by 5.5 versus North Texas. So, they're 0-2 against the spread so far but haven't had the luxury of playing the role of underdog until Saturday night's contest at Auburn.
Auburn slaughtered Arkansas 52-20 on the road last year, and this year's Razorbacks team appears softer than the 4-8 (1-7 SEC) team from a season ago. A 1-11 record looks like a distinct possibility for Arkansas. Their offense ranks 114th in efficiency and their defense ranks 87th. Arkansas's averaging 387.3 yards per game: 300 through the air and 87.3 on the ground. The Hogs "D" has allowed 32.7 points per game thus far.
The Razorbacks have a little bit of a problem at the quarterback position. In last week's game versus North Texas, three quarterbacks combined for six interceptions in the embarrassing home loss. Cole Kelley is completing 55.4% of his passes and has notched three touchdowns compared to four interceptions. Ty Storey is also competing for the starting job and has completed 56.7% of his passes for three touchdowns and two picks. Running back Devwah Wahley is averaging 4.6 yards per carry and has scored two touchdowns for the Hogs.
War Eagled downed in final seconds
Gus Malzahn's Auburn program lost a heartbreaker last week at home to LSU 22-21 in the final seconds. LSU led a tremendous two-minute drill to put themselves in position to ice the game with a field goal with time expiring and that's just what happened. The Tigers were up 21-13 heading into the fourth quarter, but LSU proved to be the better Tigers that day by scoring nine unanswered points to silence the Auburn faithful.
Auburn began the season with a nice neutral-field "dub-ya" versus Washington 21-16 and followed it up with a 63-9 shellacking of Alabama State at Jordan-Hare Stadium. The SEC West is the best division in all of college football by far, hands down. The Tigers would inevitably take their lumps and losses, and still have to play the following teams on the road: #14 Mississippi State, #2 Georgia and #1 Alabama. That has to be the toughest schedule out there and it looks like there's a good shot that Auburn will post an 8-4 regular season record in their 2018 campaign.
Junior Quarterback Jarrett Stidham has returned to continue his role and is completing 64% of his passes thus far. Stidham has notched three touchdowns compared to two interceptions. The strength of the Auburn offense is the o-line and rushing attack. Seven Tigers have recorded a rushing touchdown thru their first three games. Auburn's defensive corps aren't exactly slouches either, ranking 21st in defensive efficiency early on this season. No doubt, this defensive group has several players with NFL-level talent which should reek havoc upon the tenuous Arkansas o-line and company.
What's the play?
Auburn -30.5 is the play in this SEC West battle. Arkansas just lost to North Texas by 27 points at home! The Razorbacks lost at home to Auburn last year by 32 points and this year's team is possibly even worse than last year's that finished 1-7 in SEC play. Arkansas will probably lose every game remaining on their schedule. Their defense has ranked last in yards allowed per play for three straight seasons in the SEC and this one will be number four. Auburn is going to run the ball down their throats with ease and suffocate them with their stout defensive corps. This will be a blowout of epic proportions, and the spread will continue to rise until game-time Saturday night. It'll probably almost get to -34 and I'd probably still take the Tigers at that crazy number.
<aside><!-- [et_pb_line_break_holder] --><div class="widget105"><!-- [et_pb_line_break_holder] --><h4 class="cash">Best Sportsbook Bonuses</h4><!-- [et_pb_line_break_holder] --><div class="widgetlist"><!-- [et_pb_line_break_holder] --><div class="col1"><!-- [et_pb_line_break_holder] --> <a href="https://www.predictem.com/out/IntertopsB"><img src="https://www.predictem.com/wp-content/uploads/2018/04/intertops.png" width="" alt="Bovada" /></a><!-- [et_pb_line_break_holder] --></div><!-- [et_pb_line_break_holder] --><div class="col2"><!-- [et_pb_line_break_holder] --><span class="list"><b>50% Cash</b></span><br><!-- [et_pb_line_break_holder] --><span class="list">4x Rollover</span><!-- [et_pb_line_break_holder] --> </div><!-- [et_pb_line_break_holder] --> <div class="col3"><!-- [et_pb_line_break_holder] --><a href="https://www.predictem.com/betting-sites/intertops/"><button class="btn-widget">Review</button></a><!-- [et_pb_line_break_holder] --></div><!-- [et_pb_line_break_holder] --></div><!-- [et_pb_line_break_holder] --><div class="widgetlist"><!-- [et_pb_line_break_holder] --><div class="col1"><!-- [et_pb_line_break_holder] --> <a href="https://www.predictem.com/out/BovadaB"><img src="https://www.predictem.com/wp-content/uploads/2018/04/bovada.png" width="" alt="Intertops" /></a><!-- [et_pb_line_break_holder] --></div><!-- [et_pb_line_break_holder] --><div class="col2"><!-- [et_pb_line_break_holder] --><span class="list"><b>50% Cash</b></span><br><!-- [et_pb_line_break_holder] --><span class="list">10x Rollover</span><!-- [et_pb_line_break_holder] --> </div><!-- [et_pb_line_break_holder] --><div class="col3"><!-- [et_pb_line_break_holder] --><a href="https://www.predictem.com/betting-sites/bovada/"><button class="btn-widget">Review</button></a><!-- [et_pb_line_break_holder] --></div><!-- [et_pb_line_break_holder] --></div><!-- [et_pb_line_break_holder] --><div class="widgetlist"><!-- [et_pb_line_break_holder] --><div class="col1"><!-- [et_pb_line_break_holder] --> <a href="https://www.predictem.com/out/GtbetsB"><img src="https://www.predictem.com/wp-content/uploads/2018/05/gt-bets.png" width="" alt="GtBets" /></a><!-- [et_pb_line_break_holder] --></div><!-- [et_pb_line_break_holder] --><div class="col2"><!-- [et_pb_line_break_holder] --><span class="list"><b>100% Cash</b></span><br><!-- [et_pb_line_break_holder] --><span class="list">20x Rollover</span><!-- [et_pb_line_break_holder] --> </div><!-- [et_pb_line_break_holder] --> <div class="col3"><!-- [et_pb_line_break_holder] --> <a href="https://www.predictem.com/betting-sites/gtbets/"><button class="btn-widget">Review</button></a><!-- [et_pb_line_break_holder] --></div><!-- [et_pb_line_break_holder] --></div><!-- [et_pb_line_break_holder] --><div class="widget-footer"><a href="https://www.predictem.com/best-sportsbooks/bonuses/">See all sportsbook bonuses</a></div><!-- [et_pb_line_break_holder] --> </div></aside>
<h4 class="widgettitle">More NFL Picks</h4><!-- [et_pb_line_break_holder] -->
<div style="width:340px; margin: 0 auto;"><!-- [et_pb_line_break_holder] --> <a class="twitter-timeline" data-width="340" data-height="500" data-link-color="#008156" href="https://twitter.com/PredictemPicks?ref_src=twsrc%5Etfw">Tweets by PredictemPicks</a> <script async src="https://platform.twitter.com/widgets.js" charset="utf-8"></script><!-- [et_pb_line_break_holder] --></div>