College Football Pick: Auburn Tigers vs. Mississippi State Bulldogs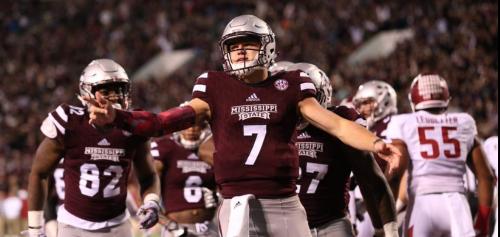 No. 8 Auburn Tigers (4-1 SU, 2-3 ATS) vs. Mississippi State Bulldogs (3-2 SU, 3-2 ATS)
College Football Week 6
Date/Time: Saturday October 6th, 2018. 7:30PM (EST)
Where: Davis Wade Stadium Starkville, M.S.
TV: ESPN2
By: Jay Horne, College Football Handicapper, Predictem.com
Point Spread: AUB -3/MSST +3
Over/Under: 45
The Mississippi State Bulldogs' luck against SEC East teams has not paid off in recent weeks with back to back losses to Kentucky and Florida. Despite opening the season with 3 straight wins against inferior opponents, the Bulldogs sit at 0-2 in the SEC. This week Mississippi State tries their luck against one of the bad boys from the SEC West when they host the no. 8 Auburn Tigers at Davis Wade Stadium. Despite being one of the top ranked teams in the country, Auburn has not looked overly impressive which prompted a nice victory last week when I issued a big play on Southern Mississippi as 27 point dogs against the Tigers. Southern Mississippi simply was a bad matchup for Auburn stylistically but the Tigers will have a much better matchup against the Bulldogs this week. For Saturday's meeting, Auburn is mere 3 point favorites over the 3-2 SU Bulldogs and perhaps this is a prime opportunity to jump back on the War Eagle bandwagon.
Auburn vs. Mississippi State betting matchup analysis
One of the main reasons that I faded Auburn last week is because it was a stylistic disadvantage against Southern Mississippi. The Tigers' offense has struggled throughout the year. They are not the prototypical elite scoring threat that Gus Malzahn's offenses typically produce and that makes it difficult for this team to cover large spreads. With each passing week, this offense appears more reliant on the arm of quarterback Jarrett Stidham rather than the run game. Instead of relying on high point totals, Auburn's backbone has been the play of the defense which has allowed them to maintain a 4-1 SU record despite very modest scoring throughout the 2018 campaign.
This week Auburn will face a Mississippi State team that has some similar characteristics with a struggling offense and a solid defense. The Bulldogs offense has been highlighted by inefficiencies at the quarterback position. Starter Nick Fitzgerald is completing just 49% of his passes and still does not look like the player he was before last year's leg injury. Fitzgerald leads the Bulldogs with 5 rushing touchdowns as a dual threat behind center. However, this offense has been pretty one dimensional despite the emergence of running back Kylin Hill who is averaging nearly 8 yards per carry. Hill and Fitzgerald give this offense hope but it will still be a very difficult matchup against Auburn's front 7 this Saturday.
In a similar style match-up with a very small betting line, I really like Auburn in this spot. The Tigers defense is not good but really good. They are ranked 3rd in scoring giving up just 12.6 points per game and they have the type of defensive line that could terrorize the Bulldogs rushing attack. In reality, Auburn's defense is the best group that the Bulldogs have faced this year. Yet in recent weeks, Mississippi State has scored just 13 points combined in two games against the likes of Kentucky and Florida. If anyone is expecting this offense to suddenly find answers against Auburn, they are dreaming.

Betting Trends and Angles to consider for Auburn
Admittedly, the Bulldogs typically play better at home and they have covered the spread in 8 of their last 11 home games. However, I don't really like the trend considering Mississippi State's completely different offensive output going back to 2017. I mean we are talking about a team that produced just 202 yards of total offense last week at home against Florida with just 98 yards through the air. I am sure avoiding a catastrophe that Mississippi State will find a way to produce better numbers this week but it still will not be nearly enough to win the game. Auburn has won 13 of the last 17 meetings over the Bulldogs and that trend will continue on Saturday.
Likewise in a close game, you have to consider the quarterback play is going to be important factor. I mentioned Mississippi State's quarterback woes that are completing less than 50% of their passing attempts. On the other side of the field, Auburn has an experienced veteran in Jarrett Stidham that can make all the throws on the field. If this game gets into a clutch situation, I would gladly prefer to have my money on Stidham. However, I ultimately think Auburn will steer clear of needing any clutch performances. This game will be a great opportunity for Auburn's defense to flex their strength and Gus Malzahn has covered 5 of his last 7 games ATS in contest where Auburn is favored a touchdown or less. Like it or not, he is a great coach and that is another angle to keep in mind this Saturday.
Jay's Pick to Cover the Point Spread: Take Auburn -3 and consider a small play on the under 45!
<aside><!-- [et_pb_line_break_holder] --><div class="widget105"><!-- [et_pb_line_break_holder] --><h4 class="cash">Best Sportsbook Bonuses</h4><!-- [et_pb_line_break_holder] --><div class="widgetlist"><!-- [et_pb_line_break_holder] --><div class="col1"><!-- [et_pb_line_break_holder] --> <a href="https://www.predictem.com/out/IntertopsB"><img src="https://www.predictem.com/wp-content/uploads/2018/04/intertops.png" width="" alt="Bovada" /></a><!-- [et_pb_line_break_holder] --></div><!-- [et_pb_line_break_holder] --><div class="col2"><!-- [et_pb_line_break_holder] --><span class="list"><b>50% Cash</b></span><br><!-- [et_pb_line_break_holder] --><span class="list">4x Rollover</span><!-- [et_pb_line_break_holder] --> </div><!-- [et_pb_line_break_holder] --> <div class="col3"><!-- [et_pb_line_break_holder] --><a href="https://www.predictem.com/betting-sites/intertops/"><button class="btn-widget">Review</button></a><!-- [et_pb_line_break_holder] --></div><!-- [et_pb_line_break_holder] --></div><!-- [et_pb_line_break_holder] --><div class="widgetlist"><!-- [et_pb_line_break_holder] --><div class="col1"><!-- [et_pb_line_break_holder] --> <a href="https://www.predictem.com/out/BovadaB"><img src="https://www.predictem.com/wp-content/uploads/2018/04/bovada.png" width="" alt="Intertops" /></a><!-- [et_pb_line_break_holder] --></div><!-- [et_pb_line_break_holder] --><div class="col2"><!-- [et_pb_line_break_holder] --><span class="list"><b>50% Cash</b></span><br><!-- [et_pb_line_break_holder] --><span class="list">10x Rollover</span><!-- [et_pb_line_break_holder] --> </div><!-- [et_pb_line_break_holder] --><div class="col3"><!-- [et_pb_line_break_holder] --><a href="https://www.predictem.com/betting-sites/bovada/"><button class="btn-widget">Review</button></a><!-- [et_pb_line_break_holder] --></div><!-- [et_pb_line_break_holder] --></div><!-- [et_pb_line_break_holder] --><div class="widgetlist"><!-- [et_pb_line_break_holder] --><div class="col1"><!-- [et_pb_line_break_holder] --> <a href="https://www.predictem.com/out/GtbetsB"><img src="https://www.predictem.com/wp-content/uploads/2018/05/gt-bets.png" width="" alt="GtBets" /></a><!-- [et_pb_line_break_holder] --></div><!-- [et_pb_line_break_holder] --><div class="col2"><!-- [et_pb_line_break_holder] --><span class="list"><b>100% Cash</b></span><br><!-- [et_pb_line_break_holder] --><span class="list">20x Rollover</span><!-- [et_pb_line_break_holder] --> </div><!-- [et_pb_line_break_holder] --> <div class="col3"><!-- [et_pb_line_break_holder] --> <a href="https://www.predictem.com/betting-sites/gtbets/"><button class="btn-widget">Review</button></a><!-- [et_pb_line_break_holder] --></div><!-- [et_pb_line_break_holder] --></div><!-- [et_pb_line_break_holder] --><div class="widget-footer"><a href="https://www.predictem.com/best-sportsbooks/bonuses/">See all sportsbook bonuses</a></div><!-- [et_pb_line_break_holder] --> </div></aside>
<div style="width:340px; margin: 0 auto;"><!-- [et_pb_line_break_holder] --> <a class="twitter-timeline" data-width="340" data-height="500" data-link-color="#008156" href="https://twitter.com/PredictemPicks?ref_src=twsrc%5Etfw">Tweets by PredictemPicks</a> <script async src="https://platform.twitter.com/widgets.js" charset="utf-8"></script><!-- [et_pb_line_break_holder] --></div>