Barking Dogs: Washington Huskies Future Odds & Picks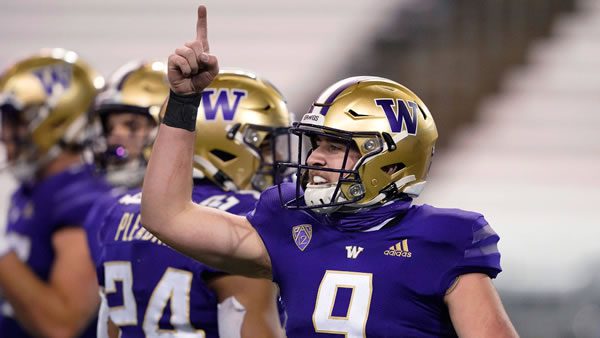 Can the Washington Huskies win the NCAA Championship at (+6600)?
Here's your curveball, folks: taking a Huskies squad that has averaged three losses a season for the past four non-COVID seasons to possibly win a national title. Why would anyone do this? There are four things you need in order to compete for a college football national title in this day and age (read: before the playoff expands to 12 and gives the small conferences a chance). First, you need to be a member of one of the Power 5 conferences, and despite its poor showings in recent years, the Pac-12 still qualifies. Second, you need talent, and the Huskies have proven themselves a talented squad by finishing three of the past four non-COVID seasons ranked in the top 15. Washington has won 10 games in three of its past four non-COVID seasons, and the Huskies have played for and won the Pac-12 title in two of those campaigns. The mediocrity of the early 2010s is over; this is once again an elite program.
Third, you need experience, and the Huskies have that in spades this year. Washington returns its entire offensive line from a season ago, and this group averaged 176 yards per game on the ground and gave up only one sack. Granted, they did that during a four-game schedule because of COVID problems, but it still happened. This is an experienced group that should be able to move the ball easily with the kind of protection the line will provide, and there shouldn't be many problems on the other side of the ball, given that Jimmy Lake is a defensive-minded coach.
Finally, you need to have the right schedule, and the Huskies have the right slate of games to make a run at an 11-1 or even 12-0 campaign. The non-conference features two games that shouldn't be an issue in Montana and Arkansas State and one tough test in Ann Arbor on Sept. 11. Michigan's a good team but shouldn't be quite on the level of Washington. After that, the schedule gets much more manageable.
Washington plays four opponents out of the Pac-12 South, and the two they miss are USC and Utah, two of the three teams most likely to win the division. The third favorite is Arizona State, but the Sun Devils come to Seattle in November, and the last time ASU made the trip to Washington, the Huskies pasted them by 26. Their biggest competition in the North is Oregon, and the Ducks come north as well. The only real worry on the slate in the Pac-12 is Stanford, which gets Washington at home and has won six straight matchups against the Huskies in Palo Alto. Washington hasn't won at Stanford since 2007, and to make matters worse, the Cardinal comes off a bye the previous week and will have just played a middling Washington State the prior week, not exactly the kind of preparation you'd like your opponent to face.
Note: The best way to wager on a futures bet is to do so with bonus cash. This essentially means that you're betting the pick for free. How this work? Open up an account at MyBookie Sportsbook, enter PREDICT100 in the bonus/promo code box, deposit $100 to $300 and they'll match you with that very same amount in bonus dollars! Use the bonus dollars to place futures bets and/or your other risky high odds bet and you've got yourself a freeroll! Click here to register now!
That brings the biggest question to the forefront: will a 12-1 Pac-12 team impress enough people to land a spot in the playoffs? If the Huskies can manage a win at Stanford, this is academic because there's no way that an unbeaten P5 team gets left out of the postseason. But assuming they lose the Stanford game, will the Pac-12's reputation sink Washington?
My guess is probably not, as long as the only loss comes to Stanford, Arizona State, or Michigan. Even losing to Oregon is probably not a good idea because the Ducks have to play at Ohio State and Stanford before they ever get to Seattle, and they'll probably roll into that game with at least two and possibly three losses to their name. But Stanford only plays P5 opponents this year and should provide plenty of schedule strength. ASU might be undefeated when it gets to Washington, and Michigan will have a high enough reputation early that a close loss in Ann Arbor wouldn't hurt. There's little margin for error here for the Huskies, but at this price, this is a worthy gamble.
Over or Under: 9 Wins
Washington shouldn't have an issue getting to nine with this schedule. The Huskies should be 6-1 or 7-0 when they head to Stanford, and if they reach their expectations, they'll only need to win three games out of five, with three of those coming at home. The Huskies' road schedule includes three of the five weakest teams in the Pac-12, as they'll get Arizona, Colorado, and Oregon State away this season. They won't play the best teams in the South at all, and the one good one from that division they do have to play comes to their stadium. Their non-conference schedule should provide two free wins, with a very winnable road game at Michigan sandwiched in there.
As long as the Huskies don't stub their toe somewhere and lose a game they shouldn't, there is little reason to think that they won't get at least nine off of this slate. Most likely, Washington is looking at a double-digit win total in the regular season, so I'm jumping all over the Over at this number (available at BetOnline).