Big 12 Conference Odds & Predictions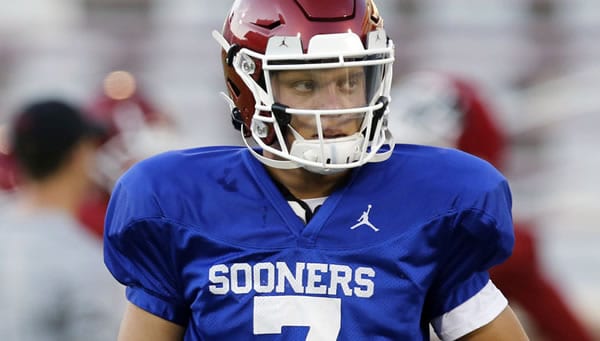 The Big 12 is the only league that plays a true round-robin schedule, so this won't be all that different from business as usual for this league. As usual, all ten teams will play every other side in the conference, with four teams playing five home games, four playing five road games, and Oklahoma and Texas each playing four of each plus their meeting at the Cotton Bowl.
We're looking for a team that's likely to get to the Big 12 championship game. Or, at least one that has good odds of making it there. Remember, the team that wins this bet first has to finish in the top two and then will have to win on a neutral field, so just because a team has the better matchup in the regular season is no guarantee that they'll win when it really counts. Case in point: Oklahoma had botched a regular-season game in each of the past three seasons and gone on to win the title anyway, including in 2018, when they lost to Texas in Dallas and then beat the Longhorns in Arlington to win the conference crown.
Here's a look at our best options to win the Big 12.
---
The Favorite: Oklahoma Sooners: -125
Five straight league titles mean that Oklahoma is going to be the favorite, but this is a tough spot to put your money. Of course, the Sooners are going to be talented, but they're breaking in a new quarterback, and they've said goodbye to one of their best weapons in receiver CeeDee Lamb. Oklahoma has become Transfer Quarterback University under Lincoln Riley, but this time, they're going with a redshirt freshman in Spencer Rattler.
The hype on Rattler is kind of out of control, as he's already seen as second in the Heisman race to Trevor Lawrence of Clemson, and he's only thrown 11 passes in his entire college career. I think Rattler is going to be a great player eventually, but there's no way that I want to tie up my money for two to three months in a quarterback that has yet to play in anything but garbage time at the college level. The schedule also isn't favorable. Rattler gets one game against Missouri State to get his feet wet before jumping into Big 12 play with the Kansas State team that beat Oklahoma last season. The Sooners don't really get any time to get themselves adjusted to a new situation, as four of their first five Big 12 games won't be played in the state of Oklahoma. After K-State, the Sooners will go to Iowa State, play Texas in Dallas and then face back-to-back road games at TCU and Texas Tech. If Oklahoma can survive that, the schedule gets much friendlier. But for me, the worry is that by the time Rat-tler gets his legs under him and becomes the player that people expect, Oklahoma might have already taken a loss or two and put itself behind the eight-ball as far as the conference race goes. That's absolutely not where I want to put my money on a futures bet. If you're making this bet, you're essentially either counting on Rattner to be as good as the hype suggests from day one. Which is a hard thing for a freshman who didn't get spring practice to establish himself as the leader of the group — or you're betting on Oklahoma's defense carrying the load through a front-loaded schedule? I want no part of the Sooners on this bet.
---
The Contender: Oklahoma State Cowboys: +650
Experience is the key for Mike Gundy's crew. A favorable schedule doesn't hurt either. Oklahoma State didn't have the greatest offseason thanks to off-field distractions, but the Cowboys started the year far ahead of the competition thanks to 19 starters returning from last year's team. Among them is running back Chuba Hubbard, who topped 2,000 yards on the ground and should be able to do big things again behind an experi-enced offensive line that proved dominant last season.
But Oklahoma State will always be a pass-first team, which means that Spencer Sanders and Tylan Wallace need to be on the same page. Sanders got off to a great start a season ago, earning Big 12 honors as the league's offensive freshman of the year, and with Wallace back from injury, Sanders should be even more comfortable under center.
On the other side of the field, all 11 defensive starters return for Oklahoma State. Gundy has never been known for being a great defensive mind, but the Cowboys have plenty of experience and shaved six points off the total they'd given up per game last year, which should set this group up to be pretty solid on that side of the ball. In the Big 12, giving up 20 points a game is considered downright stingy, and Oklahoma State has the offense to make that a winning number. The schedule is also very favorable, as both Iowa State and Texas have to make the trip to Stillwater, and they get a week off before they have to make the trip to Norman for the Bedlam Game with Oklahoma. Speaking of Oklahoma, thanks to the way the schedule works in the Big 12, the Cowboys don't have to worry about the Sooners, because as long as they win the other eight games on the schedule, they'll get a second shot at Ok-lahoma in the Big 12 title game. I'd definitely take +650 odds on Oklahoma State beating Oklahoma on a neu-tral field, and I think that's going to be what this bet becomes.
---
The Pretender: Texas Longhorns: +175
There are two teams in the nation that consistently come with a neon "DO NOT BET" sign for me. One is Ne-braska, and the other is Texas, and they're for the same reason. Both teams are consistently thought of as quality teams who are just one step away from returning to national prominence — and every year, both sides consistently fall short of expectations.
Contrary to quarterback Sam Ehlinger's boast after beating a disinterested Georgia in the 2018 Sugar Bowl, the Longhorns weren't back in 2019. In fact, Texas failed to win six conference games for the eighth time in 10 seasons, and if not for barely escaping from Kansas on a last-second field goal, the Longhorns would have ended up with a losing record in the conference.
For Texas, points are not the problem. Ten out of 13 games for the Longhorns saw the teams combine for at least 50 points, and only three of those games were decided by more than 10 points. That says that while Texas can put up points in a hurry, so can the Longhorns' opponents. Giving up 48 points to Kansas last year was about as bad as it gets, and it was hardly an isolated incident, as Texas gave up 30 or more to five of its Big 12 foes.
The one positive for the Texas defense was that it started to play better near the end of the season, but that was also when the offense disappeared, leading to losses at both Iowa State and Baylor. The offensive attack should be in top shape with Ehlinger hooking up with Brennan Eagles, and both the Cyclones and the Bears come to Austin this season. But the problem is that Texas has to go to Stillwater to face Oklahoma State, and they'll play Oklahoma in Dallas as always.
The last month of the season isn't favorable either. That game with Iowa State comes sandwiched in between a pair of tricky trap games at Kansas and Kansas State. It's weird to refer to Kansas as a trap game, but the Jayhawks have played the Longhorns tougher than they've played anyone else in the league over the past four years. Finishing the year in Manhattan is no picnic either, as K-State is very underrated, and the weather in central Kansas in December is likely to be a lot less than pleasant. Add it up, and there's just way too much that can go wrong for me to trust the Longhorns at such a low re-turn. I think there are more promising options you can get for a much better number.
---
The Threat: Iowa State Cyclones: +1000
Matt Campbell has done what was once unthinkable in Ames: turn the Cyclones into consistent winners. Io-wa State had never before earned a winning record in the Big 12 in three consecutive seasons, and the Cy-clones win with defense, something that doesn't often happen in the pass-happy Big 12. Only Oklahoma and Kansas broke 30 points against the Cyclones last season, and with Brock Purdy back under center, Iowa State has the offensive attack needed to keep pace with the Oklahomas of the world.
That's going to be critical because the Cyclones absolutely have to view Oklahoma as a must-win if they've got dreams of winning the Big 12. Iowa State nearly picked off Oklahoma in Norman last year, and this season, the Cyclones get to play the Sooners in Ames in the second league game of the season. That's the perfect time to get the Sooners in their first road test, and Iowa State has the talent on defense to make it count.
If the Cyclones don't take advantage of that opportunity, then things start to get dicey in a hurry. Iowa State is one of the four teams in the league with five home games (and the only one of the four that has a genuine chance to win the league), but the Cyclones' road schedule is brutal. They've got to go to TCU to open Big 12 play and have road games at Oklahoma State and Texas. Even the road game at Kansas could be challenging, as it follows the game at Oklahoma State, which could leave the Cyclones with little time to reshift their focus to an opponent that's improved quite a bit over the past two seasons. Add it up, and there's plenty to like about the Cyclones but several potential pitfalls, which is why they're at their price. I'd throw a few dollars on Iowa State, but I wouldn't get crazy here.
---
The Dark Horse: Baylor Bears: +3300
On the one hand, Baylor lost a lot of talent from last year's squad, which very nearly took down Oklahoma in the Big 12 title game. On the other, Baylor still has Charlie Brewer back under center, and any time you pair a player of his caliber with a solid defense, you've got a chance to do some good things. But the Bears have got to do a better job of keeping Brewer upright if they're going to stay in the hunt, as Baylor allowed 38 sacks last season.
Unfortunately, Baylor might have been hurt more than anyone else by the cancellation of spring football, as the Bears didn't get the chance to build the cohesion necessary for a great offensive line. Fortunately, Baylor does get a favorable early slate with a home game with Kansas and a trip to West Virginia, neither of whom should contend for the Big 12 title. For the Bears to again be in the mix, they'll have to get the defense to grow up quickly and get solid play from Brewer. It could happen, but the schedule after that soft start is just too brutal for my tastes. Out of Oklaho-ma, Texas, and Iowa State, Baylor somehow managed to draw all of them on the road. The one saving grace is the home game with Oklahoma State, but that's not enough to bring the Bears back into the race — and it probably comes too early in the season anyway, given Oklahoma State's massive advantage in experience.
---
The Long Shot: Kansas State Wildcats: +4000
There's a simple reason K-State is getting +4000 to win the league in a year where it gets both Oklahoma State and Texas at home: the fact that it lost all five offensive linemen from last year. At the skill positions, K-State has the talent to compete, as Skylar Thompson looked solid last year, and the defense kept the Wild-cats in every game they played. Last year, only one team managed to score more than 31 points against K-State: Oklahoma and the Wildcats won the game anyway.
Otherwise, Kansas State held everyone but Baylor to 27 or less, which will keep the Wildcats in every contest if they can repeat that performance. The schedule isn't all that favorable with only four home games, but K-State made a few strides under Chris Kleiman last year, and there are worse places you can put two or three dollars than taking a flier on the Wildcats at 40-to-1 odds.
But if I'm making a significant bet on this, I'm looking at Oklahoma State. The Cowboys have the experience on their side, and they're coming at an excellent price for a team that gets to play two of its toughest three games on its home turf. I think there's a lot of value on the Cowboys to claim the Big 12 title this season.
100% REAL CASH up to $300

USE BONUS CODE:
PREDICT100