[et_pb_dcsbcm_divi_breadcrumbs_module hide_homebreadcrumb="off" homebreadcrumbtext="Home" separator="sep-raquo" hide_currentbreadcrumb="off" homebreadcrumborientation="left" _builder_version="3.8″ fontsbreadcrumbs_font="Lato||||||||" fontsbreadcrumbs_text_color="#000000″ fontsbreadcrumbs_font_size="15px" fontsbreadcrumbs_line_height="16px" fontsseperator_font="||||||||" fontsbreadcrumblinks_font="||||||||" fontsbreadcrumblinks_text_color="#2567cf" custom_margin="25px|||" custom_margin_phone="30px|||" custom_margin_last_edited="off|desktop" custom_css_main_element="font-family: Helvetica Regular;" global_module="3641″ saved_tabs="all"][/et_pb_dcsbcm_divi_breadcrumbs_module]
Big Bet Alert: Wisconsin vs. Penn State Prediction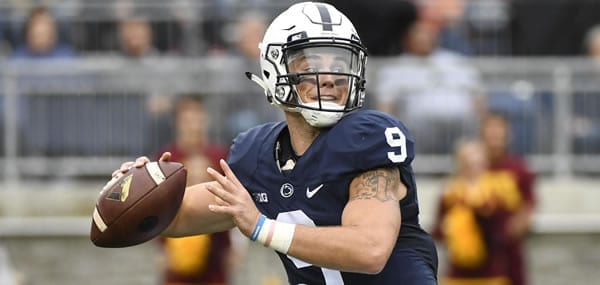 Wisconsin Badgers(6-3 SU, 2-7 ATS) vs. Penn Stat Nittany Lions (6-3 SU, 5-4 ATS)
NCAA Football Week 11
Date and Time: Saturday, November 10th, 12:00pm EST
Where:Beaver Stadium – University Park, PA
TV: ABC
Point Spread: WIS +8/PSU -8
Over/Under Total: 54.5
POWER RATINGS – WEEK 11: PENN STATE NITTANY LIONS -12
TAKEAWAYS FROM WEEK 10:
My takeaways from these two teams go back much further than just last week. You wanna talk about overrated and overhyped, these two teams are the epitome of just that. Just like their Conference as a whole, Wisconsin and Penn State have fallen flat on their faces just like they pretty much do every year. Coming into the season, I admit I was high on Penn State. Not so much as a national title contender, but at least as a contender in the Big Ten Conference. As for Wisconsin, I was not and truly have never been big on them as a contender. I remember the night Lee Corso picked them to be his National Champion before the season started, I spit my drink all over the place. It was the most uneducated and most comical pre-season prediction I had ever witnessed. Wisconsin is A LONG WAY from being a real contender. Anyhow, I just see two teams in this game that have pretty much dialed it in and called it quits. Penn State was dominated by Michigan last week by a score of 42-7 showing zero signs of life or pride in any of the four quarters. As for Wisconsin, they have the same 6-3 record as Penn State, but their losses have come at the hands of BYU, Michigan, and Northwestern. At this point, these teams are just playing for bowl game position and pride seeing as how neither has much more left to play for.
HOW THE PUBLIC IS BETTING WISCONSIN AND PENN STATE:
As of Tuesday afternoon, the line on this game still had Penn State as the eight-point home favorite. It appears that the public is not on the Penn State side of things. By 7:00pm EST on Tuesday, 66% of the documented action liked Wisconsin plus the points. I have checked various books and have yet to see any major line movement. If this spread does not drop a point or two come Wednesday or Thursday, that is a clear indication that Vegas likes the number and feels confident that the public will screw up.
THE HISTORICALS:
The series between Wisconsin and Penn State dates back to 1953 when these two first met in Madison, Wisconsin. Over that time, they have met 18 times, and the series is a deadlock at nine wins each. For many years, Wisconsin had the advantage winning most of the showdowns early in the series, but Penn State has come alive and have won six of the last eight head to head with Wisconsin and have also taken the last three including the 2016 Big Ten Title Game in which the Nittany Lions won 38-31.
INJURY CONCERNS
:
The major notable injury this week is that of Wisconsin QB, Alex Hornibrook. He is labeled doubtful due to a concussion, and the Badgers are preparing to go into this game with Jack Coan as the QB in case Hornibrook is not cleared by Saturday. Wisconsin will also be without Nose Tackle, Olive Sagapolu who is listed as "out" against Penn State due to the same arm injury that kept him out last game. As for Penn State, the only new injury news is that of wide receiver, Juwan Johnson. He has been deemed "questionable" with a lower leg injury.
WHEN WISCONSIN HAS THE BALL:
Many experts early in the season called Wisconsin "an SEC team playing in the Big Ten."…. give me a f—kin break! This team would be right there with the Ole Misses and Vanderbilts of the SEC if they played down south. The reason they were deemed such is that they were under the impression that Wisconsin had great line play on both sides of the ball and could impose their run game on anyone…LOL…yeah, okay. Coming into this game, it is uncertain if the Badgers will even have their starting quarterback available. If Hornibrook cannot go, then like I mentioned earlier, Wisconsin will roll the dice with Jack Coan, the backup. If Coan is the starter, I think Wisconsin tries to establish the run come Saturday. It will be a heavy dose of Jonathan Taylor who already has over 1300 yards rushing on the year. Last week, the Penn State defense gave up over 250 yards on the ground against Michigan. The Badgers come into this game with the 4th best running offense in the nation. If Wisconsin can get similar results, it could be a long night for the Nittany Lions. Even if Wisconsin cannot get THAT type of game going, they are going to have to try to get at least a respectable run game in order to open up things for Jack Coan to get easy passes and not be under too much pressure.
WHEN PENN STATE HAS THE BALL:
I can see both offenses trying to play this game the same way. Penn State averages over 205 yards a game on the ground, and this will be their key to success especially if Juwan Johnson is out. Trace McSorley and Miles Sanders will need to have big nights if they want to get this win and cover at home. McSorley will also need to be able to connect on his throws as well. Wisconsin will not allow Penn State to be one dimensional. Yes, the run game is huge, but it will take a complete balanced attack to keep Wisconsin on their heels.
BETTING TRENDS:
I am going anti-public in this one and taking Penn State minus the points. First off, Wisconsin has been horrible against the spread all season. On top of that, Penn State has not only won straight up the last three times they played Wisconsin, but they covered in all three of those games too. The favorite has covered 8 of the last 10 games in this series, and the Wisconsin Badgers are 0 for their last 6 against the spread following a straight up win….Take Penn State.
WEATHER REPORT:
The weather for Saturday's game will be mostly sunny with a high of 45 degrees and a low of 28. There is no chance of rain or any precipitation in the forecast.
Penn St. at Wisconsin Prediction 11/10/18
Bob's Pick to Cover the Point Spread: I like Penn State big in this one. Penn State will dominate start to finish and win this game 31-17. Big bettors can fade or play this pick at BetOnline one of the best high limit sportsbook for college football wagers. BitCoin users can sign up and get a fat 100% deposit bonus!
<div class="clickable CTA" style="margin: 0 auto; background: #fff; border-radius: 10px; text-align: center; padding: 10px 20px 20px 20px;"><!-- [et_pb_line_break_holder] --> <img src="https://www.predictem.com/wp-content/uploads/2018/05/mybookie-logo.png" alt="MyBookieer" class="cta-image" /><!-- [et_pb_line_break_holder] --> <p style="margin-top: 5px; font-size: 22px; line-height: 30px;"><!-- [et_pb_line_break_holder] --> $1,000 Free Play Offer<!-- [et_pb_line_break_holder] --> </p><!-- [et_pb_line_break_holder] --> <hr class="cta-divider"><!-- [et_pb_line_break_holder] --> <p style="padding-bottom: 20px; font-size: 15px; line-height: 20px"><!-- [et_pb_line_break_holder] --> $1,000 Football Sign Up Bonus<br>Free Play - 15X Rollover<!-- [et_pb_line_break_holder] --> </p><!-- [et_pb_line_break_holder] --> <a href="https://www.predictem.com/out/Mybookie" rel="nofollow" target="_blank"><button class="et_pb_button" style="color: #fff; cursor: pointer; width: 90%;"><!-- [et_pb_line_break_holder] --> Bet Here<!-- [et_pb_line_break_holder] --> </button></a><!-- [et_pb_line_break_holder] --></div>
<div class="widget105"><!-- [et_pb_line_break_holder] --><h4 class="parlays">Best Sportsbooks for Parlays</h4><!-- [et_pb_line_break_holder] --><!-- [et_pb_line_break_holder] --><table id="parlay"><!-- [et_pb_line_break_holder] --> <tr><!-- [et_pb_line_break_holder] --> <th><span class="team"></span></th><!-- [et_pb_line_break_holder] --> <th>2 Team Parlay</th><!-- [et_pb_line_break_holder] --> <th>3 Team Parlay</th><!-- [et_pb_line_break_holder] --> <th>4 Team Parlay</th><!-- [et_pb_line_break_holder] --> </tr><!-- [et_pb_line_break_holder] --> <tr><!-- [et_pb_line_break_holder] --> <td><a href="https://www.predictem.com/out/SportbetP"><img src="https://www.predictem.com/wp-content/uploads/2018/06/sportbet-sm.png"></a></td><!-- [et_pb_line_break_holder] --> <td>2.74 to 1</td><!-- [et_pb_line_break_holder] --> <td>6.24 to 1</td><!-- [et_pb_line_break_holder] --> <td>13 to 1</td><!-- [et_pb_line_break_holder] --> </tr><!-- [et_pb_line_break_holder] --> <tr><!-- [et_pb_line_break_holder] --> <td><a href="https://www.predictem.com/out/BovadaP"><img src="https://www.predictem.com/wp-content/uploads/2018/06/bovada_sm.png"></a></td><!-- [et_pb_line_break_holder] --> <td>2.64 to 1</td><!-- [et_pb_line_break_holder] --> <td>6 to 1</td><!-- [et_pb_line_break_holder] --> <td>12.3 to 1</td><!-- [et_pb_line_break_holder] --> </tr><!-- [et_pb_line_break_holder] --> <tr><!-- [et_pb_line_break_holder] --> <td><a href="https://www.predictem.com/out/MybookieP"><img src="https://www.predictem.com/wp-content/uploads/2018/06/mybookie-sm.png"></a></td><!-- [et_pb_line_break_holder] --> <td>2.64 to 1</td><!-- [et_pb_line_break_holder] --> <td>6 to 1</td><!-- [et_pb_line_break_holder] --> <td>12 to 1</td><!-- [et_pb_line_break_holder] --> </tr><!-- [et_pb_line_break_holder] --></table><!-- [et_pb_line_break_holder] --><div class="widget-footer"><a href="https://www.predictem.com/best-sportsbooks/parlays-odds/">See all Sportsbook Parlays</a></div><!-- [et_pb_line_break_holder] --></div><!-- [et_pb_line_break_holder] --><!-- [et_pb_line_break_holder] --><!-- [et_pb_line_break_holder] --><style><!-- [et_pb_line_break_holder] --> #parlay {border-collapse: collapse;<!-- [et_pb_line_break_holder] --> width: 100%; border: 0px;<!-- [et_pb_line_break_holder] --> font-size: 14px!important;}<!-- [et_pb_line_break_holder] --> #parlay td, #parlay th {<!-- [et_pb_line_break_holder] --> border: 0px;<!-- [et_pb_line_break_holder] --> padding: 8px;<!-- [et_pb_line_break_holder] --> text-align: left;}<!-- [et_pb_line_break_holder] --> #parlay th {<!-- [et_pb_line_break_holder] --> padding-top: 5px;<!-- [et_pb_line_break_holder] --> padding-bottom: 5px;<!-- [et_pb_line_break_holder] --> font-weight: bold;<!-- [et_pb_line_break_holder] --> line-height: 14px;<!-- [et_pb_line_break_holder] --> text-align: center;<!-- [et_pb_line_break_holder] --> color: #000;}<!-- [et_pb_line_break_holder] --> #parlay tr {border-bottom: 1px solid #edeef0;}<!-- [et_pb_line_break_holder] --> .team {font-size: 16px;}<!-- [et_pb_line_break_holder] --></style>