Big Ten Title Picks: Ohio State vs. Wisconsin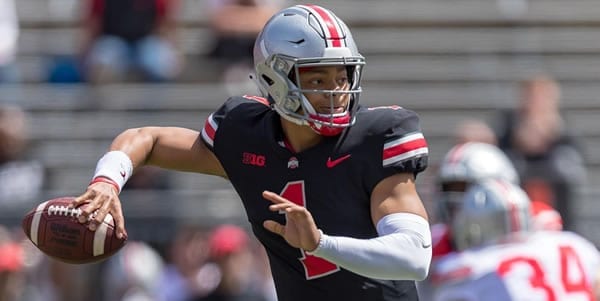 Ohio State Buckeyes (12-0 SU, 9-3 ATS) vs. Wisconsin Badgers (10-2 SU, 7-5 ATS)
NCAA Football Week 15
Date and Time:Saturday, Dec. 7 at 8pm ET
Where:Lucas Oil Stadium
TV:FOX
Point Spread:OSU -16.5/WIS +16.5 (MyBookie)
Over/Under Total:54
There are just a few conference championship details to sort out before the playoff committee sets the final four of the CFP and the last domino will fall on Saturday night when Ohio State and Wisconsin meet for the Big Ten title. The Buckeyes sprinted by Michigan during rivalry week while the Badgers reclaimed the axe and won the Big Ten West with a win against Minnesota. Ohio State has been on a track in Indianapolis for months, but Wisconsin's journey to this weekend was a bit rougher, including a 38-7 loss to OSU in late October, but UW may be the West's best chance to beat the Bucks. Ohio State leads the Big Ten in rush offense, total offense, rush defense, and total defense, but Wisconsin is second in each category to at least make for an intriguing strength-on-strength matchup on paper. The Big Ten has only had a conference championship game since 2011, and Wisconsin leads all participants with Saturday being their sixth trip to Indy. They have lost each of the last three (2014, 2016, 2017), with two of those losses coming against Ohio State. The Buckeyes are making their fifth championship game appearance and lead the conference with three wins, including each of the last two years.
Bucky Needs a Miracle
This is a really good Badger team, but Ohio State is a cut above, and that has been a common concept with Wisconsin losing each of the last seven against OSU and going just 1-5-1 against the spread over that stretch. There have been some close games, including the 27-21 Big Ten Championship game in 2017, but there have also been blowouts like the 59-0 title game in 2014 and the 38-7 contest this season. Wisconsin trailed 10-7 early in the third quarter in Columbus, but Ohio State hit the gas and scored four straight touchdowns in quick succession to put that game away. There wasn't much the Badgers could do as OSU held Jonathan Taylor to 52 scoreless yards, and Chase Young racked up four sacks. Barring an uncharacteristic turnover-fest on Ohio State's part, this one is projected to go their way at least 75% of the time using the FPI models.
More Picks: Get all of our team's Championship Week picks as they come off the press!
The Wisconsin Way
If Wisconsin is going to pull an upset, or even get the ATS win, they are going to have to be good at their bread-and-butter running game. Jonathan Taylor leads the NCAA with 25 touchdowns, and 20 of those have come on the ground. He averages 6.3 yards per carry, and that kind of production will be necessary to net something near the 36 minutes of possession the Badgers average and keep the ball away from an OSU offense that is averaging 49.9 points per game. Paul Chryst is a highly underrated coach, and he has successfully used his wide receivers in the rush game as well with Badger WRs accounting for five rushing scores during the regular season. Kendric Pryor leads that group with 168 rushing yards and two scores, averaging 21 yards per carry. UW debuted a wildcat package during the first Ohio State game in October and has used it every week since with multiple players taking snaps. That wrinkle could bring an edge in situations on Saturday, especially if it can produce a big pass play. Jack Coan sits at the bottom of the conference in passing yards per game but leads in completion percentage at 72%. He has made some big throws this season, including a couple to Quintez Cephus in the snow last week, but Wisconsin will be in trouble if the game falls squarely on Coan's shoulders. There aren't enough difference-makers at receiver with Cephus (45-720-6), the only consistent threat, and the passing game itself is mostly built off play-action. Zack Baun and Chris Orr have accounted for 23 sacks and could do some damage against an OSU line that has allowed 26 sacks, but they will also need to do better against the run as J.K. Dobbins gouged UW for 163 yards and two touchdowns in their first meeting.
Just a Business Trip
Wisconsin has to feel pretty fortunate to even be in Indy as they needed help to get there, but Ohio State has looked at this weekend as an eventuality all season and marched their way through most weeks without much issue. There were zero letdowns or overlooking Michigan last week, and it appears that this Buckeye squad is happy to line them up and knock them down. Justin Fields survived a bit of an injury scare last week and enters this game with 37 touchdown passes against one interception, adding ten rushing scores. Dobbins is right behind Taylor with 1,657 rushing yards, and 19 touchdowns as OSU ranks 3rd in the country in rushing yards per game. Chris Olave, Binjimen Victor, and K.J. Hill all sit at six-plus receiving touchdowns, and twelve different Buckeyes have notched at least one receiving touchdown in 2019. Wisconsin is 6th on defense in yards allowed and give up just 14.6 points per game, but this arguably the most complete offense in the NCAA right now and no one has been able to hold Ohio State to anything less than 28 this season. Chase Young has 19.5 tackles for loss and 16.5 sacks to be the most disruptive individual defender in the game, and he may have been the MVP of the first OSU-UW game as he completely shut down the Badgers when they were forced to turn to the pass. I'm sure Wisconsin learned that you couldn't use a tight end to block Young, but it may not matter who they send to stop him.
Trend Watch
It is early in the betting period, but Ohio State is getting about 58% of the public action to start things off. OSU is 10-1 against the spread in their last eleven games against an opponent with a winning record and has a 9-2 ATS record in the last eleven conference games. Wisconsin is 5-2 against the spread in their last seven against an opponent above .500, but just 3-7 ATS in the last ten games following an ATS win. Ohio State is 5-3 against the spread this season when favored by 16 points, or more and Wisconsin is 0-1 ATS as an underdog this season. This line will be the second smallest spread associated with Ohio State this season after the Michigan game featured a nine-point spread and this is Wisconsin's biggest underdog tag of the year after being listed at +14.5 for the October meeting with OSU in Columbus.
Ohio State is just too machine-like for me to think they won't cover this spread. They really haven't looked anything worse than average for more than a quarter in any game so far and have so many ways to dominate on offense. Wisconsin would need multiple big plays, special teams wins and OSU gaffes to stay in-touch this weekend and that isn't likely from a Badger team that is minus-8 in turnovers in the last seven games. I think Saturday has every chance to be closer than 38-7, but Wisconsin is going to need to get to 20 points against an OSU defense allowing 11.8 per game even to make it close. I think they come up short and Ohio State cruises to a 37-15 win.
Ted's Pick to Cover the Point Spread:Ohio State