Boise State vs. Oregon State Week 1 Predictions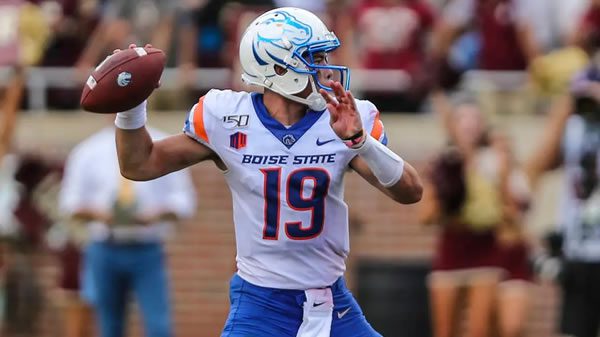 Boise State Broncos (0-0 SU, 0-0 ATS) vs. Oregon State Beavers (0-0 SU, 0-0 ATS)
College Football Week 1
Date and Time: Saturday, September 3, 2022 at 10:30PM EDT
Where: Reser Stadium, Corvallis, Oregon
TV: ESPN
Point Spread: BSU +3.5/OSU -3.5
Over/Under Total: 58
The Boise State Broncos come to Corvallis on Saturday for a week one showdown with the Oregon State Beavers, as both schools kick off their 2022 college football campaign. Head coach Andy Avalos looks to return the Broncos to their prior status as kings of the Mountain West and a team that even makes a national splash occasionally. The Beavers, meanwhile, started to experience a bit of a surge last season under head coach Jonathan Smith, going over .500 and getting to a bowl game, something they hadn't done for the better part of a decade. Who can get the season off on the right foot in week one?
Boise: As Bad as it Seems?
Some of the shine is off Boise State. While they were still tops in the conference and regularly posting double-digit win seasons under Bryan Harsin, the wheels have come off a bit the last few seasons. Their 7-5 record in 2021 represented their worst season from a won-loss standpoint since they were in the Big West in the late nineties. But those who are projecting Boise to settle into some status of mediocrity might want to take a harder look at last season. Perhaps still getting their feet wet to a new system and different pieces, they started slow. By midseason, they were scoring big conference wins, eventually winning their division before falling to SDSU in the conference title game.
Beavers Heating Up?
When a team is long mired in a funk, as the Beavers have been for a while, you can get a lot of energy on the heels of a promising season. While a 7-win season represented relative failure for the Broncos, it's a different story for the longtime Pac-12 doormat Beavers. A quintet of conference wins over USC, Washington, Utah, Stanford, and Arizona State showed a Beavers squad suddenly holding their own against some fairly-competent conference opposition. Inconsistency was still present on a somewhat massive scale at times, but alongside of what we had seen from Oregon St. in recent years, 2021 was a raging success, and they look for more now after working so hard to get to this point.
Will the Beavers Take the Next Step?
The Pac-12 North is currently in a state of upheaval, with new head coaches and gigantic turnover. In his fifth season, Smith adds stability, and last season suggests improvement. He has drawn some quality assistants to the program, and they're looking for more of the same with new defensive coordinator Trent Bray. As the defense goes, so will this team. With a bevy of quality players on all levels of the "D," Bray will have his horses, but they will need to hit the ground running with a strong Boise offense coming into town.
If it's Chance Nolan behind center for Oregon State, the dual-threat QB showed some promise last season. Most of the nuts and bolts from an offense on the rise are back in place. Top back BJ Baylor is gone, but the depth they developed last season will pay off now. Bringing it all together is a capable receiver package and one of the best offensive lines in the conference. If Nolan or another QB flourishes, it should take this offense to the next level.
Can Boise Start Strong?
Boise developed some late momentum toward the end of '21 that they'd like to see carry over. Some of their positivity comes from an offense that might have the next big-time Boise QB in Hank Bachmaier, who showed promise as a true freshman. Back from injury, George Holani looks to reemerge as the engine of this offense. His big performances threaten to turn a game on its head. But despite a steady ability to replenish their roster over the years, some losses hurt, particularly game-changing receiver Khalil Shakir and RB Cyrus Habibi-Likio.
Against Oregon State, the Boise defense will need to live up to its billing to contain a vital home offense with continuity looking to hit the ground running. On paper, they are absolutely stacked along the line and in the secondary. Players like Scott Matlock up-front could challenge Oregon State's run game and make things tough. The scary proposition is that they could be significantly better this season.
Boise Looking to Overcome Weaknesses
There remain holes for the Broncos, despite some areas of promise, the same deficiencies that have contributed to Boise's fall from grace over the last few seasons. No longer flexing the far-and-away best offensive line in the conference, we've seen the Boise offense stuck in neutral for stretches over the last few seasons. Without the reliable contributions from Shakir, this line will need to protect better and give Bachmaier a chance to establish some new connections. And just as one starts to get carried away fawning over the Boise defense, that dicey middle comes to mind, as the Broncos have struggled putting together a solid linebacker crew over the last several seasons.
Take the Beavers
The Bovada line of -3.5 on Oregon State has some upside. Images count for a lot. In the end, Boise is not as good as its reputation suggests, while the opposite is true for Oregon State. That generally equals at least a small edge in the area of betting value. This should still be a relatively competitive game. The Boise defense is talented enough to put a crimp into Oregon State's offensive plans. But I think some better continuity and fewer holes in their overall game will be enough to get the Beavers to the finish line with the win and cover at home in week one.
Loot's Pick to Cover the Point Spread: I'm betting on the Oregon State Beavers minus 3.5 points.