Boise State vs. UTEP Picks & Predictions 9/13/22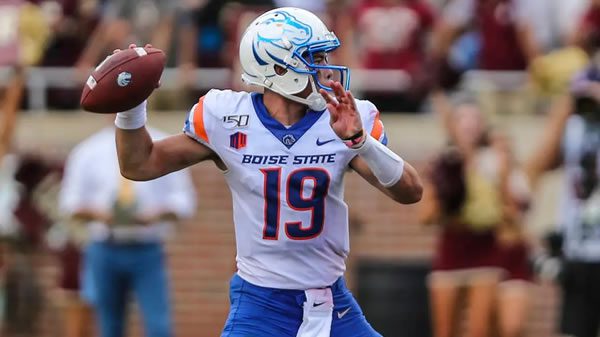 Boise State Broncos (2-1 SU, 0-2-1 ATS) vs. UTEP Miners (1-3 SU, 0-4 ATS)
College Football Week 4
Date and Time: Friday, September 23, 2022 at 9PM EDT
Where: Sun Bowl, El Paso, Texas
TV: CBS Sports Network
Point Spread: BSU -16/UTEP +16 (Bovada – 50% real cash bonus! INCREDIBLE live betting platform! Rebates on ALL your bets; win or lose! FAST crypto payouts! What more could you ask for?)
Over/Under Total: 46
On Friday night, the Boise State Broncos make the trip south to El Paso to battle the UTEP Miners. Boise had a successful week, coming off a Saturday win over Tennessee-Martin, 30-7. They have now won 2 straight since an opening week loss to Oregon State. They now turn their attention to a Texas-El Paso team that fell on Saturday on the road against New Mexico, 27-10. Still, the previous week, they beat New Mexico State, 20-13. Will they have something for Boise or will the Broncos rampage in El Paso on Friday night? Let's break it down!
Early Receipts
We've seen mixed results from both squads this season, as the betting public is still trying to find their bearings with these two teams. Boise had a rough start to the season, with QB Hank Bachmeier getting the hook against the Beavers and things looking pretty rough for this team. And not that they've done much since to reverse the indignity of that first game. But in a 17-point win against the same UNM team that beat UTEP by 17 points this week, along with a 23-point win over Tennessee-Martin, it shows they're back on track. To what extent is something we'll likely figure out when they get headlong into their conference schedule.
A win over New Mexico State where they didn't even cover is the only triumph for the lowly Miners so far in 2022. There might not be many more. They also haven't delivered for any bettors, not covering any of their four spreads this season. Getting manhandled by Oklahoma in their second game is one thing, but lopsided losses to New Mexico and North Texas paint an even worse portrait of a team that might be a little out of its element, even against just a pretty good MWC team in Boise. At least they get this one at home, in a stadium where not a lot of players on the Boise roster have ever seen.
Hints from Last Season?
In college ball, there are ample examples of how taking last year's results can lead a bettor astray. Still, with so many familiar faces from last season, it's only fair to note Boise's rollicking 54-13 slaughtering of the Miners last season. UTEP quarterback Gavin Hardison was effective in spots, but three picks really undermined his effort. Standing out more was a porous UTEP "D" that couldn't come up with a big play of key stop on the day.
Granted, for a team like UTEP, there can be a big difference getting this one at home, as the blue field in Boise just makes for a tough experience for a team that is struggling as a program overall. Still, as we see a Boise offense start to re-regulate itself, this looms as a major issue for UTEP, even getting a nice amount of points. Bachmeier went for 340 yards against this bunch last time. Some of the guys who took this UTEP "D" to school are no longer on the Boise squad, but as we see guys like RB George Holani kicking it into gear, the prospects of what Boise can hurl at the Miners both aerially and on the ground starts to seem a little too daunting.
Looking for Daylight for the Miners
Narrowing a 41-point defeat from last season won't be easy to do for UTEP, but there are some things that can occur to make it more likely. The home-away spread might be worth more points than we assume. The Miners can now dig in at home. Boise takes a tough road trip against a team they flogged last season. They might not be on a razor's edge for this showdown mentally. Right after this, they get into some of their most difficult conference matchups of the season and could conceivably be caught looking ahead a bit. Say what you will of UTEP overall, but they play hard for coach Dana Dimel, a former longtime assistant under Bill Snyder who knows what he's doing.
More Picks: Texas at Texas Tech Week 4 Pick Against the Spread
Whether the Miners have the tools on either side of the ball remains to be seen. Hardison has been able to create production aerially with this Boise "D" before and now with Tyrin Smith showing his teeth lately as the new number one receiver in this offense, they might have more to work with this season in this matchup, barring a slew of turnovers. Combine that with the fact that Boise's offensive firepower has perhaps taken a dip, you can start to see how someone can make the ATS case for the Miners.
Take the Number
Granted, when being at home and a projected dip from the opponent is the main ammo, it might not be the best move from a betting stance. Boise coming into the Sun Bowl and putting the smackdown on the Miners isn't terribly hard to picture. But I do think that Boise not being as good as last year and some better weaponry for UTEP on offense could surface a little this week, at least to an extent where UTEP keeps it in the ballpark and squeaks out the cover at home. I'll take the Miners and the points in this one.
Loot's Pick to Cover the Point Spread: I'm betting on the UTEP Miners plus 16 points. Question: Is your bookie still socking you -110 odds when you place your football bets? If so, you should SERIOUSLY consider making a switch to BetAnySports, because you can bet games at -105 there! Take a second to pencil out how much you would have saved over the course of the last year had you been betting at -105 instead of -110! It's MASSIVE! Click here to start saving big bucks today!