Boston College Eagles vs. Clemson Tigers Pick ATS 10/26/19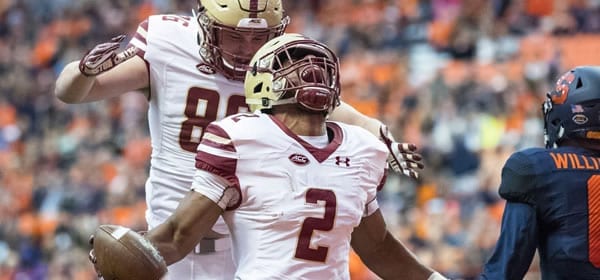 Boston College Eagles (4-3 SU, 5-2 ATS) vs. Clemson Tigers (7-0 SU, 5-2 ATS)
College Football Week 9
Date and Time: Saturday, October 26, 2019 at 7:30PM EDT
Where: Memorial Stadium, Clemson, South Carolina
TV: ACCN
Point Spread: BC +34/CLEM -34 (BetNow)
Over/Under Total: 58
The Boston College Eagles make the trip down south for a week nine ACC matchup with the kings of the conference in the Clemson Tigers on Saturday. The defending champion Tigers are cruising right along, looking for another spot in the CFP where they will make another run at glory. On Saturday, they moved to 7-0 with a 45-10 road win at Louisville. Boston College also thrived last week, posting a 45-24 win over North Carolina State at home to move to 4-3, while evening their conference mark. Last season, Clemson covered the spread in this battle, but only narrowly. Can BC make another stab at the cover or is Clemson looking to make a statement?
Assessing BC's True Worth
Boston College can be scrappy. Last season, they were hanging in there before Clemson pulled away in a November game on the Eagles' field. They were at least tough on defense, even if their offense stalled out. They held Clemson QB Trevor Lawrence to one TD throw, while not allowing the Clemson run-game to go wild. By the same token, to call them a rank-and-file ACC team would probably be fair—a mid-pack entity that can be tough on a given week, but would appear to be mincemeat to a national power such as Clemson, who unfortunately for them, resides in the same division.
Losing starting QB Anthony Brown for the season gives the BC offense even less hope. Where they go from here at the QB position remains to be seen, but the options are not grand, with sophomore QB Dennis Grosel really struggling in spots. And that was against Louisville and the Wolfpack. What happens against Clemson with all the things the Tigers can throw at them? It's just a really tough spot for a floundering offense to find its footing against a defense with at least several guys who will be playing on Sundays one day. Grosel needs to really up his game, being under 40% completions on the season.
If looking for sources of help, at least Boston College does one thing well. With AJ Dillon, David Bailey, and others, they can run the heck out of the ball. That's where they do most of their damage, which at least can help camouflage the issues at quarterback. Against North Carolina State, they ran for 429 yards. How much that matters in this spot remains to be seen. Suffice to say it gets a lot tougher on Saturday.
More Picks: Wisconsin at Ohio State Prediction
Bad Time to Catch Clemson Sleeping
It would almost be better for the Eagles if the Tigers were top-ranked, but being at number four, the Tigers might be feeling a little more pressure than a team normally would when facing a 34-point dog. One could see how they might feel insulted—undefeated defending champions who have covered the spread 5 of 7 times being low-balled on the rankings. That could all be wrapped up in perception, but I don't think we're at a point in the season where we will see Clemson phone-ins on games like this where, lets' face it, they just have to show up.
I see this as being a bad matchup for the Eagles. Their QB situation is dire and facing a Clemson secondary that is laden with monsters, so it would be difficult to envision anything other than a totally ineffectual game through the air for the Eagles. The Clemson defense has allowed between 6 and 14 points in 6 of their seven games. And that was against some better teams at full-health. Sure, BC can run the ball. But after seeing them put up only 7 points last season in this matchup, what will they come up with here? Now that a lethal Clemson front seven can just hone in on the run, it's hard to project an abundance of BC offense. The focus then goes to the other side of the ball.
STOP LOSING TODAY! START WINNING WITH DOC'S TEAM OF PROFESSIONALS! GET A FREE NO STRINGS ATTACHED $60 FOR THIS WEEKEND'S GAMES!
Can the Boston College "D" Deliver?
Last season, the Eagles did pretty well, but they lost some people, and there's a lot to stop on Clemson's side. Lawrence has scored five TDs on the ground, and with backs Travis Etienne and Lyn-J Dixon, their run-game is even more robust. Boston College hasn't been able to stop the run this season, and that looms as a major standout issue here. It's still not as daunting as projecting how a floundering BC pass-defense will contain the Clemson aerial-attack. Granted, Lawrence hasn't been as on-point this season as some would have hoped, and he threw two picks last week, something that would be bad when trying to cover the number this week. But with Tee Higgins, Justyn Ross, Amari Rogers, and others, Lawrence should do much better than he did last season and I would look for a stat-padding day on Saturday.
Lay the Fat Number
Last season, we saw an intact Boston College squad play some physical football and hang in there a little bit. They still didn't cover the spread. Now in a more dilapidated state on the road against a team may be looking for some statement-results, the prospects seem dim. And I'd rather fear a backdoor cover or even a flatter-than-projected Clemson offense than sit there and sweat out precious points from this BC offense. I see Clemson taking this Eagles' pass-defense to school, and I feel that in this case, some of the maybe-too-obvious matchup advantages for Clemson will manifest as they're supposed to. I see Boston College being tough for a little while before Clemson starts pulling away some late in the first half, hanging on for the win and cover at home. I'm taking the Tigers.
Loot's Pick to Cover the Point Spread: I'm betting on the Clemson Tigers minus 34 points.