BYU Cougars vs. Boise State Broncos Pick ATS 11/6/20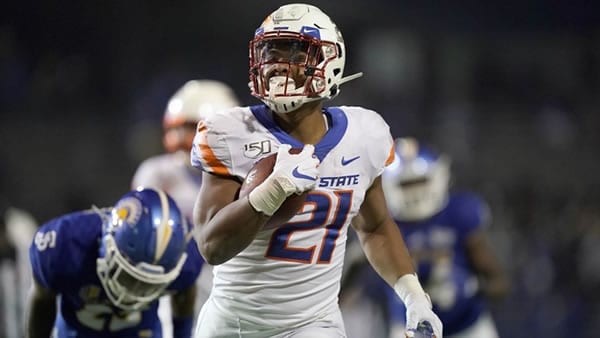 BYU Cougars (7-0 SU, 5-2 ATS) vs. Boise State Broncos (2-0 SU, 2-0 ATS)
College Football Week 10
Date and Time: Friday, November 6, 2020 at PM EDT
Where: Albertsons Stadium, Boise, Idaho
TV: Fox Sports One
Point Spread: BYU -3/BSU +3 (Bookmaker - One of oldest, most trusted books on the web! Takes giants bets and offers ZERO hassle payouts!)
Over/Under Total: 59.5
The BYU Cougars come to Albertsons Stadium on Friday for a Boise State Broncos showdown. The Broncos have been able to open their season with two wins over conference foes, first laying Utah State to waste before beating Air Force in a nice road-victory on Saturday, 49-30. They got off to a real fast start, and though Air Force hung in there, the Broncos always maintained the upper-hand. BYU, meanwhile, moved to 7-0 with another routine win on Saturday—beating Western Kentucky, 41-10. Things could get a little tougher this week.
The Challenges of Having Easy Opponents
Normally, if the season started under normal circumstances, BYU's schedule would have looked very different. With conferences like the Pac-12 and MWC off to a late start, BYU has been plying their trade against some pretty weak teams. They beat Houston and Louisiana Tech, which are OK teams, but wins over the likes of Navy, Troy, Texas-San Antonio, Texas State, and Western Kentucky have them looking good from a won-loss standpoint, but without the real nuggets on their resume to make it resound fully.
What Last Season Reveals
Last season, with Boise at 6-0 and BYU struggling at 2-4 and on the heels of three straight losses, the Cougars were able to beat the Broncos, 28-25, on their home field. Leading 28-19 going into the fourth, the Cougars had to absorb a late furious rally from Boise to hang on for the three-point win. So we see that what appeared to be a worse BYU team was able to stand up to a good Boise team, and a win here would really take a season that looks good on paper and kick it into overdrive. A win over Boise would be huge. And let's face it, there's something to be said for BYU being so accustomed to success this season. And having played so many more games could also conceivably have them the more-oiled football machine.
Boise State Offense
The hallmark to any good Boise team is a high-octane offense, and with 91 points in two games, it's clear that this is a Broncos team that can put up some points. It might be tougher this week against a BYU team that has been playing good defense, for the most part, this season. I think a bigger question is what's going on with the Boise quarterback situation. On Saturday, incumbent starter Hank Bachmeier didn't travel with the team to Air Force. That paved the way for the graduate transfer from USC Jack Sears, who was 17-for-20 with three TD passes on Saturday, along with a TD run. It will be interesting to see what's going on, with no reason given for Bachmeier's absence. Whoever is behind center has a wealth of tools with which to work, with RB Andrew Van Buren and established ball-catchers like CT Thomas and Khalil Shakir.
Can Boise Withstand the BYU Firepower?
For the most part, BYU has been putting up points in bunches this season. They've seen some things come together nicely on offense, namely the continued growth of QB Zach Wilson. He's become a better leader, making better use of his weapons while committing fewer errors. RB Tyler Allgeier has been very productive stepping in and taking over the lead back duties. And after Air Force put up over 400 yards of rushing last week against Boise, maybe Allgeier and the BYU ground-game can make some progress this week. And if not, they still have ample options aerially. Dax Milne has flourished as a top aerial option, with Wilson showing a more-accurate arm this season.
It's just challenging to calibrate if these BYU offensive explosions are a result of the opponents they're playing, a true upsurge, or maybe something in between. Even a decent BYU team should be expected to put up points against doormat teams from the Sun Belt, American, and Conference USA. This game should offer a more realistic view of where the BYU offense really stands.
Can the BYU "D" Translate at This Level?
Again, playing five out of six weeks at home against teams unaccustomed to playing in Provo whose offenses are even weak in ideal conditions can paint a faulty image. Giving up 13 points a game on average does impress, and when watching them, they pass the eye-test, with a lot of energy and playmaking on that side of the ball. They've been very consistent, and their "D" has been afforded something Boise hasn't in a smaller span of games, and that's to get into a groove. Week after week, they're allowing negligible production.
Playing weak offenses at home against troubled opponents was probably not the best-extended preparation for what Boise brings to the table. And even if it is bizarre that Boise is mired in a sudden early-season quarterback quagmire, a home Boise offense offers exponentially more challenges than, say, a Western Kentucky team that has never been anywhere near Provo.
Take the Home Team
This season offers different challenges, and this might be one of them, with a 7-0 BYU team taking on a Boise squad that is just 2-0. As the season goes on, we'll get a better idea of any inherent downside betting on teams that have played far fewer games than their opponents. And one could surmise that the opposite might be the case, as well. In any event, I think it's fair to say that BYU has been made to look a little better than what they are. And while the weirdness of the Broncos' QB mix-up is distracting, maybe Sears is the man for the job. Either way, I see reality dawning on the Cougars a little this week, with the Broncos covering the spread at home. I'll take Boise State.
Loot's Pick to Cover the Point Spread: I'm betting on the Boise State Broncos plus 3 points. Bet your Week 10 college football picks for FREE by taking advantage of a 100% REAL CASH bonus on your first deposit of $100 to $300 at MyBookie!
Get $60 of FREE member picks & predictions
(NO commitments. NO Credit Card. NO Salesman.)
100% REAL CASH up to $300

USE BONUS CODE:
PREDICT100