BYU Cougars vs. Navy Midshipmen Odds & Picks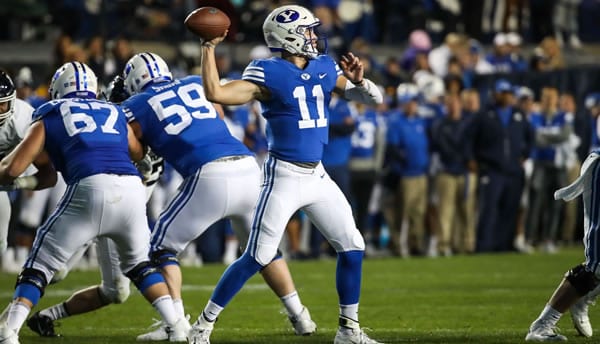 BYU Cougars (0-0 SU, 0-0 ATS) vs. Navy Midshipmen (0-0 SU, 0-0 ATS)
College Football Week 1
Date and Time: Monday, September 7, 2020 at 8PM EDT
Where: Navy-Marine Corps Memorial Stadium, Annapolis, Maryland
TV: ESPN
Point Spread: BYU +1.5/NAVY -1.5 (5Dimes - Bet on foots at -105 instead of -110!)
Over/Under Total: 53.5
The BYU Cougars come into Annapolis on Monday to take on the Navy Midshipmen, as each team kicks off its 2020 season. This season debut for both teams comes with a promise for each. The Cougars were only 7-6 but showed themselves to be a high-ceiling team with wins over USC and Boise State. Under fifth-year head coach Kalani Sitake, they look for more consistency this season, and some anticipate a little surge from Brigham Young. Meanwhile, Navy is looking like an up-and-comer after 14th-year head coach Ken Niumatalolo equaled his high-water mark with an 11-2 mark in 2019. A win over Kansas State in the Liberty Bowl underlined the success Navy had last season. It's a difficult season-opener for both teams. Who can get off to a fast start in 2020?
A Strange Time
With the COVID pandemic, a lot has changed. Some players have opted out, access is limited, and crowds will be restricted. Strangely, BYU is the most western team still planning on giving this season a go. When you're handicapping college ball, these elements being so altered and up-in-the-air offers challenge to players, teams, coaches, and bettors alike. We're dealing with a different landscape, having taken for granted the way things were up until this year.
Interesting Storylines
These schools have a lot in common, being institutions where the admission rules aren't as relaxed as other universities. They each have the only Polynesian head coaches in the FBS. Navy coach Niumatalolo is a member of the same church BYU represents and even interviewed for the position. But this comes down to football, and in that sense, we should have a well-matched game on our hands. Both had moments of success last season, returning enough quality personnel to offer abundant hope for the upcoming season.
Which Offense is More Dependable?
With the Midshipmen, there isn't much secret as to how they'll approach this game offensively with their run-heavy triple-option offense. Adding former Hawaii offensive coordinator Billy Ray Stuntzmann has made their offense a bit more vertical, but they now get to the business of replacing star Malcolm Perry, who was a big part of their offensive output. They now turn to Perry Olsen, who will be given the big job of commandeering this offense. The offensive line is solid on the right, though the left side will be largely replenished. With a new quarterback, limited time to prepare, and a revamped line, it's fair to assume this Navy offense could take a step back this season.
It just isn't easy for a program on this level to lose such a valuable piece of manpower as they did with Perry. It changes coach Niumatalolo's approach. Will he be as confident in going for it so much on fourth down as he was the last few years? Will trick plays play as much of a role on this offense as it recently has? You have to wonder if they'll feel a little handcuffed with the new personnel and lack of prep.
BYU junior quarterback Zach Wilson showed a lot of promise last season, both with his arm and legs. Wilson and Sitake alike seem really excited about the prospects on this side of the ball. A gaggle of returning starters is a big part of the optimism. The Cougars return all starters from an O-line that could really be tough—one of the best BYU has fielded in some time. They have a deep cast of backs. And while most of their losses in personnel occurred with the aerial corps, their incoming class is one of the best in school history, and they still have proven producers like Gunner Romney.
Who Has the More Bankable Defense?
In an effort to better stop the run after teams victimized their three-man front last season, BYU will return to a four-man front in 2020. This speaks to the added depth Sitake feels he has up-front, where he now has enough worthwhile talent to rotate in different pieces on a 4-man front. They are loaded in the middle, with guys who can get after the quarterback and cover strongly. They really have a lot of gamers they can rotate in and out at LB. Unfortunately, their wealth of valuable contributors in the front seven isn't shared in the back, where three key secondary members departed. However, injured DBs who missed most of the past few years with injuries are back in the fold. Fortunately for BYU, Navy might not be able to test any issues they have in the back.
With a layer of uncertainty plaguing the prospects of Navy's offense, the "D" has no such issues. They return seven starters to a rigid and disruptive group. Last season, we saw a playmaking front seven that was sometimes dominant and almost always a thorn in the side of opposing offenses. And it's a tough defense to play in week one on the heels of limited preparation. This defense also benefits from having a clock-eating offense keeping them fresh.
Take the Points on the Cougars
BYU needs to exorcise its red-zone demons on offense and make the most of when they have the ball in this game. Otherwise, the Navy defense's disruptive nature and the time being eaten by their offense could make this a tough road-proposition for the Cougars. While I like Navy's prospects on defense, I'm not sure the offense can fully uphold their end of the deal, as the reduced time to prepare could hurt them a little more. And if they fall behind by a couple of scores, it's going to be tough for the Midshipmen. It's a difficult bet with so many outstanding questions for both teams, but I see BYU crossing the line a nose ahead in this one.
Loot's Pick to Cover the Point Spread: I'm taking the BYU Cougars plus 1.5 points. Bet our Week 1 college football picks for FREE by depositing anywhere from $100 to $300 and getting a 100% real cash bonus at MyBookie Sportsbook!