BYU Cougars vs. Oregon Ducks Week 3 Best bet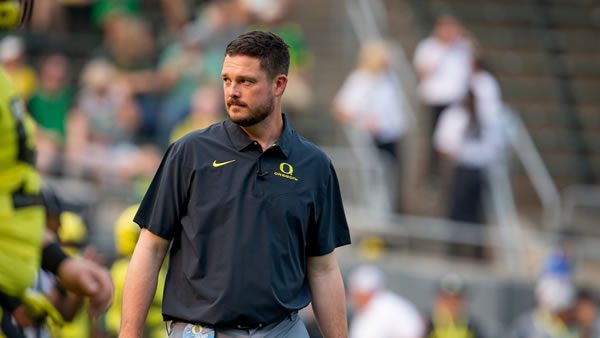 BYU Cougars (2-0 SU, 2-0 ATS) vs. Oregon Ducks (1-1 SU, 1-1 ATS)
College Football Week 3
Date and Time: Saturday, September 17, 2022 at 3:30PM EDT
Where: Autzen Stadium, Eugene, Oregon
TV: Fox
Point Spread: BYU +3.5/ORE -3.5 (Bovada – A "must have" in your sports betting arsenal! 50% real cash bonus! Rebates on ALL your bets! The BEST live betting platform on the planet! Fast payouts!)
Over/Under Total: 56.5
The BYU Cougars come into Eugene for a week three matchup with the Oregon Ducks on Saturday. It has been 16 years since the teams were paired off against each other, and it should be a pretty good game. We saw the Ducks right the ship on Saturday, albeit in a gimme against Eastern Washington. Following a really hard-on-the-eyes 40-3 shellacking at the hands of defending champion Georgia in their first week, getting the offense to move around to the tune of 70 points doesn't hurt. It gets a lot harder this week against a BYU team that has flexed considerable muscle this season. On Saturday, a double-overtime 26-20 win over ninth-ranked Baylor attests to their upside.
Can the Ducks Get into a Groove?
That loss to Georgia is the kind of week one defeat that can really mess with the head of a young team. It's a big statement that you're not even close to being at a certain level, despite any fanciful thoughts you might have had to the contrary. This is the first week where we will see if that loss resonated in a harmful way, but I wouldn't bank on it. Again, not a ton can be gleaned from a drubbing of "E-Dub." Five rushers had over 29 yards with 14 different players catching passes. QB Bo Nix went 28-for-33 with five TD passes.
Getting beat on the road by an SEC power and defending national champion isn't really the best metric for a team like the Ducks. With the Cougars coming into town following a home win, they're now squarely in their wheelhouse against teams from their general region. And maybe it's good that they get this extended preamble to conference play, with it appearing they needed a few extra weeks to find their form this season. And what their form is includes a gaggle of compelling offensive talent on the ground and through the air, both of which will push the BYU "D" to its limitations.
Watch Out for BYU
Over the last several years, we've been conditioned to regard Brigham Young as something more than the upstart upset candidate in spots like this. We have enough data now to give us somewhat reliability in big games where it appears they're outgunned. Time and again, and on the road to boot, they take on these institutional powers and cover the spread, if not win outright. In week one on the road, they absolutely crushed South Florida, 50-21, and against a top-ten team in Baylor on Saturday at LaVell Edwards Stadium, they hung in there and got it done against a good team, something they look to do again this week.
Holding Baylor to just six first-half points was key, and even as the Bears came on late, BYU never folded on Saturday, with their defense getting a clutch set of stops late as Baylor pressed inside the ten. They aren't a flashy team, led by capable Jaren Hall at QB, a dual-threat type of QB, but just in a very understated efficient kind of way. No one abundantly stands out, as they're all about the team effort on BYU. But ranked themselves now, one wonders how many upsets they need to score before they start to get some of the same respect that was being heaped on the opponents they have beaten. But maybe it's that lack of flash, no real stars, and their overall low-key nature that just makes it easy for some people to defer to the shinier, more recently-successful teams they face.
Nore Picks: Michigan State vs. Washington betting analysis & spread pick for their Week 3 game
Step Back for the Ducks?
With Mario Cristobal out, Dan Lanning is in, and against the team, he left in week one, the lopsided nature of the loss had to be painful. We see a lot of pieces, particularly on offense, not all that cemented. There are some holdovers from the previous era, with a lot of new faces vying for targets from Nix, a former three-year starter at Auburn. While he comes with experience and is a steady hand, he has thrown only 11 TDs in each of the last two seasons and isn't always effective against the better defenses he faces, with the one this week qualifying as one of those. We'll see in the upcoming weeks if the five he threw against Eastern Washington was a result of the opposition or if he's really making connections with the talented Ducks' receiving crew.
Take the Road Dog
This could be a game where the defenses take a larger role than some anticipate. Neither team will have it easy on Saturday on offense. It's also important to not place too much into Oregon's failings at as high a level as you can find in college football against Georgia, just as it's key to not over-heap praise on the Cougars for beating an unproven Baylor bunch that was in the top ten. This isn't in the Cougars' wheelhouse, and maybe they hit a wall here, but I think they're still being overlooked a bit and expect them to perform well here on Saturday. I'm taking BYU.
Loot's Pick to Cover the Point Spread: I'm betting on the BYU Cougars plus 3.5 points. Rough weekend last week? Instead of re-depositing at your book and receiving a crappy reload bonus (or nothing), you should consider grabbing a 125% real cash bonus up to $400 by using bonus code PREDICTEM at GTBets Sportsbook! They'll also give you a FREE half point everytime you bet your favorite college and pro football teams, as well as your favorite college and NBA basketball teams!