California Golden Bears at Washington State Cougars Betting Prediction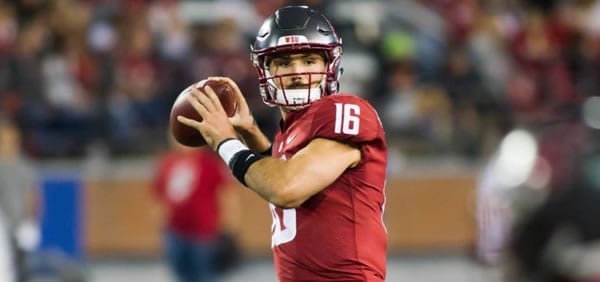 California Golden Bears (5-3 SU, 3-4 ATS) at No. 10 Washington State Cougars (7-1 SU, 8-0 ATS)

DateSaturday, November 3, 2018 10:45PM EST
Location: Martin Stadium, Pullman, WA.
TV: ESPN
Point Spread: CAL +10.5/WSU -10.5
Total: 50
Power Ratings: WSU by 15.5
Takeaways from Week 9
The Washington State Cougars flew down to Palo Alto last week and got a statement win against then No. 24 Stanford. The books had Stanford favored at home by -2.5, and as usual, they were darn close as WSU got the win on a late field goal by redshirt freshman kicker, Blake Mazza, who so far has proven he can be counted on to split the uprights. WSU had yet to be tested on the road, but for the first time, this season Stanford put the Cougars in a tight spot taking a 28-17 lead into halftime. The Cougars continue to average over 41 points per game, and they needed all of that at the Farm—WSU outscored the Cardinal 24-10 in the second half—17 of those points coming in the 4th quarter. The Cougars have owned the 4th quarter this year and are efficient when they must score. WSU's Gardner Minshew II is perhaps one of the best Cougar QBs in recent years even better than Luke Falk as Minshew is a mobile threat—something WSU is not accustomed to given their air-raid offense but when you add the threat of a mobile QB to the mix it is hard to defend.
California is coming off a huge week 9 upset win over then No.15 Washington Huskies 12-10. Let's face it this game was not exciting outside the fact that Cal got the win. Huskies QB Jake Locker was benched at one point during this matchup but then after his backup threw a pick 6 and basically cost them the game they put Locker back in. The takeaway for Cal last week was a shot of confidence as they head to the Palouse to try and take down the Cougars. California's defense has been playing well the previous two weeks, and they will need to do that again at Washington State.
How the Public is Betting the Cougars/Cardinal Game
Currently, the public is betting 62 percent in favor of Washington State and 38 percent on the Bears of Cal. I must agree with these numbers—the Cougars are a much more balanced and stronger team this year and given their 8-0 ATS record I will side with the Cougs.
The Historical
California has won 3 of the last 4 games in this matchup. Last year the Bears handed then No.8 Washington State a 37-3 beat-down at Cal as former WSU QB Luke Falk threw 5 INTs and the Cougs were finished. The Cougs got the win in 2016, 56-21 at Martin Stadium. These teams always seem to blow each other out—in the last 9 matchups only two games have been close (2015, 34-28 Cal, and 2014, 60-59 Cal), the rest of the contests have been wins by 3 or more touchdowns by either team.
Injury Concerns
Washington State:
10/21 DB Sean Harper Jr. is questionable for Saturday's game vs. California (undisclosed)
10/15 DL Nnamdi Oguayo is out indefinitely (undisclosed)
California:
10/29 OL Henry Bazakas, questionable (Lower body injury)
10/29 QB Ross Bowers, questionable (thumb injury)
10/29 WR Brandon Singleton, questionable (Unspecified injury)
10/28 RB Derrick Clark, out for season (lower body injury)
When Washington State has the Ball
WSU continues to get their points (41 or more per contests), and a big part of that is their Graduate transfer QB Gardner Minshew II. Minshew has found his niche at WSU and within Head Coach Mike Leach's system. The Cougs not only have a prolific passing attack but they have added a couple more bullets to their gun if you will, by having two RBs who can rush well and double up as receivers out of the backfield. Secondly, Gardner Minshew is a mobile QB—he will scramble out of the pocket and either rush for the first down or throw it on the fly—this guy has transformed WSU's offense, and it is working. WSU spreads the defense with their air-raid and multiple targets, but they can also run the ball for a balanced attack.
When California has the Ball
Cal has been less than stellar when they have the ball. Traditionally they like to establish a balanced attack between the rush and the pass, and this season they have done that as they have 11 TDs receiving and 11 TDs rushing on the season thus far. Even so, the Bears have trouble scoring against good teams—most of their TDs this season have come against lower level and less talented teams. A plethora of injuries and rotating QBs has not been a winning combination. They struggle to put points on the board as of late and with their 12-10 win over Washington where the only TD was a pick 6 this is not a good sign as they head into Pullman for a showdown with now No. 10 Washington State.
Betting Trends
WSU is 8-0 ATS overall this season!
WSU is 5-0 ATS vs. a team with a winning record
WSU is 5-0 ATS in their last 5 home games vs. a team with a winning road record
UNDER is 5-0 in Golden Bears last 5 road games
Head to Head: UNDER 6-1-1 in last 8 meetings
Head to Head: Road team is 10-4 ATS in their previous 14 meetings.
Weather Report
Pullman, Washington: At game time (10:45pm EST) a light rain and 44 degrees is forecasted. Winds will be 12.5 mph with humidity at 82%. It's going to be a bit chilly and wet—bundle up!
Dave Wilson's Pick to Cover the Spread
WSU is the better team on paper and on the field. They have been battle tested two weeks in a row now (beat then No. 12 Oregon at home and beat then No. 24 Stanford on the road), and this will be another statement game against Cal. WSU arguably has the best QB in college football right now in Minshew coupled with a solid crew of receivers, two dynamic running backs, and an O-line that has been stellar both with pass protection and opening running lanes this game is all Washington State. I like the Cougars to win and cover the points at home.
Wilson's Pick to Cover the Point Spread: The Washington State Cougars cover. Luck to ya and guys get my plays each week plus others from our handicapping team by visiting and bookmarking our College Football page.
<div class="clickable CTA" style="margin: 0 auto; background: #fff; border-radius: 10px; text-align: center; padding: 10px 20px 20px 20px;"><!-- [et_pb_line_break_holder] --> <img src="https://www.predictem.com/wp-content/uploads/2018/05/mybookie-logo.png" alt="MyBookieer" class="cta-image" /><!-- [et_pb_line_break_holder] --> <p style="margin-top: 5px; font-size: 22px; line-height: 30px;"><!-- [et_pb_line_break_holder] --> $1,000 Free Play Offer<!-- [et_pb_line_break_holder] --> </p><!-- [et_pb_line_break_holder] --> <hr class="cta-divider"><!-- [et_pb_line_break_holder] --> <p style="padding-bottom: 20px; font-size: 15px; line-height: 20px"><!-- [et_pb_line_break_holder] --> $1,000 Football Sign Up Bonus<br>Free Play - 15X Rollover<!-- [et_pb_line_break_holder] --> </p><!-- [et_pb_line_break_holder] --> <a href="https://www.predictem.com/out/Mybookie" rel="nofollow" target="_blank"><button class="et_pb_button" style="color: #fff; cursor: pointer; width: 90%;"><!-- [et_pb_line_break_holder] --> Bet Here<!-- [et_pb_line_break_holder] --> </button></a><!-- [et_pb_line_break_holder] --></div>
<div class="widget105"><!-- [et_pb_line_break_holder] --><h4 class="parlays">Best Sportsbooks for Parlays</h4><!-- [et_pb_line_break_holder] --><!-- [et_pb_line_break_holder] --><table id="parlay"><!-- [et_pb_line_break_holder] --> <tr><!-- [et_pb_line_break_holder] --> <th><span class="team"></span></th><!-- [et_pb_line_break_holder] --> <th>2 Team Parlay</th><!-- [et_pb_line_break_holder] --> <th>3 Team Parlay</th><!-- [et_pb_line_break_holder] --> <th>4 Team Parlay</th><!-- [et_pb_line_break_holder] --> </tr><!-- [et_pb_line_break_holder] --> <tr><!-- [et_pb_line_break_holder] --> <td><a href="https://www.predictem.com/out/SportbetP"><img src="https://www.predictem.com/wp-content/uploads/2018/06/sportbet-sm.png"></a></td><!-- [et_pb_line_break_holder] --> <td>2.74 to 1</td><!-- [et_pb_line_break_holder] --> <td>6.24 to 1</td><!-- [et_pb_line_break_holder] --> <td>13 to 1</td><!-- [et_pb_line_break_holder] --> </tr><!-- [et_pb_line_break_holder] --> <tr><!-- [et_pb_line_break_holder] --> <td><a href="https://www.predictem.com/out/BovadaP"><img src="https://www.predictem.com/wp-content/uploads/2018/06/bovada_sm.png"></a></td><!-- [et_pb_line_break_holder] --> <td>2.64 to 1</td><!-- [et_pb_line_break_holder] --> <td>6 to 1</td><!-- [et_pb_line_break_holder] --> <td>12.3 to 1</td><!-- [et_pb_line_break_holder] --> </tr><!-- [et_pb_line_break_holder] --> <tr><!-- [et_pb_line_break_holder] --> <td><a href="https://www.predictem.com/out/MybookieP"><img src="https://www.predictem.com/wp-content/uploads/2018/06/mybookie-sm.png"></a></td><!-- [et_pb_line_break_holder] --> <td>2.64 to 1</td><!-- [et_pb_line_break_holder] --> <td>6 to 1</td><!-- [et_pb_line_break_holder] --> <td>12 to 1</td><!-- [et_pb_line_break_holder] --> </tr><!-- [et_pb_line_break_holder] --></table><!-- [et_pb_line_break_holder] --><div class="widget-footer"><a href="https://www.predictem.com/best-sportsbooks/parlays-odds/">See all Sportsbook Parlays</a></div><!-- [et_pb_line_break_holder] --></div><!-- [et_pb_line_break_holder] --><!-- [et_pb_line_break_holder] --><!-- [et_pb_line_break_holder] --><style><!-- [et_pb_line_break_holder] --> #parlay {border-collapse: collapse;<!-- [et_pb_line_break_holder] --> width: 100%; border: 0px;<!-- [et_pb_line_break_holder] --> font-size: 14px!important;}<!-- [et_pb_line_break_holder] --> #parlay td, #parlay th {<!-- [et_pb_line_break_holder] --> border: 0px;<!-- [et_pb_line_break_holder] --> padding: 8px;<!-- [et_pb_line_break_holder] --> text-align: left;}<!-- [et_pb_line_break_holder] --> #parlay th {<!-- [et_pb_line_break_holder] --> padding-top: 5px;<!-- [et_pb_line_break_holder] --> padding-bottom: 5px;<!-- [et_pb_line_break_holder] --> font-weight: bold;<!-- [et_pb_line_break_holder] --> line-height: 14px;<!-- [et_pb_line_break_holder] --> text-align: center;<!-- [et_pb_line_break_holder] --> color: #000;}<!-- [et_pb_line_break_holder] --> #parlay tr {border-bottom: 1px solid #edeef0;}<!-- [et_pb_line_break_holder] --> .team {font-size: 16px;}<!-- [et_pb_line_break_holder] --></style>