[et_pb_dcsbcm_divi_breadcrumbs_module hide_homebreadcrumb="off" homebreadcrumbtext="Home" separator="sep-raquo" hide_currentbreadcrumb="off" homebreadcrumborientation="left" _builder_version="3.8″ fontsbreadcrumbs_font="Lato||||||||" fontsbreadcrumbs_text_color="#000000″ fontsbreadcrumbs_font_size="15px" fontsbreadcrumbs_line_height="16px" fontsseperator_font="||||||||" fontsbreadcrumblinks_font="||||||||" fontsbreadcrumblinks_text_color="#2567cf" custom_margin="25px|||" custom_margin_phone="30px|||" custom_margin_last_edited="off|desktop" custom_css_main_element="font-family: Helvetica Regular;" global_module="3641″ saved_tabs="all"][/et_pb_dcsbcm_divi_breadcrumbs_module]
CFB Pick: UCLA Bruins vs. Oregon Ducks Betting Preview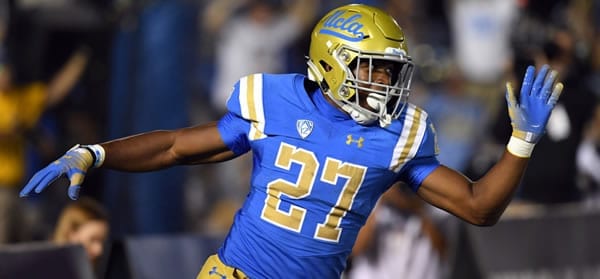 UCLA Bruins (2-6 SU, 3-5 ATS) vs. Oregon Ducks (5-3 SU, 2-6 ATS)
College Football Week 10
Date and Time: Saturday, November 3, 2018 at 7:30PM EDT
Where: Autzen Stadium, Eugene, Oregon
TV: Fox
Point Spread: UCLA +8.5/ORE -8.5
Over/Under Total: 57.5
The UCLA Bruins come to Eugene for a Pac-12 battle against the Oregon Ducks on Saturday. I like the Ducks to cover the number this week. That's not an easy stance to take based on how they've collapsed the last few weeks, but I think getting back home will help. The Bruins got beaten badly at home last week by Utah, 41-10, and despite some recent signs of life, they should be overpowered here somewhat significantly.
Making Sense of the Pac-12: A Futile Endeavor?
UCLA head coach Chip Kelly returns to where he made his bones, but turning around the Bruins' program is proving to be more difficult than what he did in Eugene. Leading into the Utah loss, they were coming off a smashing win over Cal and a win over Arizona, who beat Washington and Oregon last week, respectively. On Saturday, Oregon lost by 29 as 7-point favorites against the Wildcats. And UCLA's game was 20 points off of what the spread said.
One could write the weird results off to there just always being a strange parity in the Pac-12. In some matchups, current form and W-L records mean nothing. But even within that context, we are seeing results out of left field. Just last week, one would suspect an Oregon offense to run over what had been a shoddy Arizona "D," And meanwhile, what had been a decent Ducks' run-defense was run over, with Arizona suddenly looking like a complete team. Up until that point, they had been looking awful.
Will Coming Home Help Oregon?
In this wacky conference, it's doubtful that harping on the home-away dynamic is going to get us anywhere. Truth be told, Oregon's recent suffering should improve, especially with the emotional spike that comes with being in front of your home fans. After beating Washington in what was supposed to be a renaissance-moment of sorts, they looked terrible against WSU and Arizona. Both games saw them looking stuck in the mud, before picking it up late. You would think they can improve on that, though it doesn't speak well that they followed the Huskies win looking so ragged in long stretches.
With Oregon, we are seeing a slew of turnovers, penalties, special teams snafus, and other miscues that really undermine a team. In this conference, you can only give away so many gifts, and they've made it easy on opponents the last few games. The O-line has waned, and the number of drops has risen, making it hard for a really good quarterback in Justin Herbert to establish a foothold. They are facing endless third-and-longs, which have been a big part of their recent woes. By the same token, at home and with Herbert behind center with a capable cast of weapons, look for good things to happen against the Bruins' defense.
UCLA: Same Old Problems?
Chip Kelly still needs to get the manpower to run the UCLA offense the way he wants to. They suffer in a lot of ways, with subpar quarterback play, a dicey line, and a lack of overall depth. Running back Joshua Kelley and receivers Theo Howard and Caleb Wilson are nice weapons, but injuries have cost this side of the ball a lot of pop. Oregon has certainly had their defensive issues the past few weeks on the road, but that was against a WSU team that can take to the air as well as anyone in the Pac-12 and an Arizona team that was clicking with Khalil Tate and a rising cast of weapons. I'm not sure UCLA can really give Oregon the same amount of push in this spot.
We will see what direction Kelly goes in at QB, following a rough outing by Michigan grad transfer Wilton Speight last week against Utah. Freshman Dorian Thompson-Robinson might have more upside, but is mistake-prone and hasn't been too dependable in his starts. The other side of the ball seems to be an even bigger problem. It's a weird defense that will actually show up some weeks, as they did against Cal a few weeks ago. I mean, they did beat a decent Cal team by 30 on the road, so why can't they perform well against an Oregon team that hasn't been on-point, especially mentally? But far more often than not, opposing run-games proliferate against this "D." Oregon's explosiveness on offense far outweighs what Cal brought to the table that week in a season-worst showing. And any success the UCLA pass-defense has is more a result of the other team running more than they usually would because it's so easy. I'd look for a stat-padding night for Herbert and Company in this spot.
Lay the Points on the Home Favorite
Morale is low on Oregon and for good reason. They may have gone into a hole in which they won't emerge. I see them looking a lot better on Saturday than they have the last few weeks. Perhaps, they've been undervalued as a result of being judged too harshly for their setbacks. There is a mental component to those defeats that is troubling, as they are prone to check out of games mentally, either start or finish games poorly, and fail to show consistently-high levels of concentration. In an attempt to keep the season from getting away from them and back at home against a workable opponent, I see things going their way en route to a conclusive win/cover.
Loot's Pick to Cover the Point Spread: I'm betting on the Oregon Ducks minus 8.5 points.
<div class="clickable CTA" style="margin: 0 auto; background: #fff; border-radius: 10px; text-align: center; padding: 10px 20px 20px 20px;"><!-- [et_pb_line_break_holder] --> <img src="https://www.predictem.com/wp-content/uploads/2018/05/mybookie-logo.png" alt="MyBookieer" class="cta-image" /><!-- [et_pb_line_break_holder] --> <p style="margin-top: 5px; font-size: 22px; line-height: 30px;"><!-- [et_pb_line_break_holder] --> $1,000 Free Play Offer<!-- [et_pb_line_break_holder] --> </p><!-- [et_pb_line_break_holder] --> <hr class="cta-divider"><!-- [et_pb_line_break_holder] --> <p style="padding-bottom: 20px; font-size: 15px; line-height: 20px"><!-- [et_pb_line_break_holder] --> $1,000 Football Sign Up Bonus<br>Free Play - 15X Rollover<!-- [et_pb_line_break_holder] --> </p><!-- [et_pb_line_break_holder] --> <a href="https://www.predictem.com/out/Mybookie" rel="nofollow" target="_blank"><button class="et_pb_button" style="color: #fff; cursor: pointer; width: 90%;"><!-- [et_pb_line_break_holder] --> Bet Here<!-- [et_pb_line_break_holder] --> </button></a><!-- [et_pb_line_break_holder] --></div>
<div class="widget105"><!-- [et_pb_line_break_holder] --><h4 class="parlays">Best Sportsbooks for Parlays</h4><!-- [et_pb_line_break_holder] --><!-- [et_pb_line_break_holder] --><table id="parlay"><!-- [et_pb_line_break_holder] --> <tr><!-- [et_pb_line_break_holder] --> <th><span class="team"></span></th><!-- [et_pb_line_break_holder] --> <th>2 Team Parlay</th><!-- [et_pb_line_break_holder] --> <th>3 Team Parlay</th><!-- [et_pb_line_break_holder] --> <th>4 Team Parlay</th><!-- [et_pb_line_break_holder] --> </tr><!-- [et_pb_line_break_holder] --> <tr><!-- [et_pb_line_break_holder] --> <td><a href="https://www.predictem.com/out/SportbetP"><img src="https://www.predictem.com/wp-content/uploads/2018/06/sportbet-sm.png"></a></td><!-- [et_pb_line_break_holder] --> <td>2.74 to 1</td><!-- [et_pb_line_break_holder] --> <td>6.24 to 1</td><!-- [et_pb_line_break_holder] --> <td>13 to 1</td><!-- [et_pb_line_break_holder] --> </tr><!-- [et_pb_line_break_holder] --> <tr><!-- [et_pb_line_break_holder] --> <td><a href="https://www.predictem.com/out/BovadaP"><img src="https://www.predictem.com/wp-content/uploads/2018/06/bovada_sm.png"></a></td><!-- [et_pb_line_break_holder] --> <td>2.64 to 1</td><!-- [et_pb_line_break_holder] --> <td>6 to 1</td><!-- [et_pb_line_break_holder] --> <td>12.3 to 1</td><!-- [et_pb_line_break_holder] --> </tr><!-- [et_pb_line_break_holder] --> <tr><!-- [et_pb_line_break_holder] --> <td><a href="https://www.predictem.com/out/MybookieP"><img src="https://www.predictem.com/wp-content/uploads/2018/06/mybookie-sm.png"></a></td><!-- [et_pb_line_break_holder] --> <td>2.64 to 1</td><!-- [et_pb_line_break_holder] --> <td>6 to 1</td><!-- [et_pb_line_break_holder] --> <td>12 to 1</td><!-- [et_pb_line_break_holder] --> </tr><!-- [et_pb_line_break_holder] --></table><!-- [et_pb_line_break_holder] --><div class="widget-footer"><a href="https://www.predictem.com/best-sportsbooks/parlays-odds/">See all Sportsbook Parlays</a></div><!-- [et_pb_line_break_holder] --></div><!-- [et_pb_line_break_holder] --><!-- [et_pb_line_break_holder] --><!-- [et_pb_line_break_holder] --><style><!-- [et_pb_line_break_holder] --> #parlay {border-collapse: collapse;<!-- [et_pb_line_break_holder] --> width: 100%; border: 0px;<!-- [et_pb_line_break_holder] --> font-size: 14px!important;}<!-- [et_pb_line_break_holder] --> #parlay td, #parlay th {<!-- [et_pb_line_break_holder] --> border: 0px;<!-- [et_pb_line_break_holder] --> padding: 8px;<!-- [et_pb_line_break_holder] --> text-align: left;}<!-- [et_pb_line_break_holder] --> #parlay th {<!-- [et_pb_line_break_holder] --> padding-top: 5px;<!-- [et_pb_line_break_holder] --> padding-bottom: 5px;<!-- [et_pb_line_break_holder] --> font-weight: bold;<!-- [et_pb_line_break_holder] --> line-height: 14px;<!-- [et_pb_line_break_holder] --> text-align: center;<!-- [et_pb_line_break_holder] --> color: #000;}<!-- [et_pb_line_break_holder] --> #parlay tr {border-bottom: 1px solid #edeef0;}<!-- [et_pb_line_break_holder] --> .team {font-size: 16px;}<!-- [et_pb_line_break_holder] --></style>