Cheez-It Bowl Pick: California Golden Bears vs. TCU Horned Frogs 12/26/18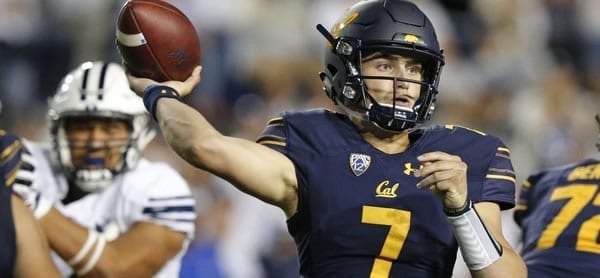 California Golden Bears (7-5 SU, 6-5-1 ATS) vs. TCU Horned Frogs (6-6 SU, 4-8 ATS)
Cheez-It Bowl
Date and Time: Wednesday, December 26, 2018 at 9PM EST
Where: Chase Field, Phoenix, Arizona
TV: ESPN
Point Spread: CAL pk/TCU pk
Over/Under Total: 40
The California Golden Bears take on the TCU Horned Frogs on December 26 at Chase Field in Phoenix in the Cheez-It Bowl. The name of the bowl alone might elicit laughter, but both Cal and TCU will be looking to finish the season strongly. TCU had to win three of their last 4 in an up-and-down season to get here, while the erratic Golden Bears also needed to get their act together in the second half of the season to become bowl-eligible. These teams are in a state of transition, and a bowl win would be a galvanizing moment and a foundation to build on for the future. I like the Cal Golden Bears to get the upper hand in this one and cover the spread.
Not What You Would Expect From Both Teams
The recent past conditions us to look at both teams as being very heavy on offense. It wasn't long ago when Cal was a team that took to the air like few others, even if the rest of their team didn't keep pace. With Jared Goff, Davis Webb, and others, they were dangerous aerially, with defenses that served as mere window dressing. TCU, meanwhile, in keeping with their conference rivals, was a team that was heavy on offense and light on defense. In one game after the next, their scores looked like that of a hoops game.
This season, neither team is like that at all. Cal got here on the strength of a good defense, allowing just over 21 points per game—no small feat with the offenses they had to play. Meanwhile, their aerial offense barely made a peep all season, which is quite a shift in philosophies. TCU also carries with them a strong and complete defense, while their offense wasn't much better. The high-wire air-game was gone, and they didn't run the ball well, either. In most years, this matchup would be perceived as an offensive free-for-all, and now, it's not easy to see how either offense will succeed.
Twists and Turns of a Long Season
Cal had a season replete with a lot of twists and turns. And for the most part, they got better as the season carried on. Conference play began, and they were lost at sea. But they started getting it together, and before long, they were on the right track. A win over eventual conference champ Washington was a key triumph for this team, exemplifying how much range they played with this season. A few weeks prior to that, they had been lambasted by 30 at home by UCLA, a team that finished 3-9 this season. After the Washington win, they barely lost to a good Washington St. team, beat USC and Colorado, before losing to Stanford to close out an interesting season. TCU, meanwhile, played a lot of tough teams this season—Ohio State, Oklahoma, and road games against Texas and West Virginia. Midseason, they were on their backs after losing 5 of 6 games, but at least they stopped the bleeding and ended up in a bowl game.
TCU's Hopes on Offense
In averaging less than 25 points a game, this was far from a vintage TCU offense in 2018. They lost a lot of firepower throughout the season and are down to their third-stringer at quarterback unless backup Michael Collins (questionable) is in shape to return. Their best offensive weapon is receiver Jalen Reagor, who was over 1000 yards in the air. Their run game doesn't make much of an impact with Darius Anderson (out) and Sewo Olinilua. Speedy KaVontae Turpin is a dangerous receiver and return man. I'd say it's fair to conclude that TCU has more weapons on offense than Cal. But it's all relative.
Cal, however, has the kind of defense to render that moot. Ranked 25th against the pass and 31st against the run, they have been stout this season. You don't hold Washington to 10 points and WSU to 19 without being pretty rigid. And where they really eclipse TCU is in the area of defensive playmaking. With Jaylinn Hawkins, Camryn Bynum, and Antione Davis in the secondary, they can change the complexion of games with big plays. Alex Funches, Luc Beguette, and Evan Weaver are aggressive and get after the quarterback. This defense has scored five touchdowns this season.
Cal's Hopes on Offense
The Cal offense was well off their top form this season. Maybe the philosophy-change will better resonate in the coming years. Chase Garbers took over at QB this season. He wasn't electric, with 14 TD throws and 7 picks. He did run the ball well, as did RB Patrick Laird, one of their primary weapons and a back who was near 1000 yards on the season. Laird also delivered as an aerial target with 50 catches. Vic Wharton was a reliable target at times this season, but there is no denying that this is a team that didn't show a lot of horsepower on this side of the ball.
The TCU defense was a pretty stout group this season. That wasn't always the case when playing some of the more offensively-gifted teams in the Big 12, but Cal is indeed not that. And against teams of a similar caliber, the TCU "D" was fairly adept. They rushed the passer well with a pair of nice defensive ends in LJ Collier and Ben Banogu. In the middle, Arico Evans and Garret Willow were effective, while Ridwan Issahaku played good ball from the safety position. The one issue was their lack of playmaking. The pass-rush wasn't very special, and with just 7 picks and no touchdowns on the season, they didn't have the same dynamic component as Cal did.
Take Cal in a Pick 'Em
I think Cal's defense is proven at a higher level than TCU's. Whereas Cal was able to keep the best offenses in their conference relatively tamed, the TCU "D" was more-exploitable. In addition, the Cal offense is more intact from a personnel-standpoint. This game is more in their wheelhouse regionally, and while I picture a close game, I see their defense getting the job done, as the Cal Bears cross the finish line a nose ahead.
Loot's Pick to Cover the Point Spread: I'm betting on the California Golden Bears in a pick-'em.