Cincinnati Bearcats Futures Bets & Picks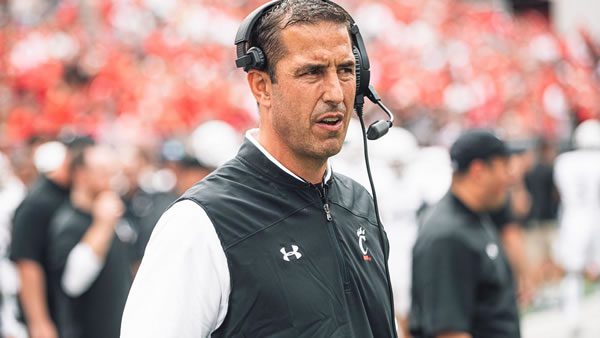 Winning it All a Dicey Proposition for the Rising Bearcats
Cincinnati's Odds to Win the CFP: +8500 (MyBookie.ag)
After coming over from Ohio State four seasons ago, Cincinnati head coach Luke Fickell has breathed some success into this Bearcats program. He won 11 games each in 2018-19 before getting to a 9-1 mark last season, a year that was deeply affected by Covid. Last season, the Bearcats were 9-0 in the regular season, losing to 9th ranked Georgia by a field goal in the Peach Bowl on New Year's Day. When a team wins 11 games two years in a row, then almost goes unbeaten the next year, an 85-to-1 quote is nothing to sneeze at.
Cincinnati, however, will always be behind the 8-ball in this context, playing in the American Conference and not having the same opportunities to make an impact against ranked teams as the squads from more powerful conferences. Last season, a 9-0 record still didn't even give them a whiff of the 4-team College Football Playoff format. And it's hard to get behind a team where everything can go right, and they probably still won't get in.
This season, the Bearcats do get Notre Dame on their schedule, and a win there would boost their profile in the event of an unbeaten season. But that's really about it as far as guaranteed compelling opposition. Cincinnati would need Notre Dame to have a super-strong season after beating them while also holding out hope that another opponent or two has a tremendous season like maybe Indiana or UCF. Otherwise, it's doubtful they will be able to compile the body of work necessary to get in the mix.
Then again, if looking for a tantalizing longshot, you could do worse. They were hammering opponents last season. You throw a win against Notre Dame in there, maybe see some other top teams slip up, and it's not that far-fetched, perhaps. Maybe Indiana is really good this season, and a win over them boosts their profile. Desmond Ritter is back at QB after a big season, and the Cincy "D" could be among the top in the nation. It's just that you could be setting yourself up for a somewhat painful experience in the event that they do everything they're supposed to and still come up short.
A More Realistic Bet on the Bearcats
Cincinnati Bearcats Regular Season Wins Total: Over 10 -115, Under 10 -115 (MyBookie.ag - We've arranged a SPECIAL 100% bonus there for ya! Simply deposit $100 to $300 and they'll match you dollar for dollar with a 100% real cash bonus when you use bonus code PREDICT100)
An "over" bet on the Bearcats' season wins total might have some teeth for those forecasting a good Bearcats season and is a far more realistic stance. And part of the reason is also the reason why a CFP bid might be out of the question, and that being a lot of dog meat on the schedule. You got an FCS team like Murray State, sandwiched by a lot of the same conference foes the Bearcats have been mashing up for the better part of the last 3-4 seasons. Beyond the Notre Dame and Indiana games, it's hard to identify many trouble areas unless UCF, Tulsa, or SMU manage to turn the trick. And that's maybe not so far-fetched.
In other words, it's not really a slam dunk. They will be on the field with a slightly better cut of conference opposition this season. Any falloff from the last few years could be disastrous, as their schedule is slightly tougher with the addition of Notre Dame and at least slightly more dangerous in-conference foes. And with Cincinnati's defensive-heavy style, the potential is at least there for them to lose a footrace or two against the more offensive teams they face.
If Cincinnati has a special season, it will once again be the defense that does most of the heavy lifting. A gaggle of expected departures have remained on the team. You end up with a line that is abundant in talent, led by Myjai Sanders and a ton of support around him. Ahmad Gardner is a superior corner and has guys around him who will be in the running for all-conference honors. Fickell has really managed to get some great talent on this side of the ball, and we could see something special from the "D" this season.
While the "D" needs to replace two starting safeties and they have to replace a Ray Guy finalist at punter, the main concern might be the offense. Losing two starting tackles could hurt. And with some big games in the first half of the season, Cincinnati struggling to establish a front-five early could end up costing them. And while RB Jerome Ford wowed with a 6.6 rushing average last season, we will see if he can assume more of a featured role.
Still, Ritter's decision to return was huge. He's really an efficient and steely field general with a lot of experience and success. He increased his accuracy big time last year and ran in 12 touchdowns, illustrating somewhat of a dual-threat flair. His main aerial targets are mostly all back, with guys who really started to show improvement last season, led by seniors Alec Pierce and Michael Young, Jr. The possibility that this offense could upgrade makes Cincy a potentially very scary team and the top dog in Group of Five.
Cincinnati Bearcats Season Predictions and Final Thoughts:
It's one of those teams where you could really justify a lot of different stances. Their road to the CFP seems laden with stumbling blocks, but the 85-to-1 return makes it worth it on some levels. If ever it were doable, there could be just enough meat on their schedule to justify it this season. Such sentiments would then lead one to think that over ten wins are a cinch. That's not necessarily the case, depending on how good the Irish and Indiana are this season, in addition to the state of teams like UCF. For their wins to be more than ten to make "over" a winner, you really only get one slip-up all-season, or the best you can do is a push.
This could turn out to be poppycock, but I'm not sure Cincinnati can be as perfect as they'll need to be to give value to the more optimistic side of these wagers. Betting on them to make the CFP, never mind winning it, seems like a pipe-dream, while they need to be too close-to-perfect to cash an "over" bet on season wins. I'm staying away from the CFP bet and going "under" on the Bearcats this season.
Get more college football picks including season win bets for other teams >>>