Clemson Season Win Bet Picks & Analysis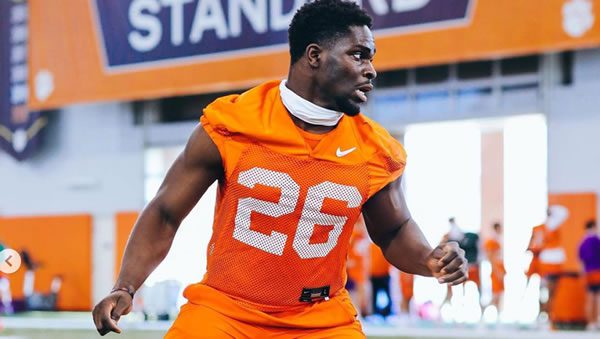 Clemson Tigers (+450)
After years of Clemson having an easy-to-spell and hard-to-stop quarterback in the likes of DeShaun Watson and Trevor Lawrence, writers now get to deal with learning how to spell D.J. Uiagalelei, and based on last year; his name's probably going to be showing up in print quite a bit this fall. Uiagalelei didn't see much action as a true freshman last year, but he showed up when it counted by tossing for 439 yards against Notre Dame when Lawrence got COVID and sat out against the Irish and Boston College.
However, expecting the offense to be just as potent as last season might be a bit much because Clemson's also got to replace its top threat on the ground. Travis Etienne is finally out of eligibility and off to the NFL, so Will Shipley and Phil Mafah will likely try to replace him together via a time-share. Shipley is a faster back, while Mafah is more likely to plow through opponents. But Etienne usually did both, so this might be a tough task for the two of them to replace what Clemson had on the ground.
For the Tigers to remain a threat to reach the playoff, as they have the past six consecutive seasons, they're going to have to rely on their defense. Brent Venables remains the best coordinator in the game, and the Tigers have nine starts back from a group that seemed to come on strong toward the end of the season. Over the final three games, the Tigers' defense held opponents to just 37 points, including a 34-10 drubbing of Notre Dame to win the ACC title game. But the Tigers couldn't get the job done when it mattered most last year, giving up 49 points to Ohio State in the Sugar Bowl.
To back this bet, you'll need to be pretty high on the Tigers, finding a way past Georgia in the opener. Clemson is currently a four-point favorite over Georgia at the time of this writing, and the weakness of the ACC might mean that the Tigers don't have a way back if they do slip up in the opener. Things get much easier for Clemson once they get past that first stiff test, but this is a team in transition after losing both Lawrence and Etienne, and the defense showed a tendency to let down too often in big games last season. Like the Georgia team they're opening with, Clemson's odds are just too low to get me interested, especially with the changes to their lineup.
BET YOUR CLEMSON COLLEGE FOOTBALL FUTURES FREE BY SCORING A 100% REAL CASH BONUS ON YOUR FIRST DEPOSIT OF $100 TO $300 AT MYBOOKIE WHEN YOU USE BONUS CODE PREDICT100
Over or Under: 11.5 Wins
Don't bother. There's a lot that I could say to try to convince you not to make this bet, but I'll put it like this: Clemson opens with Georgia. The Bulldogs are every bit as talented as the Tigers and have more experience on offense, which means that the over could be almost finished before Labor Day if Uiagalelei isn't ready for the challenge of the Dawgs. If Clemson loses to Georgia, you'd then need the Tigers to run the table over the rest of the campaign and win the ACC, and while that isn't impossible, it certainly isn't worth paying -110 for that possibility.
Instead, if you're considering the over, do yourself a favor and just bet whatever you were going to bet on the over on Clemson on the money line against Georgia. It's essentially the same bet because the rest of the Tigers' schedule is unbelievably soft on paper. They do have a couple of trap games in there, as N.C. State should be anxious to make amends for getting blown out in Raleigh the last time the Tigers made the trip up I-85, but that's the only trap that's not coming off extended rest. Syracuse could have been a dangerous trip on a Friday night, but the Tigers are coming off a bye for that game, so that should negate any rust for Dabo Swinney's team. Clemson follows with Pittsburgh after a full seven days off, so that trip probably won't be all that problematic either.
Really, the only worry the Tigers have for this bet if they lose to Georgia is the possibility of blowing the ACC title game to North Carolina. Clemson won't even leave the Palmetto State after Oct. 23, as they play four of their final five at home and finish with South Carolina, which has lost six straight to Clemson and hasn't even come within 20 points of the Tigers since 2015.
You'll probably be okay with the over if Clemson loses to Georgia, and you'll definitely be fine with the over if the Tigers win that game, but why take that risk over three months for such a small payout? It's just not worth it. Did you know that I write game previews each week for Predictem? Follow all my takes and best bets on our free college football picks page! I'd sure appreciate you bookmarking the page!