[et_pb_dcsbcm_divi_breadcrumbs_module hide_homebreadcrumb="off" homebreadcrumbtext="Home" separator="sep-raquo" hide_currentbreadcrumb="off" homebreadcrumborientation="left" _builder_version="3.8″ fontsbreadcrumbs_font="Lato||||||||" fontsbreadcrumbs_text_color="#000000″ fontsbreadcrumbs_font_size="15px" fontsbreadcrumbs_line_height="16px" fontsseperator_font="||||||||" fontsbreadcrumblinks_font="||||||||" fontsbreadcrumblinks_text_color="#2567cf" custom_margin="25px|||" custom_margin_phone="30px|||" custom_margin_last_edited="off|desktop" custom_css_main_element="font-family: Helvetica Regular;" global_module="3641″ saved_tabs="all"][/et_pb_dcsbcm_divi_breadcrumbs_module]
Clemson Tigers at Boston College Eagles Point Spread Prediction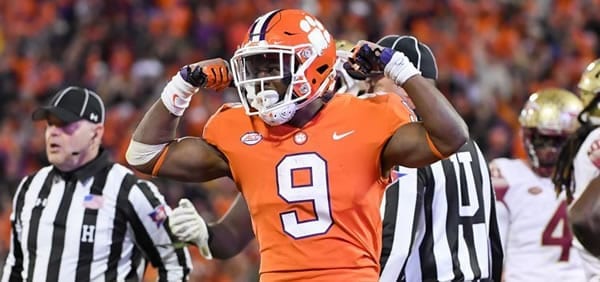 When: Saturday, November 10, 8 p.m. EST
Where: Alumni Stadium, Chestnut Hill, Mass.
TV: ABC
Point Spread: CLEM -20
Total: O/U 58
Power Ratings: CLEM -18
Takeaways From Week 10
Clemson's performance was sheer dominance against Louisville, as the Tigers scored on their first three possessions and one of Louisville's before its first and only punt of the game. When all was said and done, the Tigers owned a 77-16 win over the Cardinals. Not only was their 77 points more than the school's basketball team has ever scored in an ACC game against Louisville, but it marked Clemson football's highest point total since scoring 82 on Wake Forest in 1981.
Boston College won its third consecutive game by beating Virginia Tech 31-21, overcoming a halftime deficit to earn its second win in its past three trips to Blacksburg. The Eagles are now 4-1 in the ACC and would gain the inside track on the ACC Atlantic Division title if they can upset Clemson, something they haven't done since 2010.
How the Public is Betting the Clemson/Boston College Game

57 percent of gamblers are backing the Tigers overall, with 64 percent of bettors backing Clemson to cover the 18-point spread. The line has moved a point in the Tigers' direction since opening at Clemson minus 17.
Injury Concerns
Boston College:
RB A.J. Dillon re-injured his ankle against Virginia Tech and is questionable for Saturday. TE Brendan Smith has missed the Eagles' past four games with an upper-body injury and is also questionable.
Clemson:
CB Mark Fields is dealing with a groin injury, while OL Sean Pollard has a back issue and RB Tavien Feaster is recovering from concussion-like symptoms suffered against Louisville. All are questionable, while WR Cornell Powell remains sidelined by academic issues and DE Richard Yeargin remains out with a neck injury.
When Ohio State Has the Ball
This Ohio State offense has plenty of toys in its chest, but it all starts with its quarterback Dwayne Haskins. In the build-up to the Purdue game, Haskins was on a short list for Heisman contenders. With this being said, Haskins has still put together an impressive resume for why he should be considered as he has thrown for 3,053 yards, 32 touchdowns, and just six interceptions while completing only under 70% of his passes. Haskins spearheads an Ohio State offense that ranks third in the country in the passing department (369.1 yards per game) that is fifth overall in total offense (547.4 yards per game). The talk is Michigan State's rushing defense, but Haskins can just throw over the Spartans who are 98th in the land against the pass (253.4 yards per game).
When Clemson Has the Ball
What makes Clemson so dangerous is the fact that the Tigers can attack through the ground or the air. Clemson leads the nation with a 6.9 YPC, and Travis Etienne leads the Tigers' rushing attack with 998 yards on the season. When an opponent tries to take away the ground game, as N.C. State and Florida State did, Clemson isn't afraid to go to the air with Trevor Lawrence, who threw for over 300 yards in blowout wins over the Wolfpack and Seminoles. Lawrence might be a freshman, but he certainly doesn't play like a freshman, tossing 18 touchdown passes against just three interceptions.
Against Boston College, either option is likely, as the Eagles have a middling defense against both the run and the pass, ranking 46th against the run and 59th against the pass. The windy conditions mean that Clemson will likely lean toward Etienne over Lawrence and dare the Eagles to try to stop them in the trenches.
When Boston College Has the Ball
This depends on whether Dillon is ready to play on Saturday. If he's available to suit up, he's going to be the focal point of the Eagles' attack. If not, BC will likely lean on Travis Levy to try to get the job done. In either case, the Eagles are a run-first squad that will only put the ball in the hands of quarterback Anthony Brown when absolutely necessary. Although Brown has 16 touchdowns against five interceptions this season, he also hasn't thrown for more than 200 yards or one touchdown in any of the Eagles' past four ACC contests.
BC's heavy reliance on the run could be a serious problem against Clemson, which boasts the nation's best "run defense" in terms of yards per carry. The Tigers hold opponents to just 2.2 yards per carry, a full 0.3 YPC better than No. 2 San Diego State, and that's after playing Georgia Tech, which leads the nation in rushing yardage but couldn't break 150 on the ground as a team against the Tigers. Only Wake Forest's Kendall Hinton even broke 50 yards on the ground against Clemson, and that was in a 63-3 Clemson victory.
Betting Trends
Since squeezing past Syracuse, Clemson is 4-0 against the spread, and the cover hasn't been close, as the Tigers have beaten the spread by at least two touchdowns in each of their past four games. This line is also right in Clemson's sweet spot, as the Tigers are 4-0 ATS when the line sits between 14 and 20.5 points. The road team has also been the way to bet as of late in this series, as the visitor has covered the spread in five of their past six meetings.
Weather Report
The forecasted high is expected to be 49 degrees with a sustained wind of 22 miles per hour from the west-northwest.
Dan's Pick to Cover the Spread
Boston College is a solid football team that has played well in what has to be considered a breakout year for the Eagles. But Clemson is simply playing on a championship level at the moment, having outscored its past four opponents by a count of 240-36. Throw in the fact that Boston College's most significant strength is a powerful ground game that will run head-on into Clemson's punishing run defense, and things look dicey for the Eagles even if Dillon is able to play.
The way that you give yourself a chance to beat the Tigers is by attacking their vulnerable secondary and keeping pace with their offense. The past four games have shown that Boston College doesn't trust Anthony Brown to do that, and if the Eagles can't imagine their quarterback against lesser defenses, I don't see a reason why I should believe in him against the Tigers, especially on a day with strong winds in Massachusetts. Clemson has to be the pick to cover the spread and wrap up the ACC Atlantic Division.
<div class="widget105"><!-- [et_pb_line_break_holder] --><h4 class="parlays">Best Sportsbooks for Parlays</h4><!-- [et_pb_line_break_holder] --><!-- [et_pb_line_break_holder] --><table id="parlay"><!-- [et_pb_line_break_holder] --> <tr><!-- [et_pb_line_break_holder] --> <th><span class="team"></span></th><!-- [et_pb_line_break_holder] --> <th>2 Team Parlay</th><!-- [et_pb_line_break_holder] --> <th>3 Team Parlay</th><!-- [et_pb_line_break_holder] --> <th>4 Team Parlay</th><!-- [et_pb_line_break_holder] --> </tr><!-- [et_pb_line_break_holder] --> <tr><!-- [et_pb_line_break_holder] --> <td><a href="https://www.predictem.com/out/SportbetP"><img src="https://www.predictem.com/wp-content/uploads/2018/06/sportbet-sm.png"></a></td><!-- [et_pb_line_break_holder] --> <td>2.74 to 1</td><!-- [et_pb_line_break_holder] --> <td>6.24 to 1</td><!-- [et_pb_line_break_holder] --> <td>13 to 1</td><!-- [et_pb_line_break_holder] --> </tr><!-- [et_pb_line_break_holder] --> <tr><!-- [et_pb_line_break_holder] --> <td><a href="https://www.predictem.com/out/BovadaP"><img src="https://www.predictem.com/wp-content/uploads/2018/06/bovada_sm.png"></a></td><!-- [et_pb_line_break_holder] --> <td>2.64 to 1</td><!-- [et_pb_line_break_holder] --> <td>6 to 1</td><!-- [et_pb_line_break_holder] --> <td>12.3 to 1</td><!-- [et_pb_line_break_holder] --> </tr><!-- [et_pb_line_break_holder] --> <tr><!-- [et_pb_line_break_holder] --> <td><a href="https://www.predictem.com/out/MybookieP"><img src="https://www.predictem.com/wp-content/uploads/2018/06/mybookie-sm.png"></a></td><!-- [et_pb_line_break_holder] --> <td>2.64 to 1</td><!-- [et_pb_line_break_holder] --> <td>6 to 1</td><!-- [et_pb_line_break_holder] --> <td>12 to 1</td><!-- [et_pb_line_break_holder] --> </tr><!-- [et_pb_line_break_holder] --></table><!-- [et_pb_line_break_holder] --><div class="widget-footer"><a href="https://www.predictem.com/best-sportsbooks/parlays-odds/">See all Sportsbook Parlays</a></div><!-- [et_pb_line_break_holder] --></div><!-- [et_pb_line_break_holder] --><!-- [et_pb_line_break_holder] --><!-- [et_pb_line_break_holder] --><style><!-- [et_pb_line_break_holder] --> #parlay {border-collapse: collapse;<!-- [et_pb_line_break_holder] --> width: 100%; border: 0px;<!-- [et_pb_line_break_holder] --> font-size: 14px!important;}<!-- [et_pb_line_break_holder] --> #parlay td, #parlay th {<!-- [et_pb_line_break_holder] --> border: 0px;<!-- [et_pb_line_break_holder] --> padding: 8px;<!-- [et_pb_line_break_holder] --> text-align: left;}<!-- [et_pb_line_break_holder] --> #parlay th {<!-- [et_pb_line_break_holder] --> padding-top: 5px;<!-- [et_pb_line_break_holder] --> padding-bottom: 5px;<!-- [et_pb_line_break_holder] --> font-weight: bold;<!-- [et_pb_line_break_holder] --> line-height: 14px;<!-- [et_pb_line_break_holder] --> text-align: center;<!-- [et_pb_line_break_holder] --> color: #000;}<!-- [et_pb_line_break_holder] --> #parlay tr {border-bottom: 1px solid #edeef0;}<!-- [et_pb_line_break_holder] --> .team {font-size: 16px;}<!-- [et_pb_line_break_holder] --></style>
<div style="width:340px; margin: 0 auto;"><!-- [et_pb_line_break_holder] --> <a class="twitter-timeline" data-width="340" data-height="500" data-link-color="#008156" href="https://twitter.com/PredictemPicks?ref_src=twsrc%5Etfw">Tweets by PredictemPicks</a> <script async src="https://platform.twitter.com/widgets.js" charset="utf-8"></script><!-- [et_pb_line_break_holder] --></div>