Clemson Tigers vs. LSU Tigers Pick ATS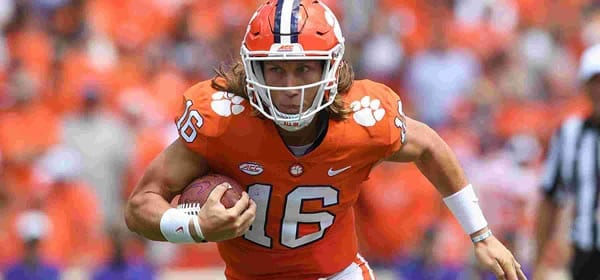 Clemson Tigers (14-0 SU, 11-3 ATS) vs. LSU Tigers (14-0 SU, 9-5 ATS)
When: Monday, January 13, at 8 p.m.
Where: Louisiana Superdome, New Orleans
TV: ESPN
Point Spread: CLEM +5.5/LSU -5.5 (Betnow: 50% REAL CASH bonus up to $1000! - Credit card work well there!)
Total: O/U 69.5
Outlook
This is the big one, and based on the seedings, someone is going to make history, as neither a No. 1 seed nor a No. 3 seed has ever won the College Football Playoff. Clemson has a history of taking down the top seed, as it's won both of its CFP championships by beating what was a top-seeded Alabama, winning 35-31 in 2017 and 44-16 last year. The ACC Tigers have a long history of winning as well, as they come into this game riding a 29-game winning streak that dates all the way back to the 2018 Sugar Bowl.
LSU, meanwhile, is in the playoff for the first time ever after finally getting past the mammoth hump that is Alabama. The SEC Tigers have won with a prolific offense that only Auburn proved able to slow down, as LSU put up just 23 points in that contest. Otherwise, LSU has scored no fewer than 36 points, and Joe Burrow and friends have done that despite facing both Georgia and Florida, both of whom boast a top-10 defense and won their bowl games. LSU hasn't seen a defense like Clemson's, but neither has Clemson seen an offense like LSU's, simply because there isn't an offense that's anywhere close to LSU's.
The closest thing Clemson has seen to LSU was Ohio State, and the ACC Tigers had some early problems with the Buckeyes before they finally managed to figure out how to stop Justin Fields. Early problems can't happen in this game for Clemson, because if they do, the ACC Tigers aren't going to be able to rely on outscoring LSU and overcoming the deficit. Clemson has to keep itself from getting into a game of catch-up.
How the Public is Betting the Clemson/LSU Game
The total has dropped two points from opening at 71.5 points, and the public has shown that it is in no mood to think rationally about LSU after what the Bayou Bengals did to Oklahoma. It's pushed the line from 3.5 to 5.5, and books expect the line to go even higher on LSU by kickoff.
Injury Concerns
Clemson:
Wide receiver Tee Higgins is questionable with a head injury.
LSU:
Wide receiver Trey Palmer is questionable with an unspecified injury, as is guard Damien Lewis (leg) and wide receiver Terrace Marshall Jr. (shoulder). Running back Clyde Edwards-Helaire (hamstring) and linebacker Michael Divinity Jr. (personal) are both expected to play.
Speaking of injuries…You're getting hurt every time you bet on games at -110 odds! Did you know that you can bet on football and basketball at -105? You can bet on MLB dimelines as well! STOP OVERPAYING FOR ODDS! Make the switch to discount sports betting TODAY by signing up at 5Dimes Sportsbook! It's like shopping at Walmart prices but the product is high quality!
When Clemson Has the Ball
The public is focused entirely on the LSU offense, but Clemson's offense has been just as outstanding. The ACC Tigers have put up at least 38 points in 11 of their 14 games this season and have exceeded 50 points on seven occasions. One of the big reasons that they've managed to be so effective has been Travis Etienne, who has really taken off in the second half of the season. In Clemson's final eight games of the regular season, Etienne exceeded 100 yards on the ground seven times and nearly topped 200 against Louisville. On top of that, he's been a touchdown machine as of late, scoring 13 touchdowns in the final seven regular-season games plus the bowl.
When Etienne isn't the one moving the ball, it's Trevor Lawrence doing the damage. Lawrence had proven to be just as adept at making plays with his legs as he is with his arm, something he proved when he ripped off a 67-yard touchdown run against Ohio State that proved critical in Clemson's comeback against the Buckeyes. The ACC Tigers have asked him to do most of his damage through the air as of late, as he's thrown for three or more touchdowns in eight of the Tigers' past nine games, with the lone exception being Ohio State. Tee Higgins has been his favorite target for 1,115 receiving yards and 13 touchdowns, but if he's limited, look at Justyn Ross to have a big game, as Ross had eight scores and 789 yards.
When LSU Has the Ball
The country saw exactly what Joe Burrow could do for itself in the win over Oklahoma, and the results were incredibly impressive. Burrow lit up the scoreboard for seven touchdowns and hasn't struggled against anyone this season, tossing for at least 300 yards against 12 of 14 opponents. The two exceptions were Florida, which sold out to stop the deep ball and allowed Burrow to go 21-of-24, and Georgia Southern, which lost 55-3 and saw Burrow on the sidelines for much of the second half because he had done enough for one day. The SEC Tigers have been nothing short of frightening when they have the ball, as Burrow has only registered more than ten incompletions once all season, a 42-6 win over Utah State that saw him offset that "inaccuracy" with five touchdown passes.
What makes Burrow so dangerous is that he has two first-class receivers to throw to in Ja'Marr Chase and Justin Jefferson, who are just shy of combining for 3,000 receiving yards on the season (2,993). They've each got 18 touchdowns on the season, and they've got a solid ground game to back them up in the person of Clyde Edwards-Helaire, who has 1,304 yards on the ground. Should Edwards-Helaire be unable to go, Tyrion Davis-Price took six of his 64 carries for scores and has the ability to break out, given that his legs are pretty fresh after serving as the backup in an offense that's really been a bell cow type of ground game. Put simply, this is going to be the Clemson defense's most significant challenge of the season by a pretty wide margin.
Betting Trends
Clemson, in a postseason game, is about as sure a bet as it gets. The Tigers have covered the spread in 10 of their past 11 playoff games (and most of these are playoff games, as Clemson hasn't failed to make the playoff since the inaugural season of the CFP), and they've been even more outstanding when they've been the underdog. Clemson has also been in this exact role pretty recently, as last year, it came in with nobody giving it a chance against Alabama and blew the Crimson Tide out of the water in a 28-point rout. LSU hasn't been a slouch either, as it's gone 11-5 ATS in its last 16 games and has covered in four of its past five postseason games. The SEC Tigers have usually been the favorite, and they're 4-1 in postseason play when they're giving points.
The SEC Tigers have also been excellent at hitting the over when they step outside of SEC play, as they've hit the total in seven of their past eight non-league games. They've been strong on the total in SEC play as well, as they're 11-5-1 overall at hitting the total in their previous 17. Clemson, on the other hand, has tended to rely on defense. In its past seven neutral site games, it's been the under that's hit on five occasions.
Props to Consider
When you're talking about Clemson's offense, you're usually talking about two players: Trevor Lawrence and Travis Etienne. But the Clemson receivers have proven to be more adept at scoring the ACC Tigers' first touchdown of the game. Through the season, the first Clemson touchdown has been composed by either Tee Higgins or Amari Rodgers on six occasions out of 14. Higgins has been the most common with four, and if he plays, he represents outstanding value for either scoring a touchdown or scoring the first Clemson touchdown. Higgins didn't score against Ohio State, but he scored ten touchdowns in Clemson's five previous games before facing the Buckeyes, including three each against Virginia and Wake Forest. If Higgins can't go, Amari Rodgers will not get a lot of attention from the books, but he'd make an outstanding long-shot option for the first touchdown. Rodgers has four scores on the season, but two of them have been the first touchdown of the game. Rodgers doesn't have the reputation of Etienne or Higgins, which means he's likely to fetch a reasonable price that's worth throwing a couple of dollars on.
On the LSU side of the equation, if you want to bet on the first touchdown, Ja'Marr Chase is your man. There are a couple of reasons for this. First, he's scored the first touchdown of the game in six of LSU's 14 contests, including four of the SEC Tigers' final six regular-season games. Second, Chase is coming off his quietest game of the season, as he only caught two passes against Oklahoma and did not find the end zone, just the third time all season that he's been held out of the end zone (which is about the only good thing the Sooners managed to do on defense against LSU). The public has a short memory, meaning that there's a good chance that amateur bettors will forget just how dominant Chase has been this year and instead shift their attention to Justin Jefferson, who had 227 yards and four touchdowns against the Sooners.
While Jefferson has been outstanding, he's been the No. 2 target for Burrow on most days, which makes Chase a great bet to haul in the first touchdown of the game. It might also be wise to back either Chase or Jefferson for multiple scores, as Chase has five multiple-touchdown games, and Jefferson has four. If you're planning to back the over, this is a sensible prop bet to throw in with it.
For the first score of the game, it might not be a bad idea to go against the grain and call for an LSU field goal. The SEC Tigers have scored 89 touchdowns against 21 field goals, but LSU has had to settle for three as its first score of the game on three occasions this year, and Clemson has given up just 18 touchdowns all season. With the public backing LSU and a lot of points, the odds are going to be lowest on an LSU touchdown coming, making a field goal a high-value play.
Weather Report
There's no weather to worry about under the roof of the dome.
Dan's Pick to Cover the Spread
I get why the public is all over the SEC Tigers here. LSU has dominated all year long, it's the new power, and it comes out of what's widely believed to be the strongest conference in the nation. Clemson has been the one giant in a league of 13 dwarves in the public's eyes and considering that the ACC hasn't really been all that strong in years, the ACC Tigers have gotten no respect even as they've picked up win after win.
But there are a few good reasons to consider Clemson to not only cover the spread but win the game straight up. First, there's the fact that the ACC Tigers had to play a tight contest in their semifinal against Ohio State and survived the Buckeyes' best punch. Clemson knows that it can overcome adversity because it's had to do precisely that. LSU has been so dominant this season that it hasn't faced a time where it has had to overcome a difficult game situation.
The second is that Clemson has been here before. The ACC Tigers have played in this game in three of the past four years. Dabo Swinney is going to know precisely what to do to get his team through the distractions that come with playing in the national championship game. Ed Orgeron has proven himself to be a coach who knows what he's doing and has the love of his players, but he's never coached on this stage before. There's a good chance that Orgeron is going to make a mistake from inexperience, and Swinney will capitalize on it, simply because it's very hard to win in your first trip to the big game.
Third, the gap between the ACC and the SEC might not be as wide as people think. LSU has been blasting teams all year long, but so has Clemson, and one of the teams the ACC Tigers crushed was Virginia, which came up against Florida in the Orange Bowl and gave the Gators a real battle. The Cavaliers weren't even close against Clemson, which could be masking just how powerful Swinney's squad really is.
Finally, Clemson has a first-rate defense and an even better defensive coordinator. Brent Venables routinely makes his money in the biggest games. There's a reason that Venables makes $2.2 million a year to do nothing but coach defense, and it's because he's the best in the game at that side of the ball. Burrow and friends haven't seen a defense like Clemson's all year, and LSU's defense just can't measure up.
I think Burrow wins a few battles against this defense, but I think Clemson is too talented on both sides of the ball for LSU. I'm taking the ACC Tigers to make it 30 straight wins and become the first team to win back-to-back CFP championships. Give me Clemson to not only cover, but win the game outright. Bet your college football championship pick FOR FREE by taking advantage of a special offer made only to Predictem readers where you can deposit $100 to $300 and get a dollar for dollar matching 100% REAL CASH bonus at one of the web's biggest sportsbooks: MyBookie! (Must use bonus code PREDICT100)
100% REAL CASH up to $300

USE BONUS CODE:
PREDICT100